Passengers to benefit from high-speed mobile broadband on trains
High speed mobile broadband to be expanded and improved on Britain's rail network…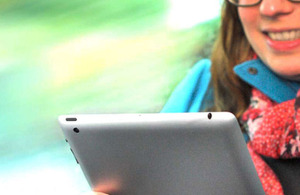 High speed mobile broadband to be expanded and improved on Britain's rail network.
The rail industry is to roll out high speed mobile broadband on the busiest parts of Britain's rail network, Transport Secretary Patrick McLoughlin announced today (30 September 2013).
Under the plans, 70% of the travelling public will benefit from the new technology by 2019, with passengers expected to begin noticing improvements to their journey during 2015.
Mobile signal on trains will be improved by a combination of an upgrade of Network Rail's existing infrastructure and the installation of equipment that alleviates the barriers to good signal on board a train.
Transport Secretary Patrick McLoughlin said:
"There are few things more frustrating than trying to phone a friend or access the internet, only to be thwarted by bad signal."
"Passengers deserve to have the best mobile technology and that is why I am pleased that industry is coming together to make that a reality."
Be it hardworking commuters preparing for the day on their journey into work or leisure travellers making final plans for their weekend away, today's announcement marks the beginning of the end of poor coverage on our railways."
The programme will tackle a series of 'not-spots' – areas along rail corridors with intermittent or poor coverage of mobile phone signals – delivering a consistent and reliable service for passengers on key routes.
Network Rail and industry will now work on a business case to outline how they will fund the improvements.
Alongside record levels of government investment that will see better, refurbished stations, new trains and the electrification of 850 miles of track, today's (30 September 2013) announcement will be crucial in delivering a rail network fit for the 21st Century.
Related organisations
Related people