Vossloh wins contract for high-speed line in Saudi Arabia
Vossloh Fastening Systems has been awarded the contract to supply fastening systems for the high-speed line…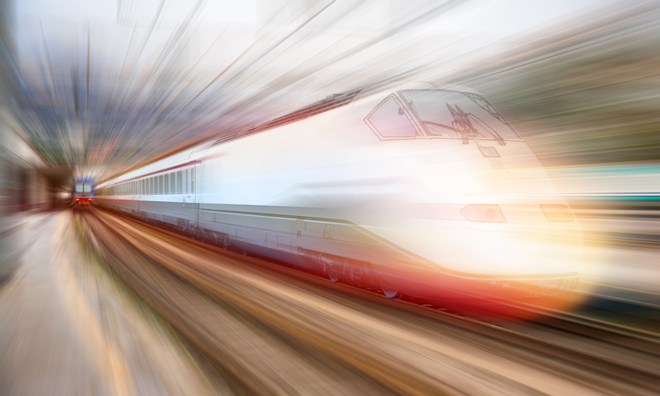 World's very first high-speed line across the desert
Contract worth around EUR30 million
First shipments before the end of 2013
Vossloh Fastening Systems, a Vossloh Group company, and leading manufacturer of rail fastening systems, has been awarded the contract to supply fastening systems for the high-speed line extending from Mecca to Medina. The deal is worth some EUR30 million and the first of the fasteners will be shipped out before the end of 2013. The newly built line stretching over 450 km will ensure safe, green and fast transport especially for pilgrims and tourists besides alleviating road traffic congestion between Jeddah with its multi-million population and the sacred sites.
Traffic on the all-electrified line, to start up in 2015, will run at speeds of up to 320 km/h and so the journey from Mecca to Jeddah, Saudi Arabia's premier port, will take less than 30 minutes and the onward good 400 km to Medina some two hours.
The decision to entrust Vossloh with the supply of these highly sophisticated fastening systems was based on the excellent reputation of Vossloh and the countless successful projects for high-speed as well as freight and local transport haulage. Besides the vast variations in temperature, the system as such must feature both the necessary flexibility and strength to cope with the high speeds and the challenging subsoil. Werner Andree, CEO of Vossloh AG: "This demanding project constitutes another reference in one of the strongest growing rail markets in the world. Moreover, it gives us the opportunity to prove the high quality and reliability of our systems on the world's first high-speed line across the desert."
Today's Vossloh is a global player in the rail technology markets.
The Group focuses on its core businesses of rail infrastructure, rail vehicles, and electric buses. Reflecting this focus, Vossloh's two divisions, Rail Infrastructure and Transportation, operate under the roof of Vossloh AG. In fiscal 2012, around 5,100 employees generated sales of EUR1.2 billion and an EBIT of EUR97.5 million.