Balfour Beatty hands over main viaduct structure at Reading
The Balfour Beatty project team has handed over the main viaduct structure at Reading to Network Rail and Carillion, ready for track installation…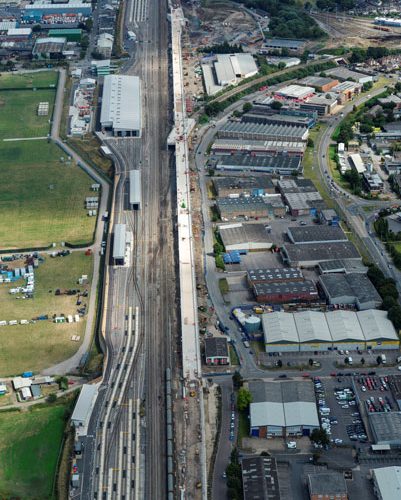 The new viaduct will ease rail congestion by enabling high speed trains that run on the Great Western Main Line to travel over the freight lines and straight into the station
The Balfour Beatty project team has handed over the main viaduct structure at Reading to Network Rail and Carillion, ready for track installation. Reading Viaduct forms part of Network Rail's £895 million redevelopment of the railway in Reading.
This handover is the third of five sectional milestones on the £45 million viaduct scheme. There are two remaining: the handover of the Feeder Line in October 2014 and the handover of the Festival Line in January 2015.
When the lines become operational in 2015, the new viaduct will ease rail congestion by enabling high speed trains (HSTs) that run on the Great Western Main Line to travel over the freight lines and straight into the station.  It will also enable Cross Country trains to travel over the freight lines independently of the HSTs so the different train operators will be able to manoeuvre in and out of the Reading area freely and without impeding each other. This is an operating achievement that has not been addressed since Brunel built the first layout in the 1840s, allowing faster passenger services to and from the south west of England.
William Smith, Balfour Beatty Project Director, said: "The achievement of this important milestone is a result of the collaborative efforts of the Network Rail, Carillion and Balfour Beatty team. Working to complete this project safely and to programme would have been more difficult if it were not for the strong collaborative mind-set from everyone involved."
In line with the company's commitment to sustainability, Balfour Beatty recycled the majority of materials generated from the site, diverting over 90% of waste from landfill.
With over 400 people working on the project at its peak, Balfour Beatty has worked in partnership with Network Rail and Carillion to ensure this milestone was achieved and this vital rail infrastructure project remains on course for its 2015 completion.