Frecciarossa 1000 makes its world debut
The new Italian luxury high-speed train Frecciarossa 1000 – the name means 'Red Arrow' – made its official world debut at InnoTrans 2014…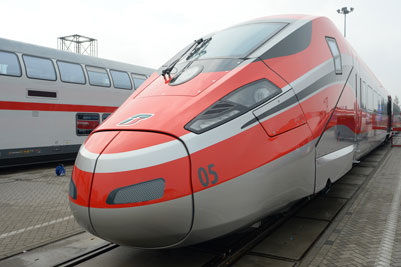 The new Italian luxury high-speed train Frecciarossa 1000 – the name means 'Red Arrow' – made its official world debut at InnoTrans 2014. It has been developed by AnsaldoBreda and Bombardier on the basis of the V300 Zefiro, is now undergoing trials and is due to come into regular service with Trenitalia early next year.
"I am proud of this product, the result of a joint venture", said the President of Bombardier Transportation, Dr. Lutz Bertling. "We presented a small scale model at InnoTrans 2010, a full-scale mock-up in 2012, and now the train is undergoing trials." The Frecciarossa 1000 combines the best technology available in the world, according to Luigi Corradi, CEO of Bombardier Transportation Italy.
"Many people can construct high-speed trains, but few can create such a beautiful design", Maurizio Manfellotto, CEO of AnsaldoBreda pointed out.
"We thought of our customers when designing this wonderful train", stated Vincento Soprano, CEO of Trenitalia. This new train, capable of top speeds of 250mph, has been granted certification for a maximum speed of 225mph, seats 469 passengers in four classes, and can cover the distance between Rome and Milan in two hours 55 minutes.
InnoTrans 2014 Location: Outdoor display area G7/20
Contact Paola Biondi, telephone: +39 (0) 34 -65045310, email: [email protected]
This news is courtesy of InnoTrans 2014.