Major railway companies launch new international procurement initiative to drive sustainability throughout the supply chain
On 4 March 2015 in Utrecht, the Netherlands, six companies in the railway industry – Deutsche Bahn, Nederlandse Spoorwegen, SNCF, Alstom Transport, Bombardier Transportation and Knorr Bremse – launched Railsponsible…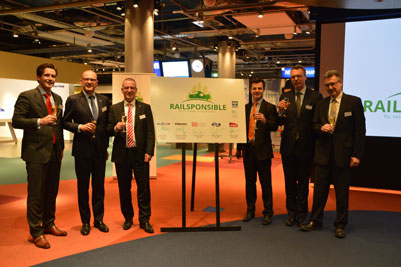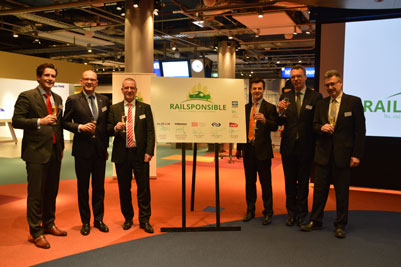 On 4 March 2015 in Utrecht, the Netherlands, six companies in the railway industry – Deutsche Bahn, Nederlandse Spoorwegen, SNCF, Alstom Transport, Bombardier Transportation and Knorr Bremse – launched Railsponsible, an initiative focused on sustainable procurement to improve sustainability throughout the entire supply chain, through sharing best practices and processes, driving a common understanding across the industry, and to use and share common tools, creating efficiencies.

The vision of Railsponsible is a global railway industry where all suppliers have in place good ethical, social, environmental and business practices.
The launch event on 4 March explored the unique opportunities and challenges of the railway industry global supply chain and how a collaborative initiative can drive the continuous improvement of sustainability practices of the railway value chain. The six founding members signed the charter to officially launch Railsponsible and invite other companies and suppliers in the rail industry to join.
About Railsponsible
Railsponsible aims to continuously improve the sustainability practices of railway industry suppliers. In March 2015, Railsponsible will kick off its first common supplier assessment campaigns using EcoVadis. Railsponsible is facilitated by BSR, with the support of EcoVadis, bringing strong expertise in collaborative industry sustainability initiatives, as well as sustainable procurement collaborative platforms.
Railsponsible is open to all railway operators and companies across the railway industry value chain, along with key industry associations that share its vision, mission and commitments.
To learn more about Railsponsible, please visit www.railsponsible.org.
The team behind the Railsponsible initiative will be providing a feature-length article about the project which will appear in Global Railway Review Issue 4 2015, published in July. To ensure you receive the issue in print, sign-up for free now at www.globalrailwayreview.com/subscribe.