Network Rail Easter railway improvements
Network Rail has announced the extent of railway infrastructure improvements over the Easter period. An investment of over £100m will be implemented to improve existing infrastructure aided by a workforce of over 14,000. The improvement programme includes new station facilities, new platforms, junctions and thousands of pieces of new, more reliable, equipment. The enhancements are […]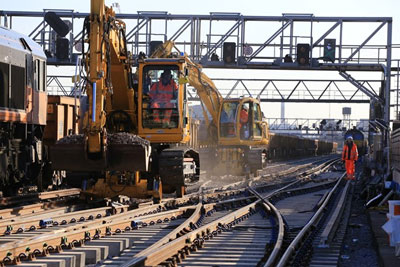 Network Rail has announced the extent of railway infrastructure improvements over the Easter period.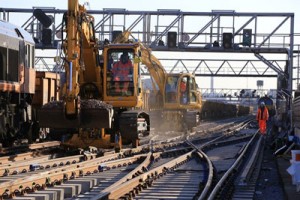 An investment of over £100m will be implemented to improve existing infrastructure aided by a workforce of over 14,000.
The improvement programme includes new station facilities, new platforms, junctions and thousands of pieces of new, more reliable, equipment. The enhancements are part of a continued investment and improvement programme that will take place over the four days of Easter, when passenger numbers drop by 20% to 40% compared to normal. However, some customers may experience disruption and are advised to check before travelling.
Network Rail's Chief Executive, Mark Carne, commented on today's announcement: "Our improvement programme this Easter, delivered by a 14,000 strong army of rail workers, is focussed on delivering a better service for passengers.  We are acutely conscious that many people want to use the railway during the holidays to reunite with their friends and families, which is why the vast majority of the network is running normally over the holiday period but there will be disruption for some."
Major programmes involved in the Easter programme include the continued work at London Bridge.  Improvements to track, signalling and platforms will be made as part of the £6.5bn programme to upgrade both the station and the entire route.
Reading will see new freight lines built under the Reading viaduct to completely separate passenger and freight services, enabling all those travelling on this route to experience smoother, faster journeys into and through Reading. A new signalling will also be implemented.
Watford will see an existing bridge south of the station replaced – this will allow train speeds to increase on the line. This is part of a £81m scheme that will replace old and tired tracks, signalling and junctions.
New overhead lines will also be installed on the London Liverpool Street to Norwich line at Chadwell Heath, Romford and Ilford.
Mr Carne concluded: "Passenger numbers continue to grow and grow and this Easter's investment programme forms a key part of our £38bn railway upgrade plan that is aimed at meeting this surging demand and improve and expand our congested railway network."
Related topics
Related organisations