Heathrow Express and taxi comparison smart screens installed at Terminal 2
New smart screens have been installed at Heathrow Terminal 2 providing passengers with live price and journey time comparisons between taxis and the Heathrow Express train service to central London. The screens provide live information on the Heathrow Express train service, real-time traffic and weather at the terminal's baggage reclaim zone. The aim of the […]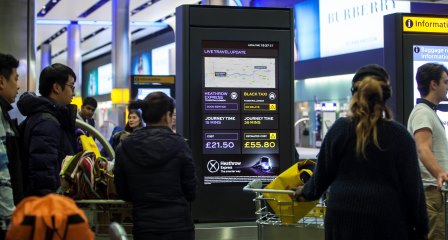 New smart screens have been installed at Heathrow Terminal 2 providing passengers with live price and journey time comparisons between taxis and the Heathrow Express train service to central London.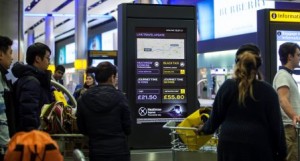 The screens provide live information on the Heathrow Express train service, real-time traffic and weather at the terminal's baggage reclaim zone. The aim of the screens is to advise passengers of the cheapest form of travel from the terminal.
The project was devised and created by Heathrow Express, which connects Heathrow and Paddington in 15 minutes.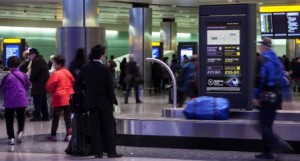 Fraser Brown, Heathrow Express director, commented on the installation: "The aim of the 'journey comparison generator' is to enable Heathrow passengers to get into London as speedily, easily and cheaply as possible. By harnessing many different sources of real-time data into one we are helping make this happen.
"Research shows Heathrow Express trains are three times faster than taxis and a quarter of the price. These screens show how that comparison varies minute to minute depending on traffic, weather and time of day."