First of three platform upgrades at Moorfields station unveiled
The first of three platform upgrades at Moorfields station, part of a £12m investment by Network Rail, has been completed…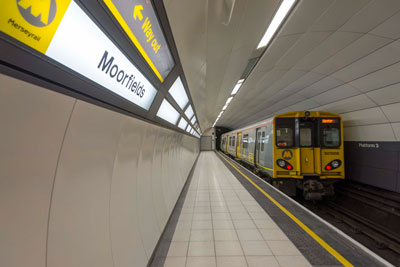 The first of three platform upgrades at Moorfields station, part of a £12m investment by Network Rail, has been completed.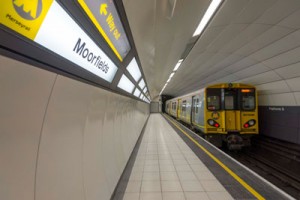 The redeveloped Wirral Line platform, which has been closed since April, reopened to passengers on 24 August 2015.
Moorfields is the latest station on Merseyside to be redeveloped as part of a wider £40m investment by Network Rail, working in partnership with Merseyrail and Merseytravel, to provide a better railway for the increasing number of people travelling by train.
Improvements throughout the station will include better platforms, walkways and upper and lower concourse areas. There will be new flooring, fresh enamel cladding on the walls and brighter lighting, which will give a cleaner, more airy and less cluttered environment.
Chris Littler, area manager for Network Rail, said, "This upgrade is the latest improvement being delivered on Merseyside to meet the demands of millions of passengers who travel by train in the area every year.
"More than £12m will be spent at Moorfields, part of more than £40m being invested in the area's underground stations, and we have worked closely with Merseyrail and Merseytravel to plan and carry out the work. When complete, it will be another station to be proud of."
Jan Chaudhry-van der Velde, Merseyrail's managing director, said, "We are delighted that Moorfields has hit a key milestone in its refurbishment, and that once again, regular Wirral line customers can travel to and from the station. The temporary closure of a platform or a station is never good news, but we hope that passengers believe it has been worth the wait and will appreciate the vastly improved look and feel of the Wirral line platform."
Additional investment will improve the reliability and lifespan of the escalators at Moorfields
Since the project was announced, an additional £4.4m investment has been announced at Moorfields, on top of the original £8m, to replace nine of the station's escalators. This will improve the reliability and lifespan of the escalators which carry 6.5 million passengers a year, a number which is predicted to continue to increase. The work will take place over the next 12 months.
Work to complete the Moorfields station upgrade was rescheduled last month when a three week extension was required to complete the Wirral line platform upgrade. The revised programme means work on the two remaining platforms will be rescheduled to take place in 2016.
As part of the £40m+ investment, improvements have already been made to Lime Street, Central, Hamilton Square and James Street stations.