London Bridge station rebuilding continues through August Bank Holiday
Major improvement work will take place at London Bridge station this August Bank Holiday, preparing the way for bigger changes next year…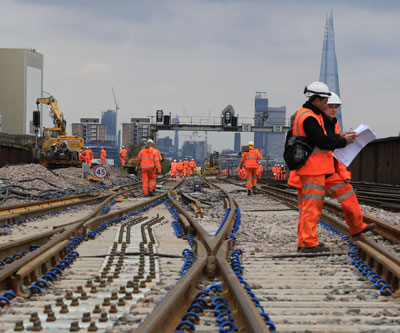 A major programme of improvement work will take place at London Bridge rail station this August Bank Holiday, preparing the way for bigger changes next year.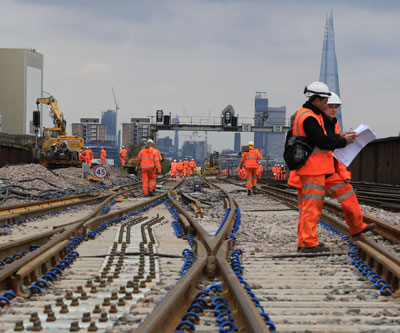 Charing Cross, Waterloo East, Cannon Street and part of London Bridge rail station will be closed for all three days of the bank holiday from 29-31 August, with Southeastern trains diverted to other London termini and some metro services replaced by buses.
The government-sponsored Thameslink Programme is rebuilding the station platform by platform. As a result, Charing Cross trains have been unable to stop at the station since last year while those platforms are rebuilt. Next year (August 2016), it will be the turn of the platforms used by Cannon Street trains to be rebuilt, and those services will begin running through without stopping until the station is completed in 2018.
Thameslink Programme rail systems project director Mark Somers said, "This bank holiday is an important one for us as the work we are doing will pave the way for some major changes in January and August next year."
Thameslink engineers untangling the tracks at London Bridge to reduce delays
Mark Somers continued, "We are untangling the tracks at London Bridge to reduce delays and increase the number of services that can travel through the station from 2018. It's a massive job and we appreciate the public's understanding while we do this."
The gradual nature of the station's rebuilding means that Thameslink Programme engineers have had to move the railway tracks and signalling around with every milestone, and every public holiday and even some weekends have seen different sections of the layout reconstructed in time for commuters to go to work on Monday morning.
Southeastern's managing director David Statham said, "The major rebuilding work being undertaken by Network Rail at London Bridge will mean some of our services are affected over the August Bank Holiday. We have advice for passengers on our website and would encourage people to check before they travel and to leave more time for their journey where necessary."
Work to the track and signalling systems near the station means that on Saturday 29, Sunday 30 and Monday 31 Southeastern services will not call at London Bridge, except for trains to and from Hastings. Trains will be diverted to either London Victoria or London Blackfriars with some trains starting and finishing at New Cross.
Over the bank holiday, Network Rail will be installing new tracks on the line towards Waterloo East that will carry trains onto the new Borough Market Viaduct from January 2016. All this work means that in August next year, Charing Cross trains will once again call at London Bridge using the new platforms and the first part of the new concourse will also be opened.  Platforms 1-3 will then be closed and rebuilding of the platforms used by Cannon Street trains will commence.