Rail industry contributes £10 billion to British economy
According to research carried out by Oxera on behalf of the Rail Delivery Group, Britain's rail industry contributes up to £10.1 billion in added value to the economy. A report released by the Rail Delivery Group, the association representing train operators, Network Rail and its supply chain, reveals the impact the rail industry has on […]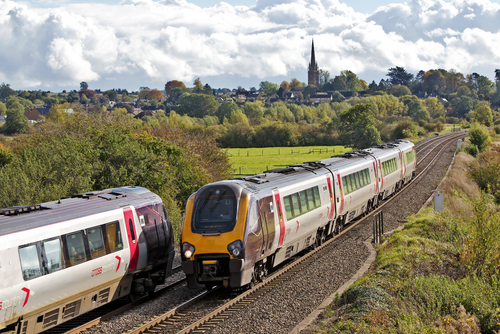 According to research carried out by Oxera on behalf of the Rail Delivery Group, Britain's rail industry contributes up to £10.1 billion in added value to the economy.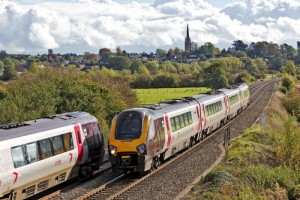 A report released by the Rail Delivery Group, the association representing train operators, Network Rail and its supply chain, reveals the impact the rail industry has on today's economy. In addition to providing over £10 billion in added value towards the British economy, the report suggests rail boosts economic productivity by up to £11.3 billion through reduced road congestion and enabling companies to be clustered together. The report also highlights the industry contributes up to £4 billion in tax to the public purse.
Latest research follows on from an initial report in 2014 on rail and the British economy. Most recent findings reveal the sector benefits passengers and freight users by £14.3 billion a year and up to 7.7million tonnes of CO2 emissions are saved per year by using the railway rather than other types of transport which contribute and estimated £460 million tonnes annually.
Rail industry in Britain boosts economic productivity by £11.3bn
Commenting on the report, Martin Griffiths, chairman of the Rail Delivery Group and chief executive of Stagecoach Group, said: "The railway and its supply chain are vitally important to every household in the country, linking people with jobs, paying taxes which help fund public services and increasing economic output.
"While other European countries have invested heavily in their railways, none has come close to matching the success of ours because they don't benefit from the winning combination of private sector innovation and government funding.
"There is more to do to improve Britain's rail services, but our network has been transformed in the last 15 years and our aim is to make it even better for passengers and businesses."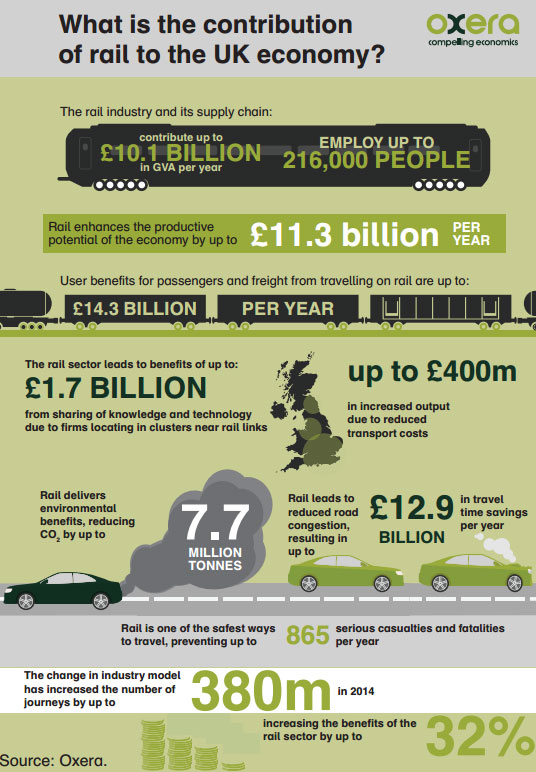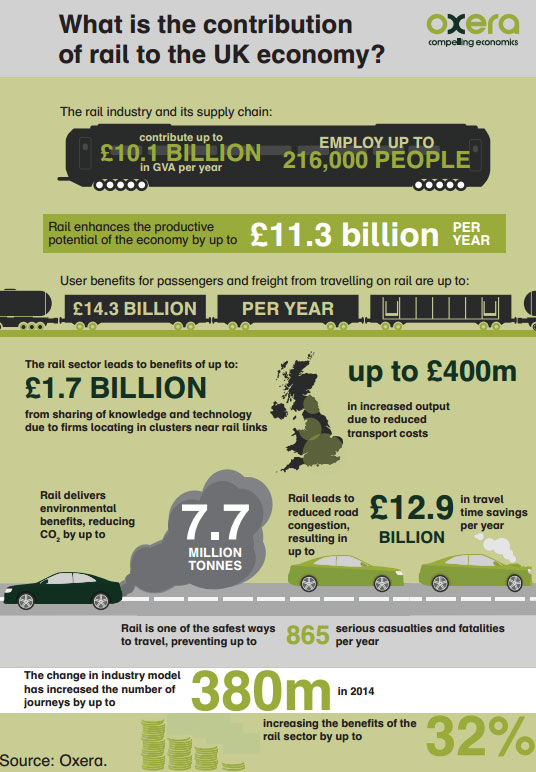 Andrew Meaney, Partner and Head of Transport at Oxera, the report's authors, added: "Our analysis makes use of a range of techniques to demonstrate the substantial and ongoing economic contribution made by the rail sector.
"Users of rail services are key beneficiaries but our analysis demonstrates that the sector also generates benefits to everyone else such as reduced congestion, increasing business productivity and reducing both accidents and carbon emissions."
The Rail Delivery Group commissioned report what is the contribution of rail to the UK economy? can be viewed here.