Port of Calais Modalohr rail terminal inaugurated
A new Modalohr rail terminal for the direct transfer of lorry freight semi-trailers has been established at the Port of Calais linking the region to Le Boulou on the Franco-Spanish border. The Modalohr rail terminal was officially inaugurated on 26 October 2015 ahead of its opening on the 12 January 2016.The terminal will operate a Rail […]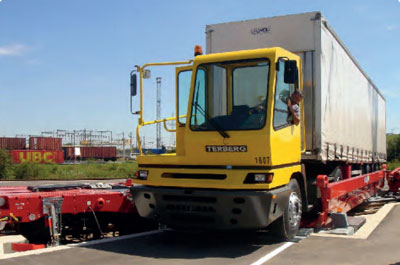 A new Modalohr rail terminal for the direct transfer of lorry freight semi-trailers has been established at the Port of Calais linking the region to Le Boulou on the Franco-Spanish border.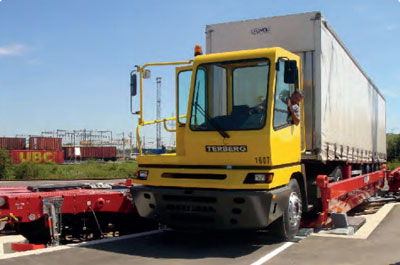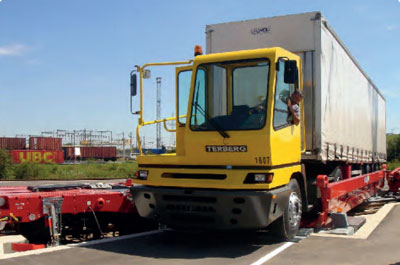 The Modalohr rail terminal was officially inaugurated on 26 October 2015 ahead of its opening on the 12 January 2016.The terminal will operate a Rail Motorway service between Le Boulou and the Port of Calais, directly linking Spain to the United Kingdom for unaccompanied semi-trailer traffic.
The terminal, operated by SNCF Logistics subsidiary VIIA Britanica, will become the first port equipped with a rail motorway terminal with a Modalohr system for side loading from lorry semi-trailer to rail. This will enable to port to become an intermodal node for semi-trailers from rail, sea and road.
At a cost of €7 million, the project was co-funded by the Port of Boulogne-Calais and the European Union's BRIDGE (Building the Resilience of International and Dependent Gateways in Europe) Programme. This allowed the port to be redesigned in order to accommodate the rail terminal and improve the movement of traffic around the port. A new zone was also created to receive the trains arriving from the Pyrénées-Orientales.
Port of Calais Modalohr rail terminal will become an intermodal node for unaccompanied semi-trailers
The new Rail Terminal has been specially designed to receive the latest generation of rail wagon. These new side-loading UIC wagons, produced by the French manufacturer Lohr Industrie, simplify and speed up the loading and unloading process, since the trailers are towed directly onto the wagons instead of being lifted by crane as previously.
Thanks to the Modalohr technology, all types of semi-trailers built to European standards can be accepted whether they are reinforced or not, making the VIIA service available to all operators.
Once open the VIIA Britanica service will become the longest rail motorway in Europe avoiding 1,200 km of journey by road. Approximately 40,000 trailers will be able to transfer from road to rail every year, leading to reduced road congestion and a decrease in CO2 emissions of nearly 50,000 tonnes per year.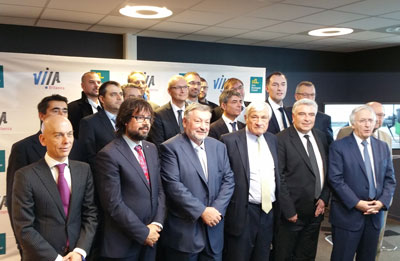 Commenting on the terminal inauguration, Jean-Marc Puissesseau, the CEO of the Port of Boulogne Calais, said: "We are proud to be the first European port to possess a terminal of this type. This investment brings the port new prospects for development and anticipates the growth expected for the port thanks to Calais Port 2015".
Thierry Le Guilloux, President of VIIA, added: "We are delighted at the opening of this terminal, which testifies to the vision that we share with the Port of Boulogne-Calais of developing cross-channel traffic in unaccompanied semi-trailers by establishing a connection between rail motorways and sea motorways"