Testing begins on the Jakarta-Bandung project in Indonesia
Testing of the Jakarta-Bandung high-speed railway project has started, with construction potentially beginning at the end of this month.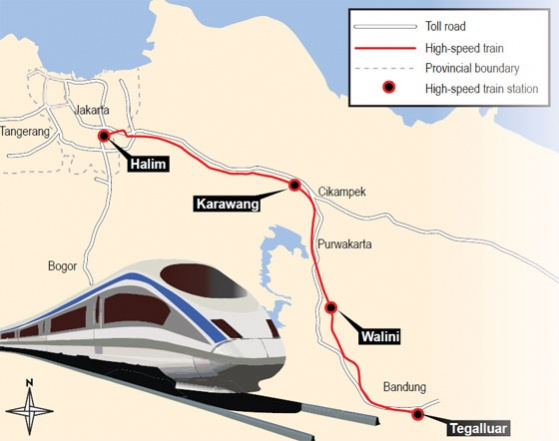 Testing of the Jakarta-Bandung high-speed railway project in Indonesia has officially started.
The Jakarta-Bandung high-speed railway project was formally started in Walini, West Java Province of Indonesia on March 2016 and within two months of the implementation of the project, the concessional agreement was signed, which is faster than any other railway project in Indonesia.
Built and invested by a joint venture between China Railway Co Ltd and several Indonesian enterprises, this is the first high-speed railway in Indonesia and Southeast Asia. It is also the first overseas high-speed railway order comprehensively covering technical standard, survey and design, engineering construction, equipment manufacturing, material supply, operation management, personnel training, and comprehensive development of areas along the railway line.
The Jakarta-Bandung line has been partially funded by the China Development Bank (in the first overseas deal that a Chinese high-speed rail enterprise has secured using China's advanced technologies and equipment), which has offered loans to cover about three-quarters of the investment of the project, which requires more than $5 billion in total funding.
The testing was carried over a 5km section of the railway line in the Padalarang area of West Java Province which comprises four parts of subgrade, three bridges, one tunnel and one station and is of vital importance to the whole line.
According to a Xinhua report the line is expected to be operational by 2019.