Work begins on Melbourne's Level Crossing Removal Project
Contracts for the removal of a dozen level crossings in Melbourne's north, west and south-east have been signed, worth more than a billion dollars combined.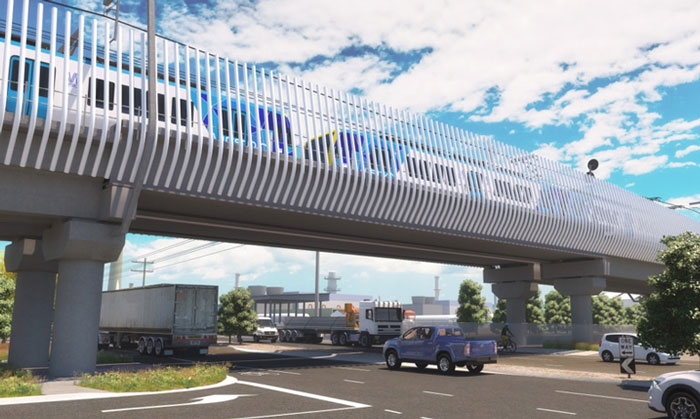 This is part of the Level Crossing Removal Project, which aims to eventually remove 50 level crossings across Melbourne by 2022. Until now, level crossings have been removed one at a time or in pairs, and over a number of years. While this approach goes some way toward addressing localised issues, the scale of the problem is so big that it calls for a strategic approach and corresponding scale of investment.
The program of crossing removals will have benefits for safety, congestion, and creating better connected, liveable and thriving communities. It is also critical in enabling the completion of a number of major rail projects.
The combination of the Level Crossing Removal Program, with interdependent projects including the Cranbourne/Pakenham line upgrade and the Metro Tunnel, is expected to deliver a net benefit of $5.1 billion.
Work so far
An Alliance led by McConnell Dowell, Arup and Mott MacDonald will remove the Kororoit Creek Road level crossing in Williamstown North and duplicate part of the Altona Loop, as part of the Western Program Alliance. Work for this will be fast tracked to start this year, with the level crossing now expected to be gone by the end of 2018.
If the Alliance meets strict performance measures in delivery of this project, it will retain the contract to then remove the level crossing at Abbotts Road in Dandenong South – where work will also start this year – followed by Aviation Road in Laverton, Ferguson Street in Williamstown, and Cherry and Werribee Streets in Werribee.
Another Alliance, led by John Holland and KBR, has been awarded the contract for the North-West Program. They will remove the Camp Road level crossing in Campbellfield, followed by Skye/Overton Road in Frankston and Buckley Street in Essendon. The removal of these dangerous crossings has also been fast tracked and construction at all three will begin this year.
If these works are delivered well, the Alliance will then progressively remove the level crossings at Glenroy Road in Glenroy, Bell Street in Coburg and Moreland Road in Brunswick.
"No Government has ever removed this many level crossings, this quickly," said Jacinta Allan, the Minister for Public Transport. "We're ahead of schedule and we're not slowing down – work is underway all over Melbourne removing these congested death traps. Our unprecedented investment will reduce congestion, improve public transport and save lives – and create thousands of jobs along the way."
The benefits
These works will create thousands of local jobs, and provide skills and opportunities to hundreds of apprentices, trainees and cadets through the Victorian Government's Major Projects Skills Guarantee.
Removing level crossings will also save lives. Twenty people died after being hit by a train between 2005 and 2014 at one of the 50 crossings slated for removal, with more than 60 collisions and nearly 680 near misses also occurring at those 50 sites.
Related topics
Related organisations
Related regions