Drax Power agrees new three year contract with DB Schenker Rail UK
Drax Power, has awarded rail freight operator DB Schenker Rail UK a new three year contract…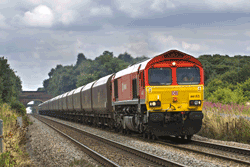 DB Schenker Rail coal service for Drax Power, passing through Bessacarr from Immingham to Drax Power Station
Drax Power, operator of the UK's largest power station, has awarded rail freight operator DB Schenker Rail UK a new three year contract to haul coal and limestone to the Drax Power Station in Yorkshire.
Under the new contract, DB Schenker Rail UK will continue to operate its existing coal services for Drax Power from ATH Resources and Keir Mining in Scotland, and from the Port of Immingham.
New services to be operated by DB Schenker Rail under the contract include coal services from Hull Docks, and limestone services from Tunstead.
Paul Taylor, Director of Trading for Drax Power, said: "We are pleased to have agreed this new contract with DB Schenker Rail. The reliability of deliveries is important to us, and we are impressed with their industry leading levels of performance in this area."
Neil McDonald, Managing Director Industrial for DB Schenker Rail UK, said: "We are pleased to have renewed our relationship with Drax Power, and to be operating additional services. We have worked hard to provide leading levels of reliability to them, and look forward to this continuing under the new contract."