Adapting Infrabel's artificial intelligence solutions for the COVID-19 pandemic
In an exclusive interview, Terry Wykle and Dimitri Van Hecke, IT specialists at Infrabel, speak with Leah Hockley, Global Railway Review's Junior Editor, to discuss how Infrabel's existing artificial intelligence solutions were utilised and adapted during the COVID-19 crisis to protect the health safety of its workforce.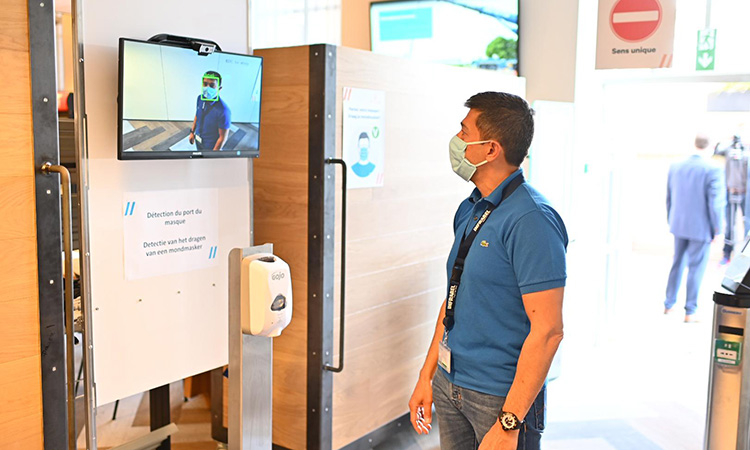 Credit: Infrabel
When the COVID-19 pandemic hit, every industry across the globe felt the unprecedented impact. The rail industry was no exception – staff numbers fluctuated as infection rates rose, services ground to a halt and passenger demand plummeted. However, it soon became clear that the railway would play an essential role in ensuring the continued movement of goods and key workers. Stakeholders across the industry were then faced with the challenge of having to ensure the health safety of those still needing to travel, as well as working to make sure that their own workforce remained safe from possible infection.
In response to this challenge, Infrabel took advantage of its existing technological solutions to support its workforce in preparation for the resumption of services. A wide range of tools, which utilise artificial intelligence (AI), were developed and deployed – sensors to detect and enforce social distancing and the wearing of facial coverings, and transmitter wristbands that ensure that staff members remain the designated distance apart to abide by social distancing rules.
Following the introduction of these new solutions, Global Railway Review spoke to two IT specialists from Infrabel – Terry Wykle and Dimitri Van Hecke – about the technology, how successful the efforts have been and what the future looks like for the use of AI at Infrabel.
What new AI solutions has Infrabel introduced to keep its staff safe during the pandemic?
Both Terry and Dimitri explained that Infrabel had been experimenting with AI long before the arrival of the pandemic, with solutions being developed to protect staff in the field – for example, deploying AI to keep the workforce safe from being hurt by passing trains when working.
Recently, in the last three to five years, we have invested a lot in innovation and innovative technologies, and also in artificial intelligence"
"Infrabel is the Belgian railway infrastructure manager, which consists of about 10,000 employees. So, it's a large company, and our top priority is safety. Recently, in the last three to five years, we have invested a lot in innovation and innovative technologies, and also in artificial intelligence," outlined Dimitri. Discussing how this was being utilised prior to the pandemic, he added: "We had already undertaken research and developed some solutions to protect our staff, and we already had solutions in place to detect whether employees are wearing their helmet or wearing their gloves."
However, COVID-19 led the team to think on a larger scale and consider how this could be adapted for further benefit. Terry explained: "With the pandemic, we thought: 'Why can't we use our existing research and solutions to provide assistance to our staff to make sure that they are respecting social distancing, but also wearing masks in the necessary spaces?' So, that's what we have done."
The first solution, explained Dimitri, is a small application deployed at the entrances of buildings to detect whether or not the staff member is wearing a facial covering and if it is being worn correctly. This solution was adapted from an existing Infrabel AI solution that ensures that members of the workforce are wearing the relevant personal protective equipment (PPE) where necessary. For the second solution, Terry said: "We are analysing the distance between people in some common areas, and then, if they are too close to each other – in this case, it's 1.5m – there is a vocal cue that exclaims that they are too close in three languages: French, Dutch and English."
"So, for us, it was a relatively small step to adapt these innovative technologies and these solutions already in place for our staff, and to adapt them to produce two new applications for the pandemic, which we rapidly developed, thanks to the fact that we had already invested a lot in innovation and in other solutions, in the context of safety," Dimitri concluded.
How does artificial intelligence help to limit the spread of COVID-19?
Both Terry and Dimitri were very clear that, though artificial intelligence played a key role in Infrabel's response to COVID-19, it was only supporting a wide range of other more tangible measures in limiting the spread of the virus. AI cannot stop the spread of COVID-19 on its own, but can instead be combined with other measures to ensure the safety of the workforce by ensuring that they abide by the health measures that have been put in place to protect them.
"Like any company in the world, we implemented some physical safety measures in response to the coronavirus pandemic in our buildings. Of course, we put up a lot of signs, we helped our staff with disinfection products and all of that, which every company does," Dimitri said. "But, in spite of that, there is still a very human aspect which is not easy to control, because experience has shown that colleagues are coming to the office and start to work more or less as they normally would, meaning that they tend to forget sometimes that COVID-19 is still an issue, especially in these informal areas," he highlighted.
It's easy as a human to forget to keep the distance of 1.5m in common areas and so on, so it's just a reminder to help people"
Dimitri continued: "These applications are very helpful to remind them. Especially, for example, if they forget their mask or are wearing it incorrectly, then they are reminded by a voice saying: 'Please wear your mask.' It's helping our staff by reminding them that the pandemic is still here. So, it's helping them to limit the spread of COVID-19, but it's not really the application that is preventing the spread, it's more a reminder for our staff."
Terry agreed, adding: "As I said from the beginning, it is just a method of assistance. For different reasons that are linked to the instability of AI in some circumstances, but also that we are aiding other global measures for preventing the spread – which are the masks, social distancing and washing your hands and so on. So, here, it's just assistance to a person and their actions, as it's easy as a human to forget to keep the distance of 1.5m in common areas and so on, so it's just a reminder to help people."
Have the solutions been successful? And has the workforce responded well to them?
The two AI solutions that Infrabel has developed and implemented have been successfully trialled, with the technology proving itself extensively. However, the solutions are only as good as those who use them, so the way that the infrastructure's workforce responded to the technology was equally as important in the success of implementation as the technology itself. One of the key challenges in ensuring that the workforce adopted the AI solutions positively was tackling the issue of privacy and security.
"It was very important from the beginning of this project to discuss with the workforce and unions – the representers of the workforce – together with our legal department, but also with our data privacy officer (DPO), to explain to the workforce that there are no recordings or identification of persons," Dimitri explained.
He continued: "Together with our DPO, we explained that privacy and confidentiality would be absolutely guaranteed, because experience has taught us that, once you put up a camera, even if it's a simple webcam, people tend to get suspicious. So, we really explained to them that there are no recordings, everything is happening in real-time, there is no facial recognition, we do not keep any of these images and we do not use them for other purposes. It was very important from the beginning to do this, and this helped the workforce to accept these solutions. We got some questions, of course, but we were able to respond to them."
It's important to explain the whole concept of what artificial intelligence is and what artificial intelligence isn't"
"The thing is that, with artificial intelligence, there are a lot of myths surrounding it. So, it's important to explain the whole concept of what artificial intelligence is and what artificial intelligence isn't. That's really important, and we are dedicating a lot of time to that. When it comes to a solution like the two we have discussed, as Dimitri said, it's really important to discuss it at a very early stage of the project to make sure that they have no fear and to make sure that they trust this solution, otherwise they will not use it or they will complain," Terry elaborated.
Does Infrabel intend to introduce more artificial intelligence or technological solutions to ensure safety in the near future?
 With the success of previous AI solutions, as well as the two adapted COVID-19 measures, Infrabel is keen to continue the adoption of AI in a variety of ways. With many of its AI development efforts being focused on the safety of its workforce, the infrastructure manager seems keen to build on its existing research to enhance its protective measures.
"Artificial intelligence is already used in some of our processes for helping people and, as we said, those two solutions that we have discussed have just been derived from our existing research, to secure better safety for field workers when they are working in dangerous area. Because, as we said, safety is our first priority for Infrabel, and we are aiming for a wider introduction of this technology, and that's the goal of our research," said Terry.
We want to introduce more assistance for people, to protect them, to help them and, mainly, to avoid incidents in the field"
He added: "We want to introduce more assistance for people, to protect them, to help them and, mainly, to avoid incidents in the field. So, yes, we would like to introduce those technologies, but only if they are tested, if they are working and if they can bring an improvement for the safety of workers."
"If you look at artificial intelligence, it's quite a recent technology. If you look at the solutions and the implementations that this technology has already proven, they are more in the commercial or sales area. We are a very industrial company – like Network Rail, for example, in Britain – and, in this industrial environment, I think there is still a huge potential for artificial intelligence," Dimitri clarified.
He concluded: "We will continue to innovate and to develop new solutions to help our staff respect safety procedures and to protect them from any hazards or dangerous situations, so I think there is still a huge potential for this technology."