Infrabel to implement artificial intelligence solution in COVID-19 fight
Infrabel's new AI solution can determine if social distancing and facial covering requirements are being met by employees.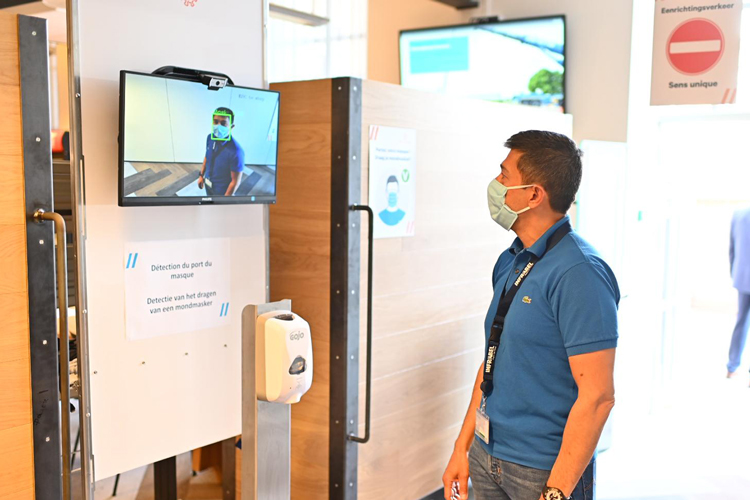 Credit: Infrabel
In order to increase the safety of both its colleagues and its customers, Infrabel has taken advantage of its experience in the field of artificial intelligence (AI) to introduce a new solution that works to enforce social distancing, which is essential in working to avoid the spread of COVID-19.
Infrabel colleagues responsible for innovation have developed a series of tools based on AI and triangulation, making it one of the first companies to make this type of equipment available to its staff. Several domestic and foreign companies have already expressed interest in the innovations.
Prior to the COVID-19 crisis, Infrabel was investigating how it can adapt AI to the needs and specific risks associated with certain railway professions. Two projects were under construction:
The development of sensors that can recognise if employees are wearing personal protective equipment, such as safety glasses or gloves
A detection system for dangerous situations, such as a technician who has fallen onto the tracks.
Following the outbreak, Infrabel has re-oriented these projects at a record pace and adapted it to the current needs of the rail industry: Recognising that the detection of the correct wearing of a facial covering has temporarily displaced the detection of wearing of personal protective equipment; and the detection system that can recognise a technician falling in the tracks meant that Infrabel was able to build on the algorithms under development and instead determine too little social distance between two people.
Under normal circumstances, some 30 Infrabel colleagues are responsible for the maintenance of the rail infrastructure. Due to the COVID-19 measures, the number of people allowed is limited to eight. In addition, it is also mandatory to keep a distance of 1.5m between colleagues. With a sensor permanently scanning the room, the AI solution is able to detect if those within the room are abiding by the required distance of 1.5m and will emit a warning signal if this requirement is not being met.
In addition, in the hallway of a building, colleagues may only be allowed to walk in one direction. This will limit the risk of people walking past each other in too close a proximity, which can help to spread the virus. A sensor, coupled with AI, can determine if this measure is being abided by, as well as identify people who are not wear a facial covering. It is even able determine if the facial covering is being worn incorrectly – for example, if the nose is still visible above the mask.
Infrabel has also introduced the use of Ultra Wide Band (UWB) transmitter wristbands, which are able to measure the distance (up to 10 cm) between those wearing them very accurately. The wristbands may vibrate, send an audible signal, or blink if the wearers are too close to each other.
Infrabel understands that the new innovations do not replace sanitary safety measures. Instead, they are an extra safety measure, in addition to the existing guidelines. They are used only with the utmost respect for legislation and data protection rules, including the General Data Protection Regulation (GDPR).