A bright future for U.S. rail freight
Ian Jefferies, President and CEO of the Association of American Railroads (AAR), writes that there is an optimistic future for rail freight demand in the U.S., but investment in technology, streamlining operations and modernising services will be crucial for long-term success.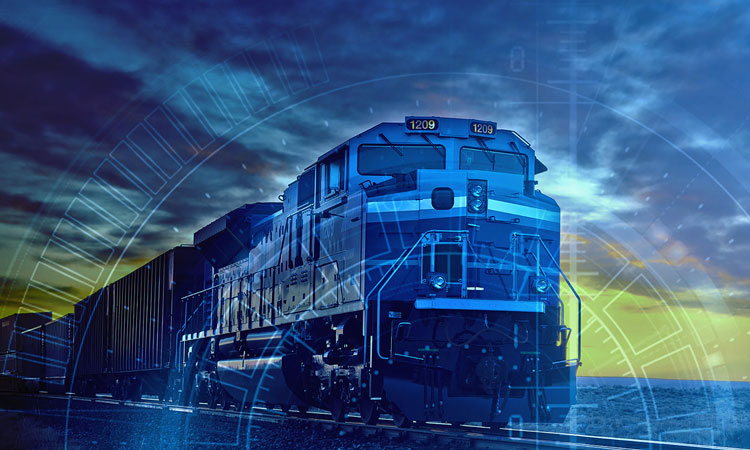 The coronavirus pandemic has upended 2020 across all industries, and railroads are no exception. Large segments of traffic, such as automobiles, were brought to a standstill, while others, like paper products and sanitiser, took on heightened importance. Thankfully, traffic is showing signs of life, especially in the intermodal sector, yet it is far from normal and may not be for some time.
Still today, the virus continues to disrupt our way of life and alter domestic and international commerce in profound ways.
One silver lining of the pandemic, however, is that businesses and services critical to our modern way of life are now more recognised and appreciated for their criticality. Freight railroading in the United States – and across North America, for that matter – exemplifies this phenomenon.
"Among the two billion tonnes shipped annually over rail freight networks are essential industrial inputs and critical products, such as chemicals for medicines and food packaging, chlorine-based disinfectants for treating water, crop fertilizer, animal feed, municipal waste, energy supplies and household products, such as toilet paper, cleaning supplies, food and wheat for bread," said Denmark-based scholar, Roslyn Layton.
Indeed, the flow of groceries, pharmaceuticals and other essential goods is a stark reminder that transportation networks that bring those necessities to people are as vital as the goods themselves.
Prioritising employee safety first and foremost, while also working with logistic sector partners – barges, trucks, warehouses and both inland and seaports – railroads continue to deliver when America needs them most. It is a testament to U.S. ingenuity, private enterprise and skilled and dedicated workers. It is also the product of a dedicated cadre of thoughtful companies that have invested intensely and strategically into the rail network for many years.
We know that the U.S. and the world will eventually emerge from the current health crisis – hopefully stronger than before. In doing so, consumer demand will increase and thus require safe, efficient and cost-effective transportation modes. U.S freight railroads are optimistic about this future and are eager to meet the demands. The industry has long been preparing for a future in which freight demand will rise by nearly 40 per cent over the next 20 years – investing in technology, streamlining operations and modernising services to serve the diverse customers at the heart of the industrial and consumer economies.
Technology
As upstarts – such as Hyperloop One or the truck platooning company, Peloton – seek market entry, rail freight continues to aggressively deploy AI-like technologies that boost safety performance and productivity. An iconic industry known for western expansion – fuelled by coal and wood –is today a digital network. Whether it is drones scouring hard-to-reach bridges or sonar peering into tracks that span the country, technology is leading freight railroads to places – and allowing the industry to adapt – as never before.
"The U.S. rail industry and the multi-billion-dollar infrastructure it supports is well positioned to capture the benefits of new technologies that will automate systems to improve safety and provide better value to consumers," according to a report from the R Street Institute.
Importantly, a single train today has a wide network of people and technology monitoring its status and performance. For instance, railroads are in the final stretch of implementing Positive Train Control (PTC) on much of the mainline network. This anti-crash technology – made possible through a private wireless network and GPS mapping – helps to prevent incidents caused by human error, including train-to-train collisions and derailments caused by excessive speed.
At the same time, track geometry cars can constantly monitor track integrity and rely on a network of sensors to inspect infrastructure and equipment in real-time. Coupled with big data analysis, these tools supplement traditionally manual functions and are proving better than human operators at identifying issues before they arise. These digital tools provide an additional layer of oversight as railroads deploy ground personnel throughout the network to monitor trains and communication systems remotely.
Their impact is real: The train accident rate is down compared to the past decade, a clear benefit not only for customer service and reliability, but also the communities in which railroads operate. Looking forward, technology will help the industry work towards a future with zero incidents and injuries. It will also help the industry reimagine what running the 140,000-mile network looks like. Innovation holds great promise in increasing capacity and meeting new demand.
Operations
As a parallel to new technologies, U.S. freight railroads also continue to apply a disciplined approach to modernise operations, which allows railroads to nimbly adapt to meet evolving customer needs. Much of this rests in digitalisation and meeting customers' expectations when it comes to real-time logistics. Yet, it also includes an intense focus on making the network as efficient as possible – adapting resources in real-time and aligning resources where they are needed most. Such a streamlined approach enables railroads to weather sudden changes and market shifts, like those experienced in recent years with the continued decline of coal.
Serving intermodal customers, including large parcel companies, is simply a different animal than moving traditional bulk commodities. These customers require precision only feasible through a streamlined network that the industry is now realising through lower operating ratios and service consistency. All customers seek a fluid network, and that is where the railroads are today.
As I often say, the U.S. rail freight network is in the best shape it has ever been.
Environment
The net effect of the industry's forward-thinking approach on technology and operations will not only help meet broad economic goals, but railroads will also play a central role in meeting the pressing societal challenge posed by climate change. The fact is that moving freight by rail instead of truck lowers greenhouse gas emissions by up to 75 per cent, on average. The inherent efficiency of freight-by-rail movements is something society as a whole can, and should, embrace.
Consider the theoretical presented recently by the Association of American Railroads (AAR): If 25 per cent of the truck traffic moving at least 750 miles went by rail instead, annual greenhouse gas emissions would fall by approximately 13.1 million tonnes. That would be equivalent to taking 2.6 million cars off the highway for a year or planting nearly 200 million trees. Taken a step further: If 50 per cent of the truck traffic moving at least 750 miles went by rail instead, greenhouse gas emissions would fall by approximately 26.2 million tonnes. That would be equivalent to taking 5.1 million cars off the highway or planting nearly 400 million trees.
These distances matter. These are the areas where rail can be competitive in the future and capture greater market share, including through intermodal partnerships.
Conclusion
Railroads are optimistic about a future in which freight demand will continue to increase. While we cannot predict the future, we are confident that freight railroads will play a key role in meeting the demand.

As the Association of American Railroads' President and CEO, which is a role he took on in 2019, Ian Jefferies advocates for and works with member railroads to ensure the long-term viability of America's railroad industry. Ian has more than a decade of experience working in government. From 2009 to 2013, he served as a Senior Policy Advisor to the Chairman of the U.S. Senate Committee on Commerce, Science and Transportation and, from 2013 to 2019, he was AAR's Senior Vice President of Government Affairs.