Taking the pain and guesswork out of rail business case production
More capacity is urgently required on Britain's already overstretched railway network. Supporting this much-needed modernisation is Rail BI, a business intelligence tool which can be applied to the estimating, cost modelling and life-cycle costing elements of rail infrastructure project delivery. Global Railway Review takes a closer look.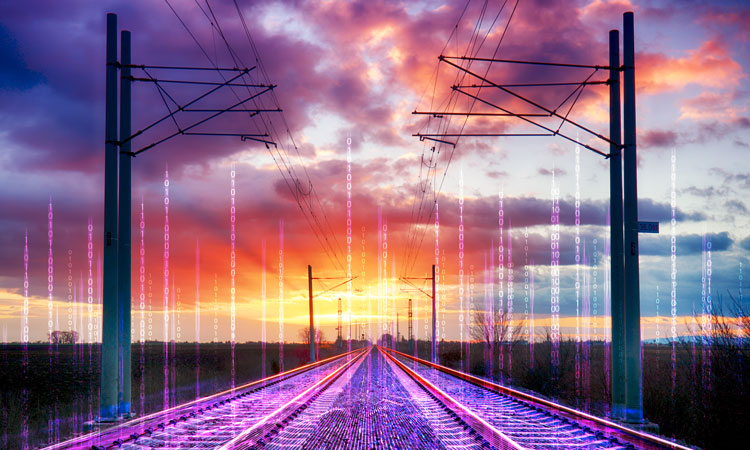 Pre-COVID-19, the number of passengers using Britain's railway had doubled since the mid-1990s, and at peak times on the busiest parts of the network, the railway was running at full capacity. Demand for train travel will return and when passenger numbers increase again, modernisation and unlocking more capacity is required to ensure the network is capable of carrying an extra one billion journeys by the mid-2030s.
Traditional methods of providing additional capacity, i.e. building new railway infrastructure, would be hugely disruptive and expensive, so the adoption of digital technologies is a cost-effective way of releasing significant additional capacity on Britain's existing network.
To transform Britain's railway, the introduction of modern signalling and train control technology is required to increase capacity, reduce delays, enhance safety and drive down costs. It is an industry-wide initiative supported by government, train operators, freight companies, the supply chain, and trades unions.
The East Coast Main Line upgrade
As part of the Digital Railway programme, Network Rail is currently upgrading the East Coast Main Line (ECML) to allow more trains to run and deliver quicker journeys across the route. An essential route, the ECML connects London and Edinburgh via Peterborough, Doncaster, York, Darlington, Durham and Newcastle, and carries over 20 million passengers a year. Once upgrade work is completed, an additional two long-distance services an hour will be able to run into and out of London, and massively improve train service reliability.
The current signalling equipment on the ECML is reaching the end of its useful life. A new European Train Control System (ETCS) is being deployed and will make operations more efficient, in so doing cutting both journey times and delays.
The ECML is a mixed-use railway, and so the ETCS technology will let the train and track communicate with each other continuously in real-time, allowing signallers to know the exact location of a train at any given time.
For a project of this scale, the team at Network Rail realised early on that traditional methods of using spreadsheets to manage data, and plan and prepare the complex business case for this £1.2 billion project, would be unlikely to meet their needs.
With costing the removal and replacement of 10,000 assets over 241 route kilometers, the installation of ETCS, and planning for the disruption of 79 train services, the team required a tool that would be able to cope with the complex requirements of the project.
The Rail BI platform
Rail BI was the solution. The tool generates fast, clear, and accurate information to be used in business cases for rail industry managers looking to plan and justify service investment. Built on live, comprehensive data direct from railway infrastructure managers, Rail BI enables confident and innovative decision-making in organisations like Network Rail.
The amount of data that is required to base complex project decisions upon is huge, and certainly too big to manage with traditional spreadsheet solutions.
Rail BI's centralised data storage solution can connect many previously unconnected databases and spreadsheets from across an organisation and the wider rail industry, so that decisions can be made based on the latest information and extensive optioneering. The repeatability and streamlined working practices of Rail BI's agile software provides huge savings in time and resources.
The platform ensures the user can get answers at a more detailed, broken down granularity when they are needed.
Deploying Rail BI on the ECML upgrade
The amount of data that is required to base complex project decisions upon is huge, and certainly too big to manage with traditional spreadsheet solutions. As the 'digital railway' project has evolved, the use of modern software programmes like Rail BI has allowed Network Rail to focus on and solve problems in a more cost-efficient manner.
For instance, and using the digital railway programme as an example, an ETCS system requires two devices to be deployed on a train station platform to control the dispatch of a train. In project delivery stage, Network Rail needs to know how many of those devices are required for any stretch of network, and because Rail BI already has that station and platform data for the entire country, the information can be easily sourced. That same cost dataset can then be applied to any stretch of railway line.
And this is just one of many costs that must be taken into account. In large projects like these, things quickly become exceedingly complex with every additional cost that must be considered. By using the Rail BI tool, it is easier for a rail infrastructure manager to bring all of these costs together to run and compare different scenarios; previously teams of consultants would have been deployed to evaluate small sections of track. With the ability to quickly run a variety of estimations that the Rail BI tool offers, infrastructure managers can make noteable savings in time and costs.
Britain's rail industry must take into consideration the owners of rolling stock fleets, the train operating companies and Network Rail as the infrastructure manager. So, three different autonomous parties to satisfy and consider the impact on each. Abstract mathematical modelling can often be viewed as an over-the-top process, so Rail BI helps decision-makers from all of the interested parties come together, get the numerical part out the way very quickly, and move on to debating whether or not something needs improving to generate results quicker. That's the vision of using the data to an advantage and not being controlled by the data. There's a big difference.
There are three pillars to consider for every business case – what are you doing, where are you doing it, and what is the impact? When those elements are separated logically, an engineering team can then work out what they're doing, where they're doing it, and the costing and benefit economic team can work out what the impact is. The results can then be obtained, and the methodology and analysis can be deployed elsewhere. This in turns allows for scaling up.
Scaling up and possibilities
Rail BI works with organisations like Network Rail to clean and combine disparate data sources, so that the information is always easy to access, interrogate, and report on in different formats.
Rail BI's platform would be relevant for any infrastructure manager, not just in rail but for road, electrical supply, water supply, etc – any linear asset company. But it will depend on the current state of their data in terms of not just how robust one dataset is, but how connected they all are. What Rail BI does is provide a 'connection thread'. When a business case begins, that is when it should be realised that a dataset must be connected with another dataset. For instance, should connecting the number of signalling staff data with those of the stations or the track be performed?
They're not necessarily naturally connected, but they are naturally connected when looking to make a business case decision.
Rail BI works with organisations like Network Rail to clean and combine disparate data sources, so that the information is always easy to access, interrogate, and report on in different formats.
Different infrastructure providers will be at different places with their data connectivity, but they could all benefit from this approach in terms of the optioneering scenario iteration; build one business case, focus on that and then look to the future – another renewal cycle of traditional equipment, for example.
It is worth noting that the vast quantities of data available in any large organisation are rarely 100 per cent accurate and are gathered from multiple sources, but it will allow an infrastructure manager to achieve results in the longer-term. For instance, disagreements between data sources are not a problem, as all versions of a piece of information can be viewed simultaneously, highlighting any potential issues and moving an organisation towards a single source of truth over time. This provides an instant opportunity to build on existing systems.
Rail BI's platform has the power to assist other rail infrastructure managers in identifying their pain points. It might be difficult for some to move away from traditional spreadsheet working; considering how commonplace they have been in project planning for many years and their high degree of flexibility. But, they are extremely susceptible to human error and, as projects become more complex, so do the spreadsheets being used. This results in painstaking troubleshooting processes, and ultimately more difficulty in understanding the data and being able to draw meaningful conclusions from them.
As Network Rail's team knows only too well, the difference in using a tool like Rail BI, which can be tailored to meet specific requirements, is invaluable.
Conrad Barrett-Freeman, Managing Director of Rail BI, said:
"We're proud to have supported the East Coast Main Line project and to have seen the difference Rail BI can make to infrastructure planning at this level. We've supported a variety of Train Control programmes in recent years, such as Northern Powerhouse Rail, the Transpennine Route Upgrade, East-West Rail, South-East Traffic Management, the Brighton Mainline, and more. And we've shown again and again that for projects large and small, Rail BI allows you to assess detailed scenarios and make better decisions, as the software scales with your needs.
"The tool is unique in both its range of features and its outlook. We recognise that each project and each organisation is unique, so a one-size fits all approach is unlikely to succeed. At the same time, we know that there are many repeatable aspects to business case work and estimation, but that these aspects are often difficult to access and take advantage of when traditional methods are used. As a result, time and resources are often wasted on work that could be performed by Rail BI.
"Our goal is always to give decision-makers the confidence that investment is well-placed. We know that project sponsors are often put in positions where they must choose between rough and quick, or detailed and time-consuming estimates. Rail BI solves this problem. By taking into account and building on the distinct needs of different estimating, cost modelling, and life cycle costing projects, Rail BI is able to leverage vast quantities of data to encourage informed option comparison, and quick and consistent business case production."
For more information please visit: railbi.com