Indian Railways' Freight Business Development portal: A one stop smart solution for freight customers
Manoj Krishna Akhouri and Amit Kumar Jain, colleagues from the Centre for Railway Information System (CRIS) – an IT arm of the Ministry of Railways, Government of India – explore the integral role that rail freight plays in their country and explain how Indian Railways are championing technology tailored to their customer's needs with the launch of their new portal.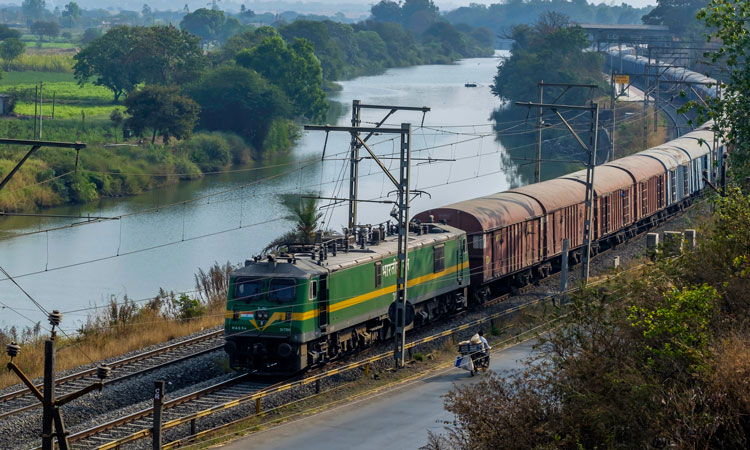 Indian Railways is the backbone of the country's logistics sector. During 2020, when most  activities were under lockdown, Indian Railways was providing relentless freight transportation services across the country. In fact, Indian Railways achieved a record loading of cargo between September 2020 and January 2021.
Rail has embraced a 'Freight on Priority' policy by pushing for an aggressive customer-centric approach to expand the freight carried not only from the traditional segments, but also by attracting new customers to its fold. 
Business Development Units (BDUs) have been set up at a field level and Headquarters' level. Multi-disciplinary teams from BDUs have been reaching out to customers to attract new business by providing appealing value-for-money logistics solutions. The BDUs have scored several early successes by attracting new business from customers who had never used rail in the past.
In its commitment to taking customer service to new heights, Indian Railways launched a Freight Business Development (FBD) portal in January 2021 as a one-stop-solution for the needs of our esteemed customers.
The portal has been specially designed and developed, keeping in mind the varied needs of existing, as well as new, customers with a focus on ease of doing business, bringing more transparency and providing professional support. CRIS – the IT arm of Indian Railways, which has developed the portal – has studied several international websites on railway freight to understand the best practices in this field. Regular consultation with field managers and customers helped in designing a user-friendly interface.
Distinguishing features of Indian Railways' FBD portal
Many of the features available in the FBD portal are unique in nature, as they are not available on other international websites. The distinguishing features of the website are:
Terminal Dashboard
Freight customers like to know the most suitable freight terminal for transporting their cargo. The FBD portal makes it easy for a customer to select a terminal for loading and unloading based on various criteria – nearby (within 50km), across the parameters of district/state/railway division/railway zone/zip code. The Terminal Dashboard also presents the location of the terminal on a GIS map and provides information about the facilities available there. Customers can also search for terminals with specific facilities, such as 24/7 operations, warehousing facilities, trucking services and so on.
Wagon selector
For a new freight customer, finding a suitable wagon for their cargo can be a daunting task when you consider that there are more than 170 types of freight wagons used by Indian Railways. The FBD provides the 'Find the Right Wagon' option for a given commodity. The portal presents the catalogue of wagons for a selected commodity which have been used by other customers over previous years with details such as images of wagons, carrying capacity, standard train length and the preferred wagons in terms of percentage utilisation for selected freights over previous years.
Smart freight calculator
The portal is equipped with a smart freight calculator, enabling users to see estimated freight charges for transporting a commodity between a given origin and destination station. The freight calculator considers various incentive schemes applicable to different commodities, wagon and terminals; for instance, discounts for transportation in empty flow direction, north-eastern states and so on. The freight calculator also suggests alternative terminals which are less congested and, thus, are eligible for rebate in freight charges. The freight calculator also provides vital information e.g. expected transit time, facilities and logistics service providers at the origin and destination terminals.
Commodity pages
The portal has pages on major commodities transported by rail: Coal, minerals and ores, food grain, flour and pulses, cement and clinker, chemical manure, iron and steel, petroleum products, container services, automobile and more.
One can find most suitable terminals for different wagons, freight charges, expected transit times and incentive schemes for a selected commodity, that handle a commodity near their location, in a district or state. The commodity page also introduces the customer to different types of wagons that carry a specific commodity and their loading preferences, presenting a variety of incentive schemes to facilitate a customer's logistics requirements and flexibility of two-point loadings/unloadings.
Logistics partners
Indian Railways encourages partnerships with private developers for freight operations across the country. They may join the Indian Railways network through investments in private sidings, private freight terminals or railways-owned goods sheds to make railways, a part of the customer's supply chain. Investments in rolling stock have the potential for benefits such as assured availability and incentives in freight charges. Through FBD, Indian Railways invites aggregators, truckers, warehouse owners and labour providers to offer their services for its 9,000+ freight customers at 4,000+ freight terminals.
The 'RailBuddy' chatbot
The portal also has a chatbot which has been designed to respond to the most frequently asked queries, such as finding freight charges, transit time, suitable wagons, track and trace of consignment, suitable terminal and many more. The 'RailBuddy' chatbot provides the user with the convenience of obtaining their desired information, without the need to navigate the site. The FBD is perhaps the first freight website which has a chatbot to interact with customers.
Other distinguishing features are the 'track and trace' of cargo on a GIS map with the expected time of arrival at destination, smart contact finder for customers to find contact details of railway managers in a district, a user friendly dashboard for railway managers to keep track of requests made on the FBD portal and many more.
The FBD portal has been well received by customers, as well as railway managers, as evident from the number of visitors that it has received. Every request received on the FBD portal is promptly attended. Many of the processes which hitherto required submission of physical applications have moved to digital means. Thus, the FBD portal is emerging as a game changer in the way that the customers interact with railway managers.

Dr. Amit Kumar Jain is presently working as General Manager (Operations) in the Centre for Railway Information System (CRIS), an IT arm of the Ministry of Railways, Government of India, in New Delhi. He has approximately 20 years of experience and, prior to this, has worked as lead operations, Delhi Division, Northern Railways, Joint General Manager/Operations and Principal Training Institute, Delhi Metro Rail Corporation. He has a PhD in Urban Transportation, M.Tech and B.Techin Civil Engineering. He has authored books titled 'Exploring Life@2050' and 'Intelligent Transportation Systems'. He is a visiting faculty on transportation to several institutes in India.

Manoj Krishna Akhouri is presently working as Director (Operations) in the Centre for Railway Information System (CRIS), an IT arm of Ministry of Railways, Government of India, in New Delhi. He has varied experience in the railway industry, working for over 30 years, ranging from handling of coal, foodgrain, fertilizer and cement distribution throughout the country. He has remained involved in managing the EXIM Container business of the Container Corporation of India ltd (CONCOR), a leading container logistic company in India. Until recently, he was leading a team of the Dhanbad division, a premier coal loading division of Indian Railways, primarily contributing to about 11 per cent of IR's total originating freight loading, as well as its earnings from freight traffic, as Divisional Railway Manager. He has played a critical role in the successful implementation of the first phase of Real-Time Information System (RTIS) across Indian Railways' network and its critical integration with other operations‑related key applications, such as Control Office Applications (COA), Freight Operations Information System (FOIS), Integrated Coaching Management System (ICMS) etc.