Metrolinx: Embracing electrification to build a sustainable rail service
The rail industry, as an innovator, is always looking ahead in pursuit of future technology. Menno van Limburg, EAM Director of Electrification at Metrolinx, details how the key to the operator's plans for expanding services, lowering operating costs and reducing greenhouse gas emissions could lie in updating a historical technology in the province of Ontario.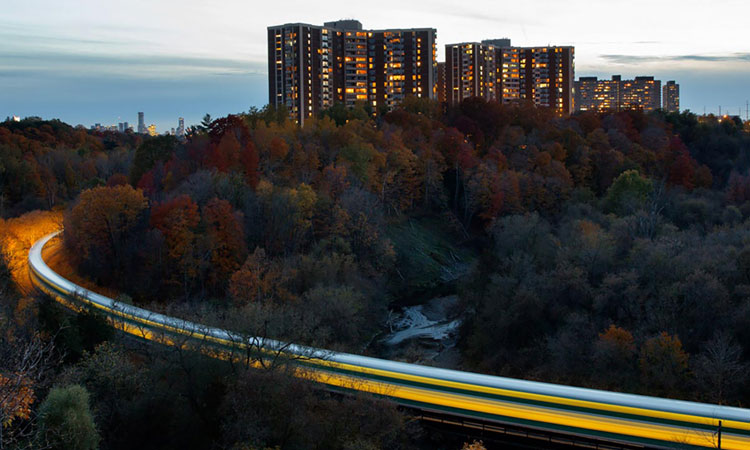 When patrons first stepped aboard the first electric tram systems introduced in Canadian cities more than a century ago, the people‑moving technology must have seemed like a modern wonder. So, it's no surprise that, in 1884, it was showcased at the Toronto Industrial Exhibition – now the Canadian National Exhibition. Today, generations later, plugging transit into an electrical grid is still a solution that ticks a lot of boxes for a sustainable future.
Throughout the decades, overhead electric traction technology has existed, with innovation at the forefront – increasing safety, realising greater efficiencies in power usage and train speeds, as well as improving reliability under all operating and weather conditions. So, how is updating this older technology the preferred option for transit, neighbourhoods and the environment?
Those are the questions that Metrolinx is asking.
The Ontario transit agency is currently exploring network electrification for nearly 680km of GO Transit railway track. Implementing electrification across the network would allow Metrolinx to increase services in the immediate term, resulting from the higher efficiency of electric fleet operations, and deliver these services at lower costs compared to retaining the current diesel electric fleet. This would enable delivery of more service without the need to build extensively more track – taking into consideration the higher upfront capital costs to implement electrification.
While GO Rail has played a crucial role in shaping regional growth and economic development in the Greater Toronto and Hamilton Area (GTHA), it is only realising a portion of its overall potential and requires new investment to meet the evolving needs of the region.
"We are undergoing massive transformation on our 'GO Expansion Program', providing two-way all-day service with faster trains," said Metrolinx's President and CEO, Phil Verster. "This transformation will significantly expand transit capacity to support growing communities and changing economies across our region."
In November 2018, Metrolinx publicly posted the Full Business Case (FBC) for the GO Expansion Program, which demonstrates the economic and financial case benefits and value of implementing electrification on the GO network. Here are some key findings:
The Metrolinx Reference Concept Design (RCD) proposal to deliver the GO Expansion Program service requirements is for all Metrolinx‑owned rail corridors comprised of 680km of track. Metrolinx studied multiple variations of electrification and selected a 25kV overhead contact system as the reference concept design for the basis of all the environmental, cost and benefit analysis
The GO Expansion Program business case demonstrates that this technology realises a benefit cost ratio (BCR) of 2.6 when operating electric vehicles versus a BCR of 1.5 operating the current diesel electric vehicles. The BCR is a measure of financial return. For every $1 spent on this project, the region will see a $2.6 return in economic value. This includes everything from lower operating costs, to decreases in traffic congestion and greenhouse gas (GHG) emissions
Electric vehicles run up to 29 per cent faster with 60 per cent lower operating costs per kilometre, delivering safe, fast and reliable service while reducing localised emissions and noise impacts.
Bringing more services to more people
Metrolinx is currently in the market to procure a design, build, operate and maintain contract to implement the GO Expansion Program. The GO Expansion Program has a service level reference concept design – which includes two-way, all-day service on the regional transit network, as frequently as every 15 minutes. This means quadrupling our service – from 1,500 trips a week, to 6,000. The contract also includes new track, grade separations and other enabling infrastructure to bring more service to more people.
Is electrification the best option?
Alternative electric traction power technology, such as hydrogen, battery powered vehicles and even retaining diesel, were also studied as part of environmental impact assessments, and the findings were provided to the proponent.
In short, exploration of alternative technology – such as hydrogen fuel cell and battery powered vehicles – found that, for heavy commuter rail operations, such as the GO services, the objectives to increase rail services, lower operational costs and reduce reliance on carbon-based energy sources may not be met by this technology in the immediate term and were, therefore, not selected to develop the Reference Concept Design (RCD).
Metrolinx has developed the RCD in close collaboration with more than 80 regulatory, municipal and private sector stakeholders to mitigate the impacts and resolve the challenges associated with implementing railway electrification on the GO Rail network.
The RCD illustrates how the GO Expansion Program can be delivered and the scope of benefits that the region could realise as a proof of concept. This reference concept design is used to: 
Demonstrate that a working approach to deliver the GO Expansion Program is possible
Determine a budget and construction schedule to be approved by the Treasury Board.
This RCD was developed based on over three years of engineering, economic and modelling analysis to present a realistic and deliverable concept for the GO Expansion Program. This means that a private sector partner will collaborate with Metrolinx to design, build, operate and maintain GO Rail as a rapid rail system. As a result, the exact specifications of the future GO Rail system will be determined through the GO Expansion Program procurement process, where potential partners will submit proposals to realise the core benefits and objectives of the GO Expansion Program defined in the FBC.
The RCD is just one of many potential infrastructure and service investment programmes, including electrification, that could be deployed to reach these objectives. Proposals submitted to Metrolinx may vary in their selection of traction power technology and fleet composition and could mean the potential utilisation of:
Energy regeneration technology, reducing power consumption by up to 20 per cent or more
Dual mode vehicles in network areas where cost of infrastructure build is prohibitive or infeasible
Energy storage systems, both battery or hydrogen fuel cells, to lower peak power demand and increase system reliability
State-of-the-art construction techniques to speed up construction, while lowering impacts to ridership and infrastructure build cost
State-of-the-art monitoring and inspection equipment to operate and maintain the system, increasing system safety and reliability at lower operational, maintenance and lifecycle cost.
Looking forward
Metrolinx wants to ensure that the adoption of new technology remains possible in the future, but it has an immediate need to increase and expand rail services, reduce the reliance on fossil fuels and lower operating costs.
To do that, the winning proponent will need to radically speed up train travel on the network. The means to meet the service targets are up to the proponent. In this way, Metrolinx will achieve an innovative, market-driven solution to provide convenient and fast regional transit for years to come.
That spark of electricity that powered urban trolley systems in Canada during the late-1800s and early‑1900s may have been primitive by today's mass transit standards, but riders were correct – the grids can still power, and empower, the future.

Menno van Limburg has been the EAM Director of Electrification at Metrolinx, the Greater Toronto Transportation Authority, since June 2017. He has over 21 years of experience in rail, heavy civil construction and rail engineering projects in Canada, the U.S., New Zealand and the Netherlands. He has extensive experience in leadership roles with diversified working experience across the private and public sector, including client consultant and contracting roles.