GO Expansion Program: Providing a range of rail improvements across the GHTA
Helena Ashberry, the Network Program Sponsor for the GO Expansion Program at Metrolinx, explains that, by leveraging an existing network of over 400km of railway, the GO Expansion Program will unlock the potential of the Greater Toronto and Hamilton Area (GHTA) region.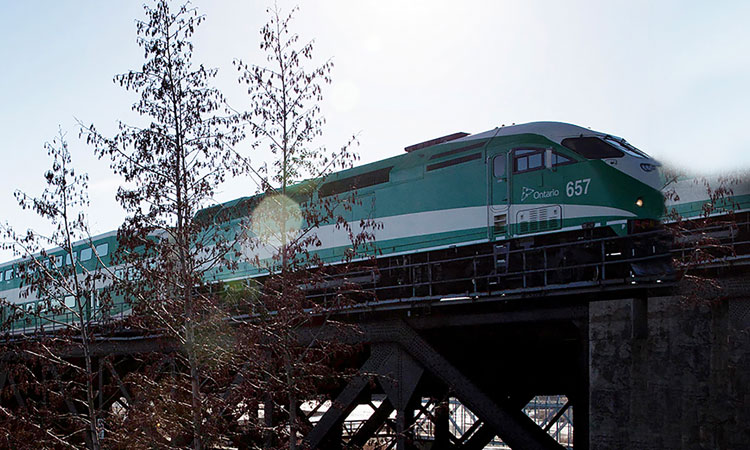 Train by train, bus by bus and route by route, Metrolinx has long committed to improving and evolving transit across Canada's most populated region. Now, even during a pandemic that has stopped or slowed so many things, that work is taking on a whole new energy.
Plans for the GO Transit expansion combine to become one of the largest people-moving builds in Canadian history – and that work is not slowing down, as preparations are made to move people through the region for decades to come. This increased capacity is vital for the future success of the Greater Toronto and Hamilton Area (GTHA).
Transforming the GO Rail network
Now, thanks to a huge investment in infrastructure, Metrolinx is building a transit service that will change life across the region through the GO Expansion Program – working to quadruple the GO Rail service and improve the customer experience.
The GO Expansion Program will provide faster and more convenient transit for the Golden Horseshoe Region. New train technology on the busiest lines – Barrie, Lakeshore, Stouffville and Kitchener – will accommodate faster trains, offering all-day trips, going two ways, as frequently as every 15 minutes in core areas. The Milton and Richmond Hill lines will also be upgraded to offer up to 30 per cent more services.
The GO Expansion Program is already underway, making incremental improvements year after year. Services have been increased by 33 per cent – a jump of more than 400 weekly GO train trips – in the past two years, prior to the pandemic.
By leveraging an existing network of over 400km of railway, the GO Expansion Program will unlock the potential of the region. More than a rush hour commuter service, GO will offer more services with faster trains, more stations and seamless connections to a regional rapid transit network.
Adjusting to the pandemic
Metrolinx is also one of the fastest growing transit services in North America and, pre-COVID-19, GO ridership was at record levels. Of course, adjusting to life during the COVID-19 pandemic has been a challenge for the transit agency, as it has for most other sectors. To sustain a service that customers can rely on, Metrolinx, like many transit operators, has had to reduce its train and bus services. Despite this, planning and construction hasn't slowed down.
Both the province and Metrolinx understand that investing in transit is critical in supporting the economy. This investment is especially significant now, as the impacts of the pandemic are truly realised. Evolving and growing the system will support the creation of new jobs, unlock more business opportunities and support economic development for decades to come.
Metrolinx understands the future 'normal' may look different, as people continue to adjust their work and commuting patterns. Investments such as the GO Expansion Program are now needed more than ever, because the travel patterns of the future will be two-way all-day, and much less about commuter peaks in the mornings and evenings. This will now be more about connecting the different cities in the GTHA, with organisations and businesses seeing more decentralisation in the years to come.
An agency of the government of Ontario
Metrolinx, an agency of the government of Ontario, was created in 2006 to improve the coordination and integration of all modes of transportation in the GTHA.
It operates GO Transit, the regional public transit service. GO's distinctive green and white trains and buses serve a population of more than seven million across more than 11,000km, from its hub at Union Station in downtown Toronto.
In operation since 1967, GO has evolved from a single train line along Lake Ontario's shoreline into an extensive network of train lines and bus routes that carry more than 70 million passengers a year and connects to every municipal transit system in the GTHA.
In 2009, GO Transit merged with Metrolinx to combine both organisations' expertise in strategy, planning, operations and the implementation of building transit projects faster and better, all while improving the customer experience.
Making progress
Metrolinx continues to deliver major infrastructure around the region and is maintaining significant progress, even during the COVID-19 pandemic. Working with various contractors, work continues across all sites – and we continue to celebrate this progress along the way. This includes the recent opening of the Cooksville GO Station, and a brand‑new Union Station Bus Terminal in the heart of Toronto, as well as the upcoming openings of the Kipling Transit Hub and the Bloomington GO Station in the months ahead.
It is important to stress that the GO Expansion Program is about incremental service delivery and the infrastructure needed to increase capacity across the GTHA region. Metrolinx is already well on the way to making transit the easier option, not only by increasing service where possible, but also through significant infrastructure improvements around the region.
This includes: 19 stations currently under construction (one recently opened); 29 stations slated for early station improvements (including customer service and safety improvements, such as public announcement (PA) systems, platform edge tiles and display boards); three corridors with track work underway; signal enhancements; three grade separations; and two tunnel/bridge expansions.
Moving forward with the GO Expansion Program will leverage Metrolinx's existing network and unlock the potential of the region to provide a range of benefits and opportunities, including:
More trips: 6,000 weekly trips, two times as many rush-hour options and three times as many off‑peak options
Faster service: Electric trains, which accelerate and decelerate faster, and the introduction of additional express services could save up to 20 minutes per day
Higher frequency: No need to check a schedule with services every 15 minutes or better, in both directions, all day
More capacity: Doubling regional commuter capacity equivalent to nine highways the size of the 401
Reduced congestion: More trains means reduced congestion across the region, taking close to 145,000 car trips per day off the road
Create jobs: An estimated 8,300 annual jobs will be created for the first 12 years of delivery in construction and supply-chain industries
Saving taxpayers money: All operating costs will be covered with fare box revenue. GO Rail's revenues will exceed 110 per cent of operating costs over the next 60 years
Increased ridership: More options and faster trains will increase peak and off-peak service.
Why is Metrolinx undertaking such massive change?
It's simple: The current transportation network cannot meet the needs of a growing region, and the GTHA is one of the fastest growing city-regions in North America. The regional transportation network has an important role to play in ensuring that the region can manage this significant growth.
By 2055, annual ridership is expected to exceed 200 million (compared to 105 million without the GO Expansion Program). The ridership gain includes nearly 60 million additional off-peak and counter peak trips, representing a net increase of 210 per cent.
Metrolinx also recognises the importance of innovation in this work – drawing on global examples of rapid rail (such as those in Paris, London, Tokyo and Sydney) and being open to new ideas and evolved thinking. Metrolinx has regular conversations with the market and other transit agencies around the globe. Understanding what the market can support today and into the future will be critical to the success of this historic build. 
The GO Expansion Program is set to become one of the biggest transit infrastructure builds in Canada. The scope of the work is massive, but the benefits are even more monumental, as we look to change the way that people use transit by providing more options and delivering services that people can use to get to where they need to go.
By offering improved services across the region – with competitive travel times, expanded capacity and improved mode integration – Metrolinx will also see increased revenue generation, that can, in turn, cover the operations and maintenance costs of this transformed system.
Metrolinx is building now to meet the needs of tomorrow – and transforming the current GO network into a rapid rail system is the solution.

Helena Ashberry is a senior leader in the Planning, Development and Sponsorship Group in Metrolinx. She is responsible for the sponsorship of the multi-billion dollar Design, Build, Operate and Maintain 'On Corridor' Works Program. As a Program Sponsor, Helena ensures that the programme is set up to deliver and protects the benefits of the programme through delivery. Helena has over 27 years of railroad experience, both in the private and public sectors in Canada and the UK. Specialising in railway signalling project delivery for much of her career, Helena moved into the more generalised role of Sponsorship in 2017. Helena holds a Master of Science in Rail Systems Engineering degree and a Bachelor of Engineering (Electronics) degree.