Communities and rail recovery
Fay Easton, Head of Stakeholder & Community at West Midlands Railway, tells Global Railway Review how Community Station Partnerships are bringing people together to develop stations as assets to their communities, enhancing the passenger experience and helping to underpin national efforts to restore confidence in rail.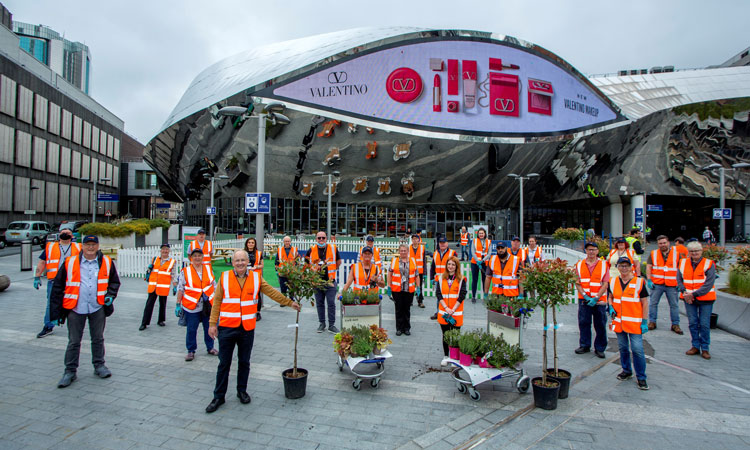 Photo taken on a volunteering day at New Street Station by The Friends of The Shakespeare Line. Credit: Mark Williamson
The trend for localism and community involvement within Britain's railways has grown exponentially during the coronavirus pandemic, and aligned to the vision within the Williams Shapps Plan for Rail – works with the customer at its heart.
The rail industry greatly benefits from the support of communities and stakeholders who are experts in their own local areas. With entrepreneurial, as well as community spirited traits, their input and innovation is a priceless asset to the rail industry, and a dynamic new model has emanated from the works of recent years.
Community Station Partnerships
Community Station Partnerships are the result of a new model for community rail, evolved from the grassroots of communities. These social enterprises are volunteer-led and are successfully engaging with all strata of society to help people connect with their railways and bring stations back to life, whilst contributing to rail recovery, economic and social development, and sustainable travel.  
Launched during the first lockdown, this innovative community-led rail partnership works with West Midlands Railway and Network Rail to enable volunteer work at stations, while pooling local knowledge and resource to help with the wider regeneration of neighbourhoods.   
The vision for the impact of a Community Station Partnership's work and input is to help change passengers' perceptions of rail journeys as simply travel and develop the journey as a pleasurable activity, starting and ending at a station transformed from a functional space into an aspirational location.
To do this, local community groups 'adopt' the station and introduce local input, knowledge and character, making railway stations more welcoming to visitors, more relevant to the locality, more engaging for passengers and supportive of the local economy and environment. They also create local travel programmes, renovate station buildings and create community station hubs.
Community Station Partnerships meet the four pillars of community rail, as designated by the Department for Transport (DfT), namely:
Providing a voice for the community
Promoting sustainable and healthy travel
Bringing communities together and supporting diversity and inclusion
Supporting social and economic development.
Now into its second year of activity, with over 100 station adopters registered at 20 stations, the website is full of their community achievements.
Friends of the Shakespeare Line
FoSL's mission is to help make its stations more relevant to the locality, more passenger-centric and welcoming to visitors…
The first Community Station Partnership in the UK was created by volunteers along The Shakespeare Line in Warwickshire.
This community partnership, now named The Friends of the Shakespeare Line (FoSL), invests its time and energies into enhancing the 22 local stations between Birmingham and Stratford upon Avon. Through working with West Midlands Railway, Network Rail and other regional partners, FoSL's mission is to help make its stations more relevant to the locality, more passenger-centric and welcoming to visitors by providing a greater amenity and wellbeing.
Station enhancements already under way include installing garden planters, station art and information boards that are individual to each locality. There are also plans to arrange pop-ups at the stations for local enterprise and installations that celebrate local heritage.
A second Community Station Partnership has launched along The Chase Line and more are predicted over the coming months.
Making community rail an integral part of the industry
As time goes on, community partnerships with rail are getting stronger and the cumulative work truly changes lives, as well as enhances the railways.
Over the past four years, West Midlands Railway has also worked closely with local people to expand this model into urban areas, and inner-city community partnerships are now being nurtured, supporting the national programme for the 'levelling up agenda'.
Across the rail industry, community work by dedicated managers and train operators is flourishing, and the teams are united in their mission as 'one industry' – with a single aim to put the rail customer at the heart of the business, whilst connecting local neighbourhoods and enriching the communities that the railway serves.  
As time goes on, community partnerships with rail are getting stronger and the cumulative work truly changes lives, as well as enhances the railways. 
Sharing ideas and collaboration is the central pillar of the community rail world, and staff and volunteers alike are constantly seeking ways for 'community rail' to become seen as a mainstream and integral part of the industry.

Fay Easton works with communities and stakeholders within a 50-mile radius of Birmingham. Fay's role within the train operating company is multi-faceted, from working with Network Rail on station changemaking projects and the re-use of redundant station buildings, to partnering with communities and stakeholders to support localism projects and regeneration programmes.