Placing creativity at the heart of rail interior innovation
Rail interiors are constantly being pushed to keep pace with the evolving needs of the passengers travelling on-board. For Global Railway Review, Aisling Norton, 22000 Intercity Railcar – Interior Refurbishment Project Manager at Iarnród Éireann – Irish Rail, details the key aspects encompassing the operator's recent fleet refurbishment, and tells how the reimagining of concepts, and reworking of materials, will influence future carriage procurement.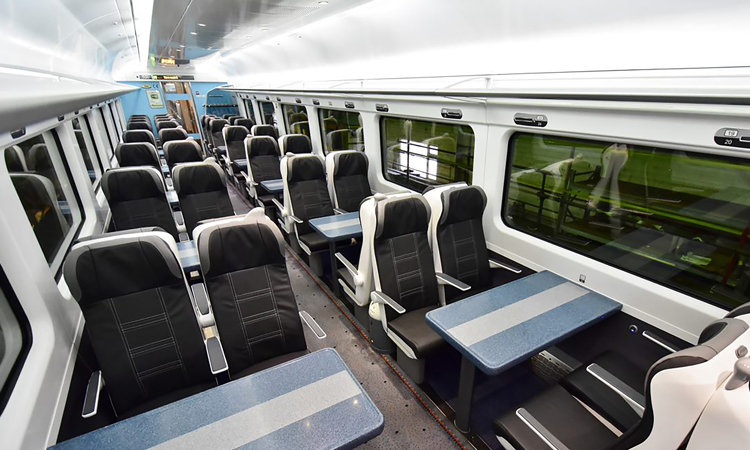 In 2016, Iarnród Éireann – Irish Rail Class 22000 Intercity Railcars were nearing their mid-life in service. So, we decided to conduct an interior refurbishment programme with clear, all-encompassing objectives being set by the business, namely; a tight budget to enhance the customer experience, to reduce cleaning costs, increase customer satisfaction, and reduce running maintenance costs, while at the same time being innovative and creative with the rail vehicle interior space. Meeting the changing needs of rail passengers From the time of design concept to final build – including rail vehicles' long life-cycles – design, customer needs and external factors can all change, consequently altering how customers view a train operators' offerings. In 2004, when the order was placed for the 22000 Intercity Railcars, the design concept was of its time, and some might say futuristic. Nevertheless, customer demands and their needs are continuously changing, and it is the role of train operators to ensure they are offering the passengers a space which allows them to not only have a comfortable journey, but undertake remote working – an increasing need in the post-pandemic world.
Modern interiors can harness innovation
Creativity and innovation is a must in the space of railway interiors. This railway interiors project harnessed the essence of innovation, being the first large-scale project to produce such a creative and luxurious offering for its passengers within Iarnród Éireann – Irish Rail. As Project Manager, I needed to come up with innovative ideas of upgrading an existing interior to a tight budget by selective improvements to the basic design – replacing seat covers and foams, replacing armrests, recoating grab handles, adding USBs to complement 240v sockets, reworking existing wall panels with a new coating and printed vinyl door coverings. With durable materials being reimaged and reworked to be used in the passenger environment, the business was able to move away from the traditional fabrics and materials used by the industry.
What the project involved
With a budget of €5.2 million for the 234 carriages, and a five-year implementation process, the Class 22000 Intercity Railcar fleet refurbishment consisted of:
15,500 leather seats (including changing seat foams). Our original seat covers were a woven flat cloth fabric that absorbed simple everyday stains and had a high maintenance cost. Consequently, Iarnród Éireann – Irish Rail spent approximately €120,000 per year in cleaning and replacement covers. The new leather seats offer a modern and luxurious look and feel, and deliver a cost-saving to the business of €3.2 million when analysed over a 12-year lifecycle
7,750 USB sockets – providing passengers a product offering that is to be expected on modern day rail services
8,379 metres of easy to clean lower panel material with a stylish finish. Once again, the original lower wall panel material was a corduroy fabric that could not be cleaned effectively. The new offering is now easily wiped clean and gives the carriage a modern, fresh feel that complements the overall design scheme. The replacement panelling also offers improved sanitisation
15,500 single arm rests and 7,750 double arm rests. Previously, our fabric covered armrests were frequently damaged and poorly presented, again requiring high maintenance costs. Changing the armrest to a durable extruded plastic with a quick change-out time provides a saving of €445,000 to the business
3,600 re-coated grab handles that removed scuff marks and allowed a colour change to complement the design scheme
Complete deep clean programme; this was the first time since the introduction to service that complete interiors – seat shells, tables, bins and luggage racks – were removed, giving us an excellent opportunity to complete a full and uninterrupted deep clean
Full-size door vinyls for bikes and wheelchairs were added to give passengers a quick visual of on-board services location. With typical dwell times being two minutes, this gives passengers time to position themselves at the right door as the train is arriving at the station.
How passengers now feel about their improved trains
Creativity and innovation is a must in the space of railway interiors.
As the Project Manager, I needed to seek our passenger feedback when the first completed train went into service in April 2018. I am also a customer and end user as I commute twice daily on these trains, so I was cognisant of the passenger demographic (students, commuters, families, ad‑hoc passengers travelling for a specific need), and I was mindful of what passengers require from their journey to make it comfortable. I also had some good ideas about what could be done to improve the interior. I engaged with this customer grouping about the specific areas, and it was great that there was 100 per cent customer satisfaction, with many passengers pointing out how the new interiors would enhance their journey.
Furthermore, during the COVID-19 pandemic, the durable, hard-wearing, wipeable materials used on the project have proven a big success with passengers and maintenance staff alike. Passengers can now see that the surfaces are clean, instilling confidence in them to travel on Iarnród Éireann – Irish Rail services.
Ensuring the future of train interiors keeps pace with passenger demands
Since the introduction of the Class 22000 fleet, we have been continuously gathering passenger feedback. The innovations delivered for the refurbishment programmes are also being incorporated into a new build production of 41 intermediate carriages currently being manufactured by Hyundai Rotem in South Korea. The 41 carriages will enjoy the new interior standard delivered on the main fleet refurbishment, with the added benefit of flexible high-capacity multipurpose space for bikes, flip down seating and overhead grab rails. This will increase passenger satisfaction for those who use the service for short commuter journeys, while allowing those travelling Intercity journeys to enjoy the comforts of our current offering.
In a separate fleet development, Iarnród Éireann – Irish Rail, supported by the National Transport Authority (NTA), has recently signed a framework contract with manufacturer Alstom Transport to procure up to 750 electric / battery electric‑powered vehicles to be ordered and delivered over a 10‑year timescale. Many of the features on the new fleet incorporate ideas or needs learned from the Class 22000 Intercity Railcar refurbishment project. These trains will serve an existing Dublin metro area (known as DART), as well as supporting network and service expansion on three routes, permitting the replacement of many diesel-powered services. This represents the largest and most sustainable public transport fleet being procured in the history of railways in Ireland.
…during the COVID-19 pandemic, the durable, hard-wearing, wipeable materials used on the project have proven a big success with passengers and maintenance staff alike.
Design and innovation are instrumental for the new DART Fleet meeting passenger demands and have been at the forefront of this fleet's concepts. Emphasis has been placed on durable, innovative materials and greatly improved accessibility for train users. Low‑level flooring and entrance doors reduce passengers' stepping height, and improved access for persons with reduced mobility – a critical focus for the business. Furthermore, there will be a mixture of comfortable seating and standing layouts to accommodate diverse passenger needs, along with bike stowage areas and uncluttered family areas, e-bike points and USB charging points and Wi-Fi throughout.

Aisling Norton is an experienced Project Manager and has worked in the railway industry for the last 10 years. She is currently working within Continuous Improvement delivering the Change Management Strategy throughout the Chief Mechanical Engineers Department at Iarnród Éireann – Irish Rail. From Engine Maintenance Planner for the operator's most high-cost contract to Project Manager of the largest interior refurbishment project currently in Europe of 234 railcars, Aisling is an active member of the Institution of Railway Operators and has gained qualifications in Business Management, Project Management, LEAN Six Sigma (Green Belt) and Supervisory Management, alongside a BSc (Hons) in Railway Operations Management. Aisling was chosen as a High Potential Candidate for Irish Rail, a specifically designed programme that provides intense, targeted training.