Get on the right track to Industry 4.0
A new, more efficient digital railway is now possible, fuelled by breakthroughs in automation and analytics, but the most valuable innovations can't run on today's connectivity. They need private LTE and 5G, the networks that power Industry 4.0. Fai Lam, Head of Transportation Marketing at Nokia, explains more.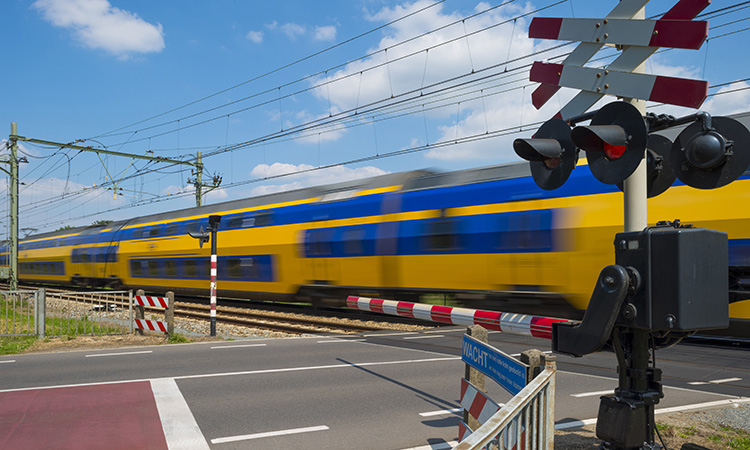 Here's a sample of the remarkable advances these networks can enable:
Shunting controlled via cameras and sensors
Driverless parking of empty trains
Remote maintenance with expert consultation
A growing potential for richer management insights, based on the vast increases in data relayed by everything from sensors placed on tracks and rolling stock to CCTV cameras and drones.
With LTE and 5G, more data can be uploaded in a day than was previously provided in a year.
For rail operations to take full advantage of the digital-based possibilities of Industry 4.0, robust, resilient, and highly secure private wireless networking is critical. This kind of connectivity can drive automation, streamline processes, and show the way to staggering efficiencies. In contrast, Wi-Fi becomes problematic in environments where Industrial Internet of Things (IIoT) sensors on engines and rolling stock must connect across vast rail yards. Communication is often hindered by radio interference from the yards' metallic surfaces, becoming worse if there is insufficient mobility support. In these conditions, a self-contained private wireless network's deterministic performance makes it the perfect solution for mission-critical operations, especially when worker and passenger safety are also critical.
The key strengths of private LTE and 5G wireless networks include high-capacity, low-latency performance, along with support for the low-bandwidth/low-power communications that IIoT sensors require. This combination can help improve efficiency, increase productivity, enable automation, and transform the safety and quality of working conditions. As a result, private LTE and 5G wireless networks are already being installed around the world to support the voice, video, data, and other communications needs of the rail industry.
No-hands efficiency
Today, the world continues its cautious recovery from the COVID-19 pandemic, but qualified staff are far more difficult to find. One promising use case is being explored to address this situation, the autonomous and remote operation of shunters in the yard. Enabled by engine-mounted cameras and sensors that are monitored from central offices, tablets, and other devices, it allows a single remote driver to handle numerous trains at once. Read the LTE 5G Private Wireless for Rail Yards, Depots and Factories use case to see how, in Hamburg, Deutsche Bahn (DB) is already testing driverless train parking near the Bergedorf station, using a Nokia 5G network to transmit control information.
Many other operators are examining remote solutions too, such as a shunting yard system that combines vision sensors with artificial intelligence and machine learning (AI/ML). This approach enables automatic detection and classification of objects, while private wireless connects workers to the video feed via tablet – eliminating the need for a shunter driver.
More new advances
 

Nokia leadership at-a-glance

More than 30 years of railway experience: network design, deployment, operations

Most comprehensive portfolio and turnkey services

Number 1 in GSM-R: More than 110,000 tracks, 22 countries

Legendary Bell Labs innovations shaping FRMCS/5G

Globally deployed railway networks

Best-in-class broadband for operations, passengers, stations

Leaders in legacy network migration

More than 420 private wireless deployments worldwide

Unparalleled cyber-security solutions.
Technologies we hear about frequently are also being used in relevant new ways. Video analytics are being explored to reduce incidents and survey anomalies in rail yards, everything from intruders to objects on the track. Read the Scene analytics Application note to see how level crossings are helping to boost safety. Drones are also providing otherwise-impossible-to-achieve images of tracks, bridges, and trains. With these views, repair issues can be identified before they elevate, and even the largest areas are brought within focus.
Nokia private wireless networks are also powering innovations in the aviation industry that can make the leap to the rail yard. For instance, Lufthansa Technik's virtual engine inspection with remote client is now part of normal operations. Augmented reality (AR) can be used for passenger compartment reconfigurations, another global leader in passenger mobility is testing AR for remote expert observation of train and equipment repairs.
Of course, other drivers for change are also having an impact. All transportation providers are experiencing pressure from inside and out, including the need to reduce emissions and improve efficiency and productivity. Rail may soon claim more truck miles in the name of environmental sustainability. Passengers and operators are also keenly aware of today's widespread digital transformation. These developments are playing out in the rail yard in countless ways: from new passenger information systems to smart stations, smart rail maintenance and smart infrastructure.
Nokia has the track record to achieve every goal that transformation-minded operators know they need to meet, as well as many which they can't even imagine yet. Our communications networks are already in use by railways worldwide for operations, passengers, and train stations. Visit our website for more information about industry-leading railway solutions from Nokia.

Fai Lam is Head of Transportation Marketing at Nokia. He leads the development and execution of marketing campaigns that build awareness and create demands for Nokia in the transportation sector, including railways, aviation, maritime, and highways. Fai enjoys helping industries with their transformation projects and is a seasoned professional in networking and communications technology with experience in product management, business development, and marketing.
Related organisations
Related regions