Q&A with East West Rail Company's Simon Scott: The East West Rail project
Global Railway Review's Elliot Robinson interviews Simon Scott, Engineering Director at the East West Rail Company, about the East West Rail project – which was publicly endorsed by the Chancellor in his Autumn Statement – and what hopes he has for the project going into 2023.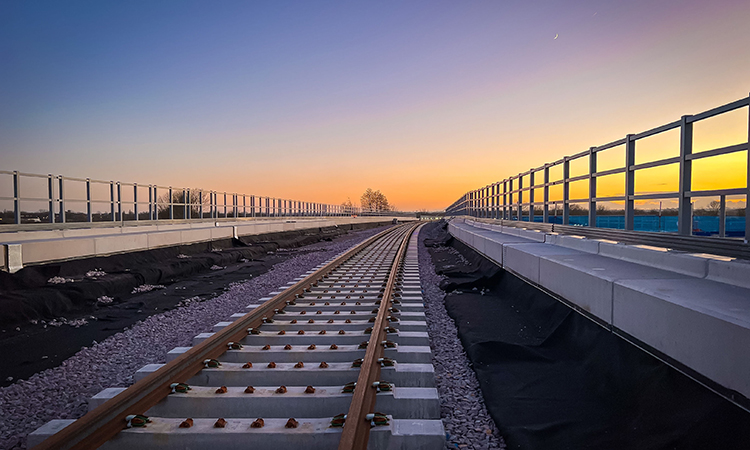 Credit: East West Rail Company
Can you provide an overview of the East West Rail project and your role within it?
East West Rail is a project to reconnect Oxford and Cambridge, and the cities and villages in between. The main goal of the project is to connect people. It's not like HS2 where the focus is on providing the fastest journey time, although we are of course reducing the journey times compared to roads significantly. We are reducing a journey time on public transport that can take up to two hours down to about 35 minutes for people living in Bedford to travel to Cambridge.
The project will reconnect people across the region and allow them to reach affordable housing and jobs. Phase one is currently underway and we are in joint sponsorship with Network Rail for the first section. Its construction is well underway and is due in early 2025. Once completed, it will offer services from Oxford to Milton Keynes. For the next stage, it will extend out to Bedford and upgrade the Marston Vale line, with the final stage extending from Bedford to Cambridge. My role within the project is as Engineering Director, although I get involved in lots of things because the project is very much a collaborative effort.
How does sustainability factor into the project?
Our environmental goals for the project align with the domestic and global climate priorities, including the Sustainable Development Goals (SDGs) from the UN.
Our environmental goals for the project align with the domestic and global climate priorities, including the Sustainable Development Goals (SDGs) from the UN. To help reach these goals, we've set up what we call the target state which is our vision of how we want to run the railway seven years after Oxford and Cambridge goes live. This will enable our environmental goals to be realised, whilst providing community and customer benefits. The EWR Target State ensures that our outcomes drive our requirements informing the future design of the railway.
On the first stage of the project, we have been pioneering technology which utilises survey information and remote census data to map ecological habitats, and better environmental design. Underneath that, we're also looking at alternative materials – solutions to reduce reliance on raw materials. Within the timespan of this project, alternative materials are only going to become more significant.
How will this project impact local communities?
Fundamentally, it will make travel cheaper and quicker. The project will also improve wellbeing, as it can help connect people to jobs, homes, friends, and family. For businesses, it will offer more choices because the people working for them can live further away. Therefore, they've got a wider market to get the people into their companies, which also increases their productivity. The project is also going to improve the air quality and biodiversity of local communities as it will take cars off the road.
What difficulties have you encountered during the project?
I think all infrastructure projects face the issue of future proofing. How do you predict the needs of 20 or 30 years' time? Going back to the target state, which defines our aspirations for how we want to run the railway in 17 years' time; it has provided us with a common understanding of that future, and as new technology emerges, we can revisit our target state, to provide even greater benefits and reduced costs. We'll be able to make informed decisions with a shared and consistent understanding of what our future holds through design, construction and putting EWR into service, to provide an exemplary customer experience and railway service.
I think all infrastructure projects face the issue of future proofing. How do you predict the needs of 20 or 30 years' time?
The current economic uncertainties are at the back of our mind so cost efficiency is going to be a massive driver for us going forward. At the same time, we also realise the need to make railways competitive with the autonomous vehicle. We need to calculate how we radically change the way we deliver, the way we do the architecture of the systems. How do we simplify them? How do we reduce them? How do we standardise, modernise? We're starting from the beginning and our general mantra is how do we simplify this railway down?
We are working with Great British Railways (GBR) and Network Rail to answer how we address these challenges. This collaboration will need to continue over the next five, 10 years, in order to properly face these challenges.
What hopes do you have for the project in 2023 and beyond?

We are going to continue working towards attaining a Development Consent Order, which is our mechanism for executing this scheme, and we are going to continue in the development phase. We also hope to set our requirements in a way that allows the technology and innovative delivery techniques to breathe. There are really interesting innovations in the current trends we are seeing, but just when you think you've got a view and understanding of how the industry is progressing, suddenly one statement or breakthrough can change everything.

Simon Scott joined EWR Co as Engineering Director in June 2020. He previously developed future transport systems at Virgin Hyperloop One and the Digital Railway Programme at Network Rail; recently he led the development of privately financed transport systems for KBR.