The Federal Railroad Administration's mission to make rail safer for all
In this exclusive article for Global Railway Review, Amit Bose, Administrator for the Federal Railroad Administration, discusses the importance of safety in rail, and the ways that the FRA is regulating rail in the U.S. to ensure continually improving levels of reliability, efficiency and safety.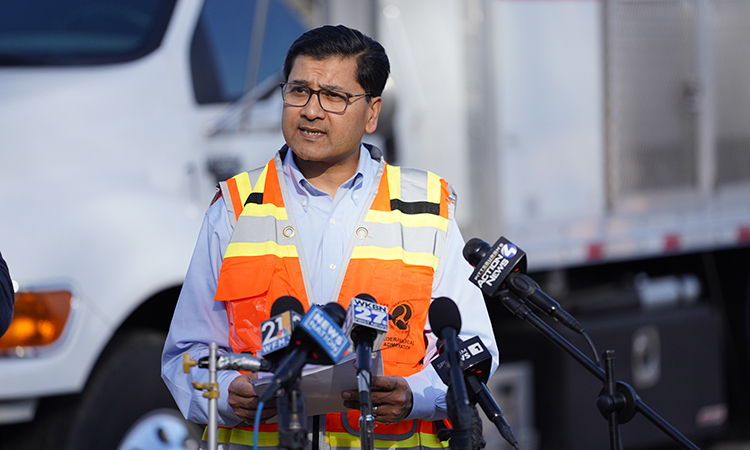 Credit: FRA
The Federal Railroad Administration's (FRA) mission is to enable the safe, reliable and efficient movement of people and goods for a strong America, now and in the future. 
Recent events, such as the Norfolk Southern derailment in East Palestine, Ohio, and many other derailments impacting communities and workers nationwide, have rightfully shined a fresh light on how the rail industry operates and the need for increased accountability and improved safety.  
The FRA has long overseen and regulated the rail industry, one of America's oldest and largest corporate enterprises. Our efforts include rulemakings and regulations that address all areas of rail safety, including track and structures, motive power and equipment, signal and train control systems, operating practices, hazardous materials and highway-rail grade crossings. Across the country, we have more than 400 inspectors and our Safety Management Teams working each day to ensure that railroads comply with federal standards and live up to their safety responsibilities.  
FRA's commitment to safety 
At no other time in recent history has FRA's safety mission drawn as much attention, and we continue to advance long-standing priorities while taking new actions to increase rail safety.    
U.S. Department of Transportation Secretary Pete Buttigieg and I are committed to using every resource at our disposal to ensure the highest levels of safety, and the Secretary has insisted that America's major freight railroads do the same while inviting Congress to work with us to further advance rail safety.     
The FRA has called attention to several issues to prevent future incidents and increase safety, such as urging railroads using hot bearing detectors (HBDs) to evaluate their inspection process.
As part of the Biden-Harris Administration response to the 3 February derailment in East Palestine, FRA announced focused inspections, starting with targeted inspections in and around the Ohio community on routes that carry large volumes of hazardous materials. These inspections are now underway in communities across the country. We are also conducting a supplemental safety assessment of Norfolk Southern to take an even closer look at the company's overall safety performance to increase accountability.  
After Secretary Buttigieg pressed them and after years of resistance, each Class I freight railroad agreed to participate in the Confidential Close Call Reporting System (C3RS) programme. This risk reduction programme empowers rail employees to report unsafe events and conditions confidentially without fear of retribution or discipline. The fact is: C3RS is a proven programme that improves safety by leveraging the experiences of frontline workers into corrective actions. Workable safety solutions must involve input from railroad workers. When we take care of our workers and empower them to speak and act in the public interest, everyone benefits.    
In recent months, the FRA has also called attention to several issues to prevent future incidents and increase safety, such as urging railroads using hot bearing detectors (HBDs) to evaluate their inspection process, prioritise the proper training and qualification of personnel working with HBDs, and improve the overall safety culture of their organisations. We also increased awareness about the hazards relating to switching cars and made clear our concerns related to train makeup and the complexities associated with operating longer trains to address risks and hazards seen in recent accidents.  
We've also called on railroads to ensure inspections are carried out by fully qualified personnel and performed to increase safety, not merely a railroad's bottom line. We've called attention to the need to provide operating crews with the proper preparation necessary to safely operate trains, and we've provided guidance for consulting with workers as railroads identify and mitigate risks in their networks.    
Utilising our rulemaking authority, FRA continues to advance the Train Crew Staffing Rule, which would require a minimum of two crewmembers for most railroad operations to keep workers and communities safe. Despite two-person train crews being an industry norm, the Class I railroads have made clear their interest in reducing crews to fewer than two people. More recently, FRA issued a proposal to require railroads to provide emergency escape breathing apparatus for train crews and other employees transporting certain hazardous materials.   
Investing in safety
Rail safety is not only central to these actions and others still to come – they are at the core of the historic infrastructure investments we're making through President Biden's Bipartisan Infrastructure Law. Through grant programmes like the Consolidated Rail Infrastructure and Safety Improvements (CRISI) Programme, the Railroad Crossing Elimination Programme (RCE), and others, the federal government is making unprecedented investments in projects that modernise rail infrastructure and increase safety.   
As we move forward, it is essential that we continue to work together to ensure that rail transportation remains a safe, efficient and reliable mode of transportation.
In the coming months, FRA will award hundreds of millions of dollars in RCE funding to communities across the country to increase highway-rail grade crossing safety by funding projects that separate, close, or improve grade crossings, which enhance safety and remove the potential of blocked crossings. We'll award over a billion dollars in CRISI funding – the highest amount ever and more than three times previous years. This means more projects like Connecting the Crossroads of America in Indiana and Great Lakes Corridor Improvement in Michigan that will improve track and modernise infrastructure. It also means deeper investments in innovative initiatives like the Climate Change and Extreme Events Training and Research Programme FRA is supporting in California, ensuring rail remains sustainable and safe well into the future.         
FRA must always keep pace with progress, and the Bipartisan Infrastructure Law will invest in projects, research and workforce development activities that set the stage for a vibrant rail future. FRA will use every tool we have to ensure that railroad companies fulfil their safety responsibilities and adhere to federal standards. Whether living by, working on, or travelling across railroad tracks, safety is paramount.  
America experiences more than 1,000 incidents a year, and while most are relatively minor, too many other preventable rail incidents occur on main lines, in rail yards, at highway-rail grade crossings, and throughout the day-to-day operations of major railroads. Even though there has been progress, we cannot accept this as the status quo, and we take seriously the vital role FRA plays in keeping people safe.   
Railroad companies do not need to wait for a law, regulation, safety advisory or call to action to implement procedures that ensure safety, encourage and empower personnel to develop additional procedures that maximise safety, and evaluate their safety culture as it relates to all aspects of their operations.   
As we move forward, it is essential that we continue to work together to ensure that rail transportation remains a safe, efficient and reliable mode of transportation. FRA will be bold in our ideas, creative in our solutions and relentless in our pursuit of safety. This is not only our mission but also what communities across America deserve.    

Amit Bose was confirmed by the U.S. Senate as Administrator of the Federal Railroad Administration (FRA) on 12 January 2022. He was previously appointed as Deputy Administrator on 20 January 2021.  His involvement in many rail and transportation projects prior to joining the Executive Branch includes securing the full funding grant agreement for the Hudson Bergen Light Rail, Newark Light Rail and Congressional authorisation for the 50-foot deepening of New York Harbor. Amit has an AB from Columbia College, a MIA from Columbia University's School of International and Public Affairs, and a JD from the University of Georgia.