Regular grinding is the key to long rail life
Recent research has underlined the importance of maintaining rails with regular grinding. The behaviour of the railhead under load used to be an imperfectly understood subject. Research work has broadened the rail industry's knowledge; now, the question of how rail deteriorates over time and the way in which grinding can alleviate that is much better understood.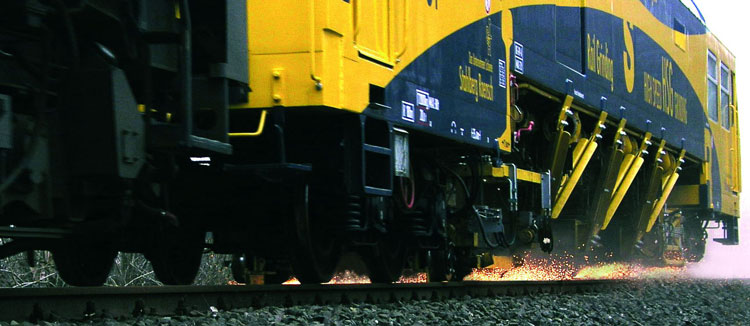 Thus years ago, grinding of the rail surface used to be undertaken to remove corrugations and ensure a smoother ride. The advent of harder steels in the rail manufacturing process made this less important, such that in the UK towards the end of the 1990s grinding had virtually ceased altogether.
What was not fully understood at the time was the importance of rolling contact fatigue, and the way in which a crack in the railhead could propagate its way into the rail web, precipitating a rail break. This is what happened with fatal consequences at Hatfield in the UK in October 2000, when a train derailed after a rail broke because of rolling contact fatigue.
This accident prompted the British railway industry to suffer what one prominent observer called a collective 'nervous breakdown': the infrastructure owner Railtrack went into liquidation and punctual working fell apart so badly that it is only now beginning to climb above pre-Hatfield levels.
The accident underlined the importance of rail grinding, as grinding takes away a tiny sliver of steel from the railhead, removing cracks before they have the opportunity to penetrate down into the rail web.
Railtrack's successor, Network Rail, initiated a nationwide grinding programme, buying three high-capacity plain line grinding machines from Loram in the United States. Another American company, Harsco Track Technologies, supplied Network Rail with grinders for tackling switch and crossing work.
Harsco Track Technologies Ltd model RGH20C switch & crossing rail grinder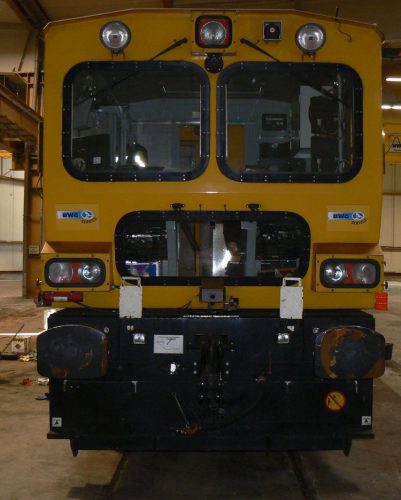 High production rail grinding machines are not well suited to grinding switches. The Model RGH20C Rail Grinder is designed specifically for this operation. It achieves this by carrying out multiple passes to ensure the correct profile and finish is reached. In the UK, multiple units have been coupled together to grind S&C and plain line.
The grinding carriage design allows the machine to address a wide range of grinding head angles even in partially obstructed areas. The grinding heads are specially designed to grind points, stock rails, frogs and close to guard rails. Grinding is effective from 0-75 degrees gauge side and 0-45 degrees field side of the rail.
A range of different size grinding stones can be used to suit customer specification. Typically 6" stones are used for S&C. There is an option designed to incorporate 11" thin rimmed stones to enable the grinding heads to get between the running rail and the check rail.
Other features of the machine include integral dusk collectors on each grinding car; adjustable gauge version available; easy operation; low noise levels; truck transportable; equipped with HTT's Jupiter Control System; up to 100kph (62mph) travel speed. Plus fully integrated onboard diagnostics designed to simplify maintenance and minimise downtime.
All machines can be fitted with the latest safety systems in accordance with European Legislation.
BWG GmbH & Co. KG – Turnout grinding units strengthen BWG service
BWG GmbH & Co. KG, a member of the voestalpine group, has taken a big step towards the strategic expansion and growth in the field of services. The turnout company is convinced that especially the findings gained from turnout maintenance offer an excellent basis for the development of new turnouts and turnout components.
BWG has expanded their former service division and established the new BWG-Service branch to ensure with intelligent concepts and a good project management that tracks access time is kept at a minimum. Service is of ever growing importance in the system partnership around the turnout. With this new service a product highly demanded by the market is added to the value chain of BWG allowing to take advantage of a considerable growth potential.
Turnouts, especially in high-speed traffic, are subject to particular requirements and are exposed to high loads. Preventive and corrective grinding of the turnouts considerably reduces the risk of damage and prevents early replacement of major parts. Thus, professional turnout grinding cuts life cycle costs of the track noticeably. Each of these high-duty turnout grinding trains consists of two power units (locomotives) and a centre trailer with an overall length of approx. 42 meters and disposes of 20 grinding units each. Currently, both trains are mainly in service at Deutsche Bahn AG.
With the acquisition of two Harsco rail and turnout grinding trains C20, we succeeded in closing a gap in the area of machine-made maintenance and repair of turnouts. This decisively enlarges our scope of supplies in the field of services. Within the life cycle of a turnout, BWG holds yet another competence.
In North America, where freight trains are many times heavier than those common in Europe, the importance of rail grinding was more readily accepted. This was due to the effects of heavy trains on curves in the track: the up rail in curves is not much affected, but the profile of the down rail can become badly distorted and grinding can help restore the profile.
It has come to be understood that grinding can deal with multiple defects. 'Typical problems encountered on all railroads include shelling, spalling, side wear, plastic flow, dipped welds, corrugation and fatigue as well as unique challenges of noise control and ride quality' says grinding manufacturer Loram. 'Rail grinding is considered the single most effective maintenance practice to control the effects of rolling contact fatigue, restore profile and maximise value from the rail asset.'
The company says that the benefits of rail grinding include the following:
Extended rail life
Fuel savings
Reduced surfacing cycles
Extended track component life
Reduced wear on rolling stock
Increased axle loads
Increased train speeds
Improved ride quality and passenger comfort
Research in North America has indicated that rail life can be extended by several years with a regular grinding programme. On that continent there is a small fleet of massive machines, with up to 96 grinding stones, toning the quality of track on heavy freight lines. The bigger the machine, the quicker the work: thus one of the biggest machines might tackle a curve in three passes (an inspection pass and a couple of grinding passes), a smaller machine might have to make several passes to achieve the same result.
Gathering data on rail and wheel conditions
With operating costs of around US$20,000 a day, it is obviously important to get maximum productivity out of grinding machines. Comprehensive data on rail condition can help make the process more efficient. One American company, Advanced Rail Management (ARM), specialises in this area, using optical rail measurement. 'Optical rail measurement is crucial in providing quality control through pre-grinding and post grinding measurements that determine metal-removal rates and ensure that the desired profiles are in place' says ARM.
Hi-rail vehicles collect optical rail measurements at speeds of up to 55km/h. Trained operators capture the data and use it, along with other information, to create a track database. Software then plots the vertical and gauge-face wear, the percentage of head loss and other parameters.
ARM's staff then analyse rail and wheel conditions and, based on that, they recommend and design rail profiles that match a system's operating and wheel conditions. A grinding plan is developed using the information gathered by field inspectors and sample wheel measurements. ARM then manages the entire grinding operation.
High-speed grinding
A faster grinding speed obviously means more track can be covered in a day. Speeds have increased in recent years, but given the friction involved there are inevitably limits to machine speed when actively grinding, and typically this takes place in the 10-15km/h range.
While possessions to allow active grinding to take place on slow-moving heavy freight railways may be relatively easy to arrange, on the mixed traffic railways common in Europe it is more difficult. For this reason, in 2002 German company Stahlberg Roensch launched a high-speed grinding procedure that can operate at speeds of 60 to 100km/h, covering substantial ground in a shift and not holding up other traffic unduly.
The principle is simple: rather than conventional active grinding, where the grinding stones are powered to reprofile the rail as the machine passes, in the Stahlberg Roensch system the stones are passive and rotate as the train drags them along the rail. While this may not allow complex reprofiling, it does mean that the top layer of the rail that is subject to rolling contact fatigue can be removed over long distances with minimum disruption to traffic.
The company says that not only are rail defects suppressed before they appear, the procedure also optimises the rail shape for the rail-wheel contact zone. There is noise reduction through corrugation control, and the smoother ride helps lengthen the life of the track formation. On stretches where the line is surrounded by trees, passive rail grinding is an effective counter-measure to low adhesion in the autumn leaf-fall season.
The Stahlberg Roensch machine features 80 grinding stones and needs to be hauled by a locomotive. Clearly, a fairly powerful locomotive is required to run at the speeds mentioned while overcoming the friction in the grinding process.
Stahlberg Roensch
A high-speed grinding vehicle (RC01) has been developed by Stahlberg Roensch in order to provide a completely new preventative grinding strategy.
RC01 is capable of removing small amounts of material from the rail head at speeds of around 80 km/h. This grinding vehicle, with 48 grinding stones on each rail, is capable of removing approximately 50-100 microns of material uniformly from the crown profile of the rail head in a single pass at speeds of 80 km/h. Clearly, such a grinding system will not reduce track availability and if used at appropriate intervals is capable of maintaining a crack-free and cost effective railway with increased rail life. The HSG technique is not designed to re-profile the complete transverse profile of the rail, as is the capability of conventional rail grinders. Instead it will copy the existing profile while removing the fatigued surface layer.
The vehicle has been fully approved by the German Federal Railway Agency (EBA) for an operation within normal traffic schedules and without possession. DB is currently entering production within a long-term evaluation programme, primarily on one of their speed tracks. Scope of the programme is the optimization of the grinding intervals to maintain a crack-free rail surface without traffic disturbance.
Metros
Research has indicated that the decline of mixed-traffic railways has affected the rail surface. Where trains vary in traction, weight and speed characteristics, this can be beneficial for the railhead. By contrast, where there is a limited variety in the rolling stock and the same acceleration and deceleration pattern for all services, the rail gets worn in the same spots each time a train passes.
An automatically-driven metro takes this to the extreme: the same type of train passing all the time, at the same speed. Thus metros such as the London Underground have suffered from rail corrugation and other problems for years. It is particularly acute on lines such as the Victoria Line that are automatically rather than manually driven.
Metronet Rail, responsible for revitalising two thirds of the London Underground under the Public Private Partnership project, is using a state of the art rail grinding machine to help mitigate 'track noise'. The machine, developed for deep tube tunnels, is being used on the Victoria, Bakerloo and Central Lines. A total of 179km of rail is being smoothed, reducing noise, improving passenger ride quality and preventing rail defects.
The machine, manufactured by Schweerbau, is designed to operate within tight tunnel clearances and around sharp track curves. Two grinding units, each with four grinding stones, are towed by a manually driven 400kW diesel power unit. The grinding units are computer controlled using settings for the depth of grind and angle of the wheels inputted by the grinding operator. Continuous feedback on the progress of the grind is provided to the operator so adjustments can be made depending on the conditions of the rail head.
When the machine was introduced three years ago, John Edwards, Metronet's Project Engineer, said: 'Pressure is on metros around the world to control noise for both passengers and train operators and for the wider external environment. This technology is a step closer towards managing noise and further improving safety.'
Metronet added: 'All over the world rail grinding has been found to be a very effective method to control rail defects. By re-profiling rails as well as wheels, the life of both can be extended. The machine is also environmentally friendly, collecting dry dust from the rail and releasing low levels of diesel exhaust emissions.'
For metros, where the enclosed spaces in the tunnels means there is nowhere for debris to escape, effective removal of shavings during the grinding procedure is essential. Metal shavings left behind can get picked up in the electro-magnets on traction motors in the trains, causing flashovers and poor train reliability statistics as a result.
Schweerbau's latest machine, the SFU 04 rail milling unit, was developed specifically for underground railways and is being used by Metronet. With this new model Schweerbau claims there is no dust, and no sparks. The company says the SFU 04 has an output rate of up to 1,000m of finished track per hour.
Schweerbau
In 1984, Schweerbau started to run their first rail grinder, type GWM 440.
Today, Schweerbau operates different grinding machines for mainline railways, mainly DB AG, and metro systems throughout Europe and additionally a rail milling machine and a rail planer. Based on this experience the SFU 04 milling machine has been developed.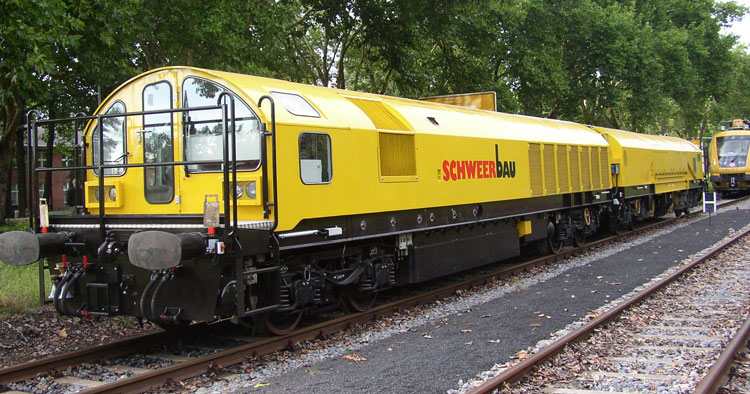 This machine is capable of working in metro systems like London Underground or Paris Metro as well as on any mainline railways with 1435mm gauge (of course, it could be adapted to wide gauge).
It will significantly improve the production rate in metro systems and the milling quality on mainline railways.
SECO-Rail milling for metro and railway companies
Since the beginning of 2007, SECO Rail, one of the largest railway construction and railway Maintenance Company in Europe, has introduced rail milling for tram- metro and railway companies. This with the new developed rail road milling unit SF -01 F Truck.
At the GvbA Amsterdam metro customer the machine took care of the removal of corrugation as well as reprofiling their network. Head Checks had to be removed of over 2,5mm at the BOGESTRA in Bochum. And at the HPA Hamburg, gauge widening was a job that the truck had to carry out.
Besides the removal of the earlier mentioned rail defects, the SF-01 F truck has the environmental advantage of no production of dust or sparks, what is a benefit if working in tunnels or areas where people are living. Most of the time, one pass is enough in order to cover the whole railhead and remove the existing defects. This will result in low cost for the customer and a reduction of the maintenance time compared to rail grinding. The flexibility of the SF-01 F Truck is with its mobility another advantage for the customer. The SECO-Rail SF-01 F Truck can work on almost every light rail network.