Croatia: Infrastructure modernisation for a more competitive railway
Posted: 12 February 2014 | Darko Peričić, President of the Management Board, HŽ Infrastructure | No comments yet
2013 was spent implementing the financial and organisational restructuring of Croatian Railways. The company was divided into three independent entities of which HŽ Cargo and HŽ Passenger Transportation are marketorientated transport operators whilst HŽ Infrastructure is the state-owned infrastructure manager. As a result, HŽ Infrastructure has seen major changes.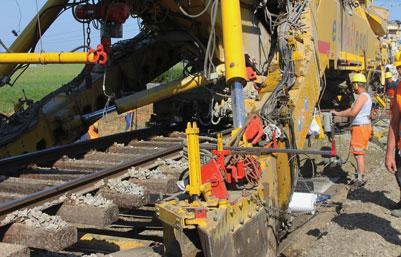 Works on the Okučani–Novska section
Natural productivity was increased through restructuring to 2.4 employees per kilometre of track in 2012 while at the end of 2013 it was approximately 1.94 which corresponds to EU standards. HŽ Infrastructure has been focused on intensive planning of the reconstruction of its lines and has set several major goals. Some of these goals include increasing track capacities by constructing second tracks along the most congested lines and increasing speeds (up to 160km/h on lines of international significance and 120km/h on regional lines and 80km/h on local lines). In order for these goals to be achieved, a maintenance and investment plan has been drawn-up with projections up to the end of 2016, with investments planned to the amount of €2.6 billion – of which €1.4 billion will be secured through EU funds.
The rest of this article is restricted to logged-in members. Login or subscribe free to read it.