Flooding in Serbia causes catastrophic railway infrastructure damage
Due to the catastrophic floods which hit Serbia in late-May 2014, the country's railway infrastructure suffered huge damages estimated to be in the region of millions of Euros – the consequences of this devastating act of nature on Serbian railway lines will remain for an extended period of time…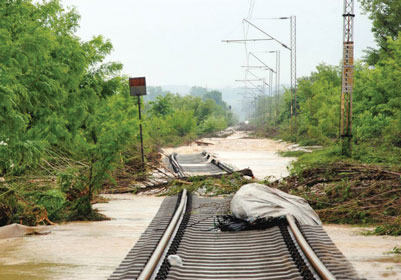 Due to the tremendous damage that the flooding cause, help is required, especially materials and equipment
Floods, mudslides and landslides have directly jeopardised railway lines and electrical installations in more than 50 locations all over Serbia. Rail traffic was disrupted not only on international main Corridors, but also on a great number of local and regional railway lines.
Railway traffic was disrupted on the Belgrade–Nis international route, via Mala Krsna at the railway station Kolari, on the section Jajinci–Beli Potok, also via Mladenovac, on the sections encompassing the Resnik–Ripanj, Sopot–Kosmajski–Vlaško Polje and Ratare–Glibovac lines. Furthermore, the trains couldn't run on sections of the international Corridor 10: namely Paraćin–Ćićevac, Velika Plana–Smederevska Palanka, then near Jagodina, on railway line Sremska Mitrovica–Martinci, between Požega, Čačak and Kraljevo, then on the railway lines from Kruševac–Stalać and Kučevo–Majdanpek, as well as on sections strategically important for the country's thermal power plants, namely Resnik–Vreoci and Markovac–Svilajnac.
Serbian Railways Director General, Dragoljub Simonović, praised the railways for their serious, organised and responsible operation in the face of these catastrophic floods seen all over the country. This response proved just how important rail is for society and indeed the entire country in these kinds of situations. The priority was to save human lives and most of the railway sections that were damaged in the floods, mudslides and landslides were repaired very quickly, efficiently and in the shortest possible period of time by railway employees who worked day and night in very bad conditions.
Serbian Railways also played its part in protecting the electro-energetic power system of the country, as due to the rapid repair of the Resnik–Vreoci and Markovac–Svilajnac lines transport priority for the power plants 'TENT' and 'Morava' was quickly restored. However, most of the damaged sections were repaired just enough to enable safe traffic of the trains with minimal speeds, while serious repairs are yet to come.
The railway lines between Beograd–Bar and Ruma–Zvornik suffered the worst damage. On the railway line to Bar, between Lajkovac and Lazarevac, flooding destroyed concrete pillars and a bridge on this section, by removing all of the full ballast stone and track equipment, due to which several hundreds of meters of line were damaged and a mudslide between Valjevo and Valjevski Gradac took almost half of the hill beneath the track. On the Ruma–Zvornik section, intended for freight traffic, flooding damaged the track in a number of places resulting in a couple of kilometers of line being totally destroyed, greatly affecting business people travelling from Serbia and the Republic of Srpska.
Additional large investments will be necessary on the Kraljevo–Čačak–Požega line due to its heavy workload as an alternative route for the Bar railway line.
Appeal for help
Serbian Railways sent an appeal for help to the International Union of Railways (UIC), The Community of European Railway and Infrastructure Companies (CER), and other international railway administrations, organisations and economic enterprises, and also to its business partners from the country. Due to the tremendous damage that the flooding has caused to the Serbian Railways network, we required help – especially materials and equipment, particularly sleepers and rails and other types of equipment – necessary for the rapid and effective repair of the lines.            
Help came first from the Austrian, Swiss, Hungarian and Turkish railway companies, and donations were sent by Montenegrin, Macedonian and Bulgarian railway employees, as well as business associates from Greece, Czech Republic, France and other European countries. Many local companies also helped the railways in dealing with the floods. The Institute of Transportation CIP did all necessary projects for railway reparation for free and funds for flood relief were also allocated by the Serbian Railways Unions, and a very special donation was also received from cashiers from the Vienna railway station with their wishes for a quick recovery.        
Serbian Railways have shipped almost 70 tonnes of water and a large amount of hygiene products and baby equipment to the regions that have suffered flooding, thanks to donations from international railway administrations, business associates and resources at their disposal.
Beside the struggle to preserve railway traffic on flooded railway lines, a great number of railway employees also wanted to help those affected by the floods, so a few hundred of them voluntarily went by special trains to Ruma, Šabac and Sremska Mitrovica in order to help people from these regions.
Serbian Railways accommodated people evacuated from flooded areas, mostly from Obrenovac, (between 220 and 240 people on a daily basis) in three railway accommodation facilities in Belgrade. Serbian Railways, in cooperation with its subsidiaries Zaštitne radionice, Želturist and Zavod za zdravstvenu zaštitu železničara, secured accommodation, food and all necessary medical assistance for those who had been evacuated.
During this natural disaster, damage was suffered by almost 200 workers of Serbian Railways whose facilities were damaged.
Railways and railway men will give help to all of their colleagues, in accordance with their capabilities, but also everywhere where it is needed throughout Serbia, so that all facilities, damaged in this catastrophe can be repaired as soon as possible.