Flooding in Serbia causes catastrophic railway infrastructure damage
Due to the catastrophic floods which hit Serbia in late-May 2014, the country's railway infrastructure suffered huge damages estimated to be in the region of millions of Euros – the consequences of this devastating act of nature on Serbian railway lines will remain for an extended period of time…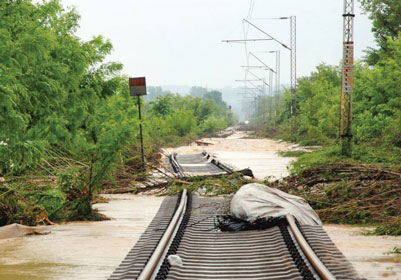 Due to the tremendous damage that the flooding cause, help is required, especially materials and equipment
Due to the catastrophic floods which hit Serbia in late-May 2014, the country's railway infrastructure suffered huge damages estimated to be in the region of millions of Euros – the consequences of this devastating act of nature on Serbian railway lines will remain for an extended period of time.
Floods, mudslides and landslides have directly jeopardised railway lines and electrical installations in more than 50 locations all over Serbia. Rail traffic was disrupted not only on international main Corridors, but also on a great number of local and regional railway lines.
Railway traffic was disrupted on the Belgrade–Nis international route, via Mala Krsna at the railway station Kolari, on the section Jajinci–Beli Potok, also via Mladenovac, on the sections encompassing the Resnik–Ripanj, Sopot–Kosmajski–Vlaško Polje and Ratare–Glibovac lines. Furthermore, the trains couldn't run on sections of the international Corridor 10: namely Paraćin–Ćićevac, Velika Plana–Smederevska Palanka, then near Jagodina, on railway line Sremska Mitrovica–Martinci, between Požega, Čačak and Kraljevo, then on the railway lines from Kruševac–Stalać and Kučevo–Majdanpek, as well as on sections strategically important for the country's thermal power plants, namely Resnik–Vreoci and Markovac–Svilajnac.
Issue
Related organisations
Related regions