Australia's biggest public transport project is underway
Australia's first fully-automated rapid transit rail system – the AU$8.3 billion North West Rail Link is a new direction for rail services – not just for Sydney, but for the entire country. Gladys Berejiklian – Minister for Transport in the Government of New South Wales, Australia, provides more details about how the project has taken shape, construction details to soon follow, and what the future will be like.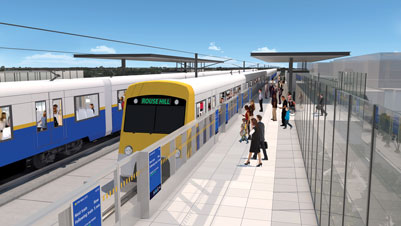 The first of four massive tunnel boring machines is now on-site as Australia's biggest public transport project starts to quickly take shape. This world-scale project is delivering many other firsts: the longest passenger railway tunnels ever built in Australia and the first time four tunnel boring machines have been used on one Australian construction project at any one time – a significant feat on a global scale as well.
The North West Rail Link is also the first stage of Sydney Rapid Transit (SRT), the city's new rapid transit rail network. For the 36km length of the North West Rail Link, the State Government of New South Wales will deliver eight new railway stations and 4,000 new commuter car parking spaces, as well as upgrading five existing stations to rapid transit status.
When opened in 2019, new-generation rapid transit trains will run at least every five minutes in peak times – i.e. 12 an hour – taking customer service to an entirely new level.
Most importantly, the rapid transit network will work together with our existing suburban rail network to build a solid foundation for Sydney's future growth, as the population of Australia's only global city booms from four-and-a-half million to six million over the coming decades.
From the end of the North West Rail Link – and subject to an electoral mandate in early-2015 – the New South Wales Government will fast-track the extension of the new rapid transit system, continuing it for another 30km via a second rail crossing at Sydney Harbour, but this time under it.
Three new underground railway stations in the heart of the city will ease congestion at existing city stations like Town Hall and Wynyard and SRT will have the capacity to run up to 30 trains per hour in each direction through the city on the new line.
Combined with major upgrade works on the existing suburban rail network, SRT will help deliver a 60% increase in the number of trains across all of Sydney and cater for an extra 100,000 customers per hour.
With more than one million rail customers a day, this major capacity boost for Sydney rail services cannot be delivered by working around the edges of the existing suburban system, on which construction first started in the 1850s.
The new rapid transit network was identified in Sydney's Rail Future – a plan released by the New South Wales Government in 2012 which looked at 15 options in developing Sydney's rail network and included advice from an expert panel and international peer reviews from Europe, Asia and the USA.
Currently, approximately 44% of journeys to work in the Sydney central business district are made by rail – and demand for rail services is forecast to increase by more than 50% over the next 20 years.
Rapid transit will be just one of three tiers of train operations – working alongside existing suburban and intercity services.
In delivering this new rapid transit network for a 21st century Sydney, there's no point sticking to old ideas or using 20th century technology to do it. That's why we have embraced a fully-automated system which puts the customers at the centre of the new network.
Every day, millions of people will travel on fully-automated rail systems around the world and these systems have very impressive safety records. This technology has been around for 30 years, and has been constantly improved and refined during that time.
Technology like platform screen doors will be standard on the North West Rail Link – it may already be common place around the world, but this is a true leap forward for customer safety and improved operational reliability for Australia.
Expert train controllers in a new operations centre will constantly monitor all aspects of the fully-automated system; not just the driving but also the inside and outside of trains, the stations and platforms.
The safety of our customers will be our number one priority and multiple help points on trains will allow customers to communicate directly with controllers, while staff will also move through the system throughout the day.
Communications systems will keep customers fully aware of service updates or disruptions, and advise and direct customers on appropriate procedures in the event of an emergency. Furthermore, multiple safety systems will be in place, including walkways in tunnels.
State-of-the-art technology is just one of the innovations of the North West Rail Link.
Intensive consultation with customers, the local community and industry has been the hallmark of the project over the past three years, as it moved through the critical planning stages.
Hundreds of representatives from more than 170 Australian and international firms attended industry briefings in 2011 and 2012, contributing to the evolution of the project into the first stage of Sydney Rapid Transit.
Community consultation saw the number of new railway stations increase from six to eight while innovations like Australia's only cable-stayed railway bridge on a curve will ease delays for motorists as the North West Rail Link's elevated skytrain viaduct is built above a major arterial road.
And, in the ultimate act of transportation recycling, 60 beams from the former Sydney Monorail have been refurbished into a temporary road bridge, allowing construction of a station box to continue under a busy local road. This innovation meant the road was closed for just three months, not for three years as originally planned.
In all of these innovations, our customers have been at the focus of our decision-making.
Such is the world-scale of the North West Rail Link, it was separated into three major contracts because it could not be delivered by just one group.
Two design and construct contracts were awarded in 2013 for the twin tunnels and the 4km skytrain viaduct.
The multi-billion-dollar operations contract now sits as one of the largest Public Private Partnerships (PPP) in Australian history, as we prepare to formally award it later in 2014. It includes:
Building the eight new stations and 4,000 commuter car parking spaces
Delivering the new rapid transit trains and building and operating a new stabling and maintenance facility
Installing tracks, signalling, mechanical and electrical systems
Upgrading and converting an existing 13km-long section of railway to rapid transit status
Operating the North West Rail Link, including all maintenance work.
Importantly, the Government will keep control of fares. The private operator will make no revenue directly from the fares. Their financial incentive will be based on ensuring they deliver the services which are expected by customers, including ensuring trains run on time, are clean and that stations are clean and safe.
If the private sector operator cannot meet these rules they will suffer a financial penalty, which will be written into the operating contracts.
Splitting the project's delivery into three major packages allowed the Government to quickly award the tunnelling contract, with its long lead-in-time for the construction of four tunnel boring machines, while also taking some further time to refine the customer-facing elements of the project, like designs of stations and rolling stock specifications.
Just over a year after awarding the tunnelling contract, the outcome of that decision is now at the bottom of a 9m-deep station box in the north-western Sydney suburb of Bella Vista – the first tunnel boring machine (TBM), named Elizabeth.
Following the global tradition, the TBM was named after a woman – colonial Sydney farming pioneer Elizabeth Rouse – and was put forward as part of a community competition to name these mega machines, under the theme 'women who have made a positive contribution to life in Sydney'.
Now, it is time to get on-board and look to the future as we deliver the North West Rail Link – the biggest public transport project in Sydney since construction started almost a century ago of another world-famous icon – the Sydney Harbour Bridge.
Reference
Further details…
Sydney's AU$8.3 billion North West Rail Link is so big that one consortium or group did not have the capacity to deliver it all. It was broken up into three major contracts:
Tunnelling
AU$1.15 billion, awarded to Thiess John Holland Dragados consortium in June 2013, to deliver 15km-long twin tunnels and five station boxes.
Skytrain and surface civil works
AU$340 million, awarded in December 2013 to Impregilo-Salini joint venture, to build 4km elevated skytrain viaduct and landmark cable-stayed railway bridge.
Operations contract
Preferred operator announced in June 2014 as Northwest Rapid Transit consortium, made up of MTR Corporation (Australia), John Holland, Leighton Contractors, UGL Rail Services and Plenary Group. The contract is to be awarded before the end of 2014 and includes delivery of new generation trains, eight new stations and operations and maintenance.
Biography
Gladys Berejiklian, the Deputy Leader of the New South Wales Liberal Party, has been leading major transport reforms in New South Wales, Australia, since being appointed Minister for Transport in 2011. She has delivered a record public transport infrastructure budget to change the way people move around NSW. A centrepiece project of her portfolio is the AU$8.3 billion North West Rail Link – Australia's first fully-automated, high capacity rapid transit network. Gladys was elected to the New South Wales Parliament in 2003 and was Shadow Minister for Transport from 2007 until her appointment as Minister for Transport in 2011 following the state election.