ARA – building a brighter future for rail in the Australasian region
The Australasian Railway Association (ARA) is the peak body representing 170 passenger, freight, track operators and the wider rail supply industry in Australia, New Zealand and Indonesia, explains Bryan Nye – the Association's Chief Executive Officer. Our fundamental purpose is to create an environment that will permit the Australasian rail industry to prosper. When issues arise that affect the whole industry, the ARA takes the lead facilitating an industry response.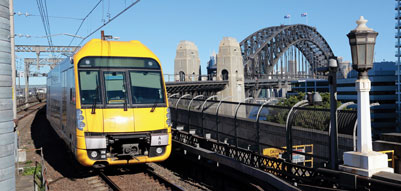 As well as shaping policy in the areas of passenger, freight, rail safety regulatory reform, the environment, technology and research, the ARA is also involved in programmes aimed at improving the productivity, capacity and overall safety of the Australasian rail industry. Australia has the sixth largest rail network in the world and, in both freight and passenger markets, we play an integral role in the operation and growth of our nation moving almost one billion tonnes of freight and facilitating 784 million customer journeys per year.
A recent ARA-commissioned report showed that passenger journey's on rail had actually increased by a staggering 84 million in the past four years, demonstrating just how much the industry as a whole is increasing in its activity and proving that Australians are seeing rail as a viable transport option now more than they ever have before.
If the growing trend that this report indicates continues, Australia will be right on track to a greener, efficient and more productive future through the utilisation of rail.
This year, the ARA will have been advocating on behalf of the Australasian rail industry for more than 10 years and have achieved much in that time.
The ARA has formed itself into an organisation with a mandate to unite the rail industry to work together and to influence government policy, particularly at the Federal level; a significant challenge and it has taken a number of years to unite the industry to pursue common agendas, identify areas of mutual interest, develop trust and collaborate to increase productivity, efficiency, safety and most importantly reduce costs. The ARA has since been recognised by many, particularly governments, as the champion and voice of rail in Australia.
There has been significant increase in transport investment in the past 10 years; from $500 million per annum to $4.5 billion, and the ARA has been there lobbying policy-makers for a greater role for rail and greater investment in the transport sector.
ARA has achieved great things for rail in these past five years, with its portfolio growing to cover a range of issues, including policy relating to passenger rail; freight; safety and economic regulation; environment; spectrum, communication and technology; manufacturing and rail supplies; workforce development; high-speed rail; industry education and training; industry support services; engagements; communication and marketing; and events.
The ARA has been committed to bringing about significant changes to the rail safety regulatory framework. Key achievements in safety regulation include the establishment of the Office of the National Rail Safety Regulator (ONRSR) in January 2013 after nearly a decade of lobbying as well as direct involvement in maintenance of the Rail Safety Act.
Passenger rail
In the passenger rail space ARA established its Passenger Transport Group and Light Rail Groups, bringing together the Executives of major rail operators to collaborate for improved operational outcomes and promotion of the industry.
The ARA has released three reports this year to promote the benefits of heavy and light passenger rail, specifically:
Commuter costs and potential savings
This report looked at public transport versus car commuting in Australia and identified the potential annual savings commuters can make in each Australian city by commuting to the CBD with public transport as opposed to the car. It found the average Australian commuting to the CBD could save $9,425 by not owning a car or deciding not to purchase a second household car.
Public transport investment
Quantifying the value of action versus the cost of inaction, this economic study found that investing in rail is the most cost-effective transport solution to reduce road congestion in Australia's two fastest growing cities – Brisbane and Perth. Specifically, rail would cost 57% less in Brisbane and 38% less in Perth to achieve the same congestion reduction as road.
Innovative funding and financing for public transport
This paper aimed to engender policy discussion on how public transport investments are funded and financed in Australia, by exploring funding tools successfully used in cities, states and countries around the world and touching on financing reforms to encourage greater investment from the private sector.
These reports can all be found on the Australasian Railway Association website1.
High-speed rail
In addition to advocating for passenger rail, the ARA has also fought to keep the debate on high-speed rail on the political agenda.
High-speed rail cannot be deferred in Australia any longer; it is the only continent in the world, besides Antarctica, to not have a high-speed rail network. The three major next steps that must be taken now to ensure the viability of the project down the track are: the establishment of a High-Speed Rail Authority; preservation and acquiring the proposed rail corridor; and establishing alternative funding mechanisms through market testing.
Congestion is crippling our cities and skies, our urbanisation is unsustainable. We need to open-up regional Australia by connecting the country and cities and future proof our nation from fuel shortages or supply shocks. The ARA is working closely with domestic and international industry members as well as the government to progress the project.
Freight rail
The heavy haul rail freight sector has quite literally helped deliver prosperity to Australia from our recent surge in mining related exports. Nowhere else in the world has longer or heavier trains, which are only matched in superiority by world leading technology, such as the driverless 2km plus long freight trains currently criss-crossing the Pilbara region in Western Australia.
Our intermodal containerised and grain freight movements however are lacking.
Australia's national freight task is expected to double by 2020 and triple by 2050. The effective movement of freight, particularly container freight, is a crucial element of Australia's domestic economy and its future international competitiveness.
Falling container freight rail share on particular routes has seen the ARA strongly advocate for infrastructure solutions, greater investment, regulatory reform, technology advancements and systems reforms to benefit the industry.
With one freight train removing 110 trucks from Australia's increasingly congested roads, it is imperative for rail to increase the freight it carries.
Workforce development
Over 110,000 men and women are employed in rail throughout urban and regional Australia in diverse operational and professional occupations. This workforce is a valued part of today's dynamic Australian rail industry. Having the right people in the right jobs is a key element and provides individual employees with opportunities to contribute to business success and realise their personal potential.
ARA's greatest achievement in workforce development is its contribution to the increasing level of industry participation to national workforce development activities that benefit the industry as a whole.
In recent years we have realised unprecedented levels of trust and commitment fostered between member organisations; which has enabled parties to working together in harmony and share information to reduce 'reinventing the wheel'.
The ARA is also particularly keen to see greater diversity in the workforce, attracting more women and younger people to become involved in this growing global industry.
Manufacturing, suppliers and contractors
Supporting Australian railways are local rail companies. Located throughout urban, regional and rural Australia, local rail supply companies provide vital skills for the rail industry and support local economies. They design, develop, produce and maintain essential technologies to ensure the continued operation and growth of the Australasian rail industry.
Working as part of the global supply chain, Australian rail manufacturing and maintenance companies provide electric and diesel locomotives, train carriages and wagons, specialist equipment for rail track signalling and electrification systems.
Australian rail equipment manufacturers employ more than 15,000 people and add $1.6 billion to Australia's GDP annually.
Australian rail suppliers have become world-leaders in innovation, developing advanced technologies and products that are adopted and sought after globally. To remain competitive, Australian rail suppliers must constantly adapt and improve their processes to increase value to customers through better quality, efficient delivery systems and production time and cost.
The ARA has established Committees and Working Groups in for its manufacturing and supplier members to represent the interests of major manufacturing and maintenance service companies. In September 2014, the ARA will be leading a delegation of Australian rail suppliers to the largest rail show on earth – InnoTrans – in Berlin (Germany) to connect with international customers of passenger and freight transport technology, initiate export business and broaden their professional global network.
TrackSAFE Foundation
The TrackSAFE Foundation is a registered Harm Prevention Charity, established by the Australian Rail Industry in March 2012. TrackSAFE endeavours to reduce near-collisions, injuries and fatalities on the rail network resulting from suicide and reckless behaviour. In doing so, TrackSAFE aims to create a better workplace for rail employees.
Traditionally unreported, suicide on rail is an alarming issue for those involved. It deeply affects the wider communities and rail industry staff.
There are around 150 suicides annually on the rail network and a further 1,000 attempts – nearly half of which result in serious injury. Suicide on the rail accounts for two thirds of all rail fatalities.
In an Australian first, the rail industry has been addressing suicide on our network in an attempt to reduce the number of incidents and begin to mitigate the trauma caused to the families, communities and rail employees.
These are but a handful of the key work programme areas the ARA operates within. We continue to work with the industry and government, both domestically and internationally, towards building a brighter future for rail in the Australasian region.
Reference
Biography
Bryan Nye's early career was with the Royal Australian Navy. His career highlights were the command of three ships including a guided Missile Frigate and a variety of shore appointments culminating in his last appointment as Director General of Naval Manning responsible for the careers and employment of 13,000 Naval personnel. He then joined the Australian Institute of Valuers and Land Economist and managed this federated body into the National organisation of the Australia Property Institute home for 8,000 property professionals. Before joining ARA, Bryan was the Executive Director of the Australia Institute of Petroleum where he assisted in the development of National Fuel Standards and acted as Spokesperson for the Petroleum Industry in Australia. His latest challenge is establishing the new ARA office in Canberra and ensuring rail is a key part of any future transport policy. Bryan has a degree in Management and Computer Studies and Post Graduate degrees in Strategic Planning, Finance and Administration.