SWERIG – growing at home and abroad
The passenger and freight traffic utilisation of the Swedish railway is growing fast, and so is the country's railway industry. The former publicly-run railway sector in Sweden is deregulated and this has created new companies, who – under competition – have developed efficient and reliable solutions. SWERIG – the Swedish Rail Industry Group – has worked for 25 years with the companies in this sector and conducts different kinds of export supporting activities. Rolf Alm and Magnus Davidsson from the Group explain how Sweden is investing in its own railway systems as well as the importance of growing the export of Swedish railway technology and services.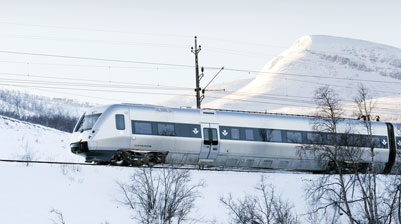 Sweden is a growing country, with both demographic changes and economic stability. Additionally, a growing trend is urbanisation, probably among the strongest in Europe. And Swedish exports of industrial, steel and forest products remain strong. This has led to a significant increase in rail traffic – train travel has almost doubled in 20 years. Investments in the infrastructure, however, have not kept up and the tracks are now over-crowded for many of the most important routes/distances. Sweden has an economy with a relatively strong state budget which means the country now has the possibility to make major investments in new infrastructure as well as upgrading the existing railway. There is presently a political unity on the subject, and the government has recently decided on a national infrastructure investment plan of 522 billion SEK (approximately €55 billion) for the period 2014-2025 for all modes of transport.
The most interesting project is the introduction of high-speed lines operating at 320km/h between the three largest cities in Sweden – Stockholm, Gothenburg and Malmö. The alignment will be approximately 700km-long and the Swedish Transport Administration (Trafikverket) is currently moving forward with the formally decided sections between Järna south of Stockholm to Linköping (the East Link project) and Gothenburg to Borås.
"It is a very exciting project and we are now working to finalise technical standards and the first contracts, says Ali Sadehgi, Project Director for the East Link Project at the Swedish Transport Administration. "To define technical standards, we have looked at the experiences in Sweden as well as in other countries within and outside Europe."
Other significant parts of the infrastructure programme are the 9km-long metro extension in Stockholm, the national investment in ERTMS and major upgrades of the existing rail network. However, the need for additional transport capacity is very large and increasing rapidly, and at the time of writing this article, all political parties are discussing a further expansion of the plan.
A major part of the Swedish rail system was constructed in the 19th century, hence the system comprises a relatively large share of single-track lines. However, Sweden was early with the introduction of electrification (in 1915) as well as the introduction of signalling including ATP (in 1930). The system carries a relatively large share of the freight traffic and some tracks are more dedicated to freight and allow heavier axle loads (25 tonnes), e.g to facilitate transports for the extensive mining industry in the North. The growth in regional and commuter passenger traffic has been strong over the last decade. For urban transport, Stockholm has a metro and Gothenburg has an extensive tramway system. Trams are available in two more cities, and more cities are planning to implement tramway networks.
An ongoing important project for the Swedish railway industry is the Stockholm City Line – also known as Citybanan – a 6km-long railway tunnel which will increase the capacity for commuter trains through Stockholm. The investment is approximately 17 billion SEK and consists of, among other things, a submerged concrete tunnel, a large bridge, two new underground stations, and of course new high technology tracks, signalling and electrification systems. Citybanan will be opened in 2017.
The Swedish rail market is liberalised, both in terms of passenger and freight traffic, infrastructure maintenance, rolling stock maintenance, as well as many related services. It has contributed to the creation of companies that under competition have developed products and services that now are exported to the global market.
The Swedish railway industry – diverse and growing
The railway technology supply industry in Sweden consists of large manufacturers, as well as many small and medium-sized entrepreneurs, many subcontractors, consultancy companies and specialised maintenance companies. The largest rail industry player in Sweden is Bombardier with its global presence as a rolling stock and signalling system supplier. Bombardier and its Swedish predecessors (Asea – ABB – Adtranz) has been the leader in the Swedish market for more than 100 years. The product development in Sweden via the recent Green Train project with its solutions for active suspension, efficient motors, aerodynamics, winter robustness and lower acoustic levels are already implemented in trains in Sweden, Europe and Asia. The SJ 3000 train is one example – a train designed in Sweden to meet high customer demands and harsh winter conditions. This was performed in co-operation with research institutions in Sweden, a very important factor for the railway supply industry in Sweden.
"We believe that the competence of the Swedish universities has been, and is, very significant for the innovations that the railway industry has put to the market," says Henrik Tengstrand, Senior Director of Specialist Engineering at Bombardier Transportation.  
An important and growing part of the Swedish railway industry is the companies for railway related IT-products and services. Sensys Traffic is a global Swedish company that produces advanced traffic informatics systems; within the railway industry the pantograph monitoring equipment has been a success. TagMaster, Icomera, Axell Wireless, Axis Communication, SAAB, Westermo, Cetwin and Cactus Uniview are other examples of the increasing number of companies producing different types of railway IT-products and services.
Other large Swedish technology companies are also active on the railway market. One example is the Swedish Steel Company SSAB who manufactures high strength steel products for lower weight and improved crash resistance. Another example is SKF, who produces bearings for the railway market. The company does not only manufacture the bearings and axle boxes, but also offers a unique worldwide service organisation.
SWERIG
SWERIG's major objective is to catalyse export of Swedish railway technology and services by initiating and coordinating joint marketing activities on selected export markets.
The 45 member companies cover a large part of the product and service range – from planning, technical consultancy, systems design and installations along the rail track, rolling stock including components, and railway software. They supply infrastructure owners, train manufacturers and train operators worldwide with advanced railway technology.
SWERIG was established during the 1980s and has since then co-operated in different ways with the Swedish Trade Council; today Business Sweden.
One typical activity is to arrange seminars. During recent years, SWERIG has arranged seminars on subjects such as: 'Light Rail Projects in Nordic Countries'; 'Future IT Solutions for Railways'; 'The Polish Railway Market"; 'Project Financing'; and 'Turkey – The Most Interesting Railway Market in Europe?'
One of the latest activities with SWERIG's members was the delegation visiting Turkey to meet Turkish customers arranged in co-operation with Business Sweden. Such delegation tours have in the past been conducted to visit OEM-companies and infrastructure managers in other countries in Europe and Asia.
SWERIG also actively participate in arranging the Nordic Rail & Future Transport trade fair, with its next event taking place in October of 2015 in Jönköping (Sweden).
We are proud to be known as 'The Swedish National Team of Rail Competence' and we hope to welcome you to our stand at Innotrans – Hall City Cube Berlin A, Stand 207!
Biography
Rolf Alm has been the Chairman of SWERIG since 2013, and has close to a 30-year career in the railway business working for Bombardier Transportation and its Swedish predecessors since 1985. Rolf's experience includes sales and management of turnkey project deliveries comprising public transport plans as light-metros and tramways on export from Sweden, as well as deliveries of rolling stock and signalling systems on the Swedish market.
Since 2014, Magnus Davidsson has been Project Manager for SWERIG. He has also been the Secretary General for SWEDTRAIN – the National Association for the rail industry in Sweden for seven years. Over his career, Magnus has worked as a Consultant and as a Manager for various trade organisations within the industry sector.