Constructing the complicated Hallandsås Tunnel
Posted: 18 September 2014 | Ulf Angberg – Communications Manager for the Hallandsås Project at Trafikverket | No comments yet
Following many years of troublesome construction work, both rail tunnels through the Hallandsås Ridge in Southern Sweden were completed a year ago. Initiated back in 1992, the construction project has generated more headlines in the Swedish media than any other. Now, trains are scheduled to start rolling through the tunnel in 2015, thereby removing the worst bottleneck on the west coast. Ulf Angberg – Communications Manager for the Hallandsås Project at the Swedish Transport Administration (Trafikverket) – takes a look back at what caused the project to be delayed, how problems were overcome, and what stage the project is currently at.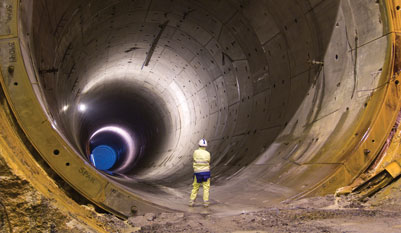 The tunnel through Hallandsås has attracted a lot of attention from the very beginning. The project was also plagued with difficulties. The two 8.7km-long tunnels were completed as part of the third construction contract, following problems and ultimately failure of the initial two. Difficulties mainly involved the extremely varied nature of the rock found in the ridge and the large volumes of water. The environmental restrictions imposed were also stringent and an even greater focus was placed on the environment following leakage of a sealing compound in autumn 1997. There has been a rigorous effort to review all chemicals used, from office material to injection grout. The environmental programme has more than 800 checkpoints, monitoring everything from changes in flora and fauna to groundwater levels.
The rest of this article is restricted to logged-in members. Login or subscribe free to read it.