FLEXX Power bogies for locomotives: Challenges and developments
Stefan Schrader at Bombardier Transportation explains the development of the latest generation of BOMBARDIER FLEXX Power bogies.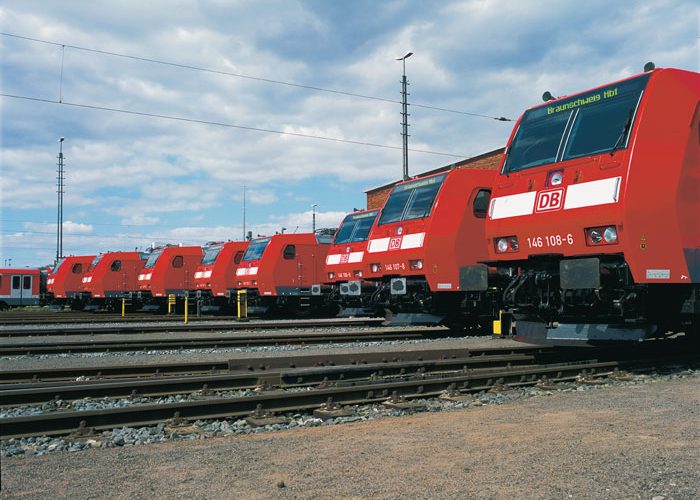 A locomotive bogie provides not only the function of carrying and guiding the vehicle, but it also enables the transmission of significant traction and braking forces. Depending on operational conditions and requirements, there are different technical, economic and operational constraints that were considered during the development of the latest generation of BOMBARDIER FLEXX Power bogies. Stefan Schrader – Product Manager, Business Unit Bogies at Bombardier Transportation, explains further.
Rail transport is characterised by strong competition with other modes of transportation. This leads to a strong cost pressure in terms of investment and life cycle costs (LCC), especially within the locomotive market which is dominated by freight traffic. In addition, the competition within the railway industry, consisting of long-established and new suppliers, is continuously increasing as well as customer and homologation requirements.
Increasing requirements on locomotives and bogies
Depending on the viewer's perspective, there are differing product needs. The requirements for the bogie can be classified within the following three views with individual key aspects:
Customer's view:
High traction and braking forces
Low product price and short delivery time
Maintainability and low LCC
High reliability and availability
Homologation view:
Safety and structural integrity
Formal correctness, approval process compliance, conformity to standards
Track access requirements
National characteristics
Supplier's view:
Standardised interfaces
High re-use factor
Light-weight design
Competitive product price
As a consequence from the sometimes divergent and individually weighted requirements, for example, the following goal conflicts may arise:
Increased traction and braking forces may result in higher dynamic loads and enhanced wheel wear, which is in conflict with low weight and LCC
More demanding homologation requirements lead to increased development and verifications efforts thereby compromise product price and delivery time
Light-weight design requires extensive iteration loops or alternative materials which affects also product price and delivery time.
To resolve these conflicts, strategic and systematic methods are needed.
A key factor: Active product management
Facing the different views, product management plays an essential role in maintaining a commercially attractive, high quality, but lean product portfolio which fits to all relevant markets. Product management is responsible for technical performance and cost over the entire life cycle – from the bid and design phase, until the phasing out of the product.
Bombardier's FLEXX bogies product portfolio is divided into different product platforms for the market segments 'S' (trams), 'M' (multiple units, coaches and metros), and 'L' (locomotives). A product platform includes a group of products with similarities in terms of requirements, functions and technologies. These groupings can contain various product options and variants.
Product management is part of the engineering and is appointed to maintain the product strategy and to promote the related development actions in cooperation with other functions. For this purpose, different tools for data management, market analysis and visualisation are applied, for example life cycle models, roadmaps and so-called Master EBOMs (Engineering Bill of Material) to calculate material costs.
The aim is to develop a comprehensive picture of the product, the competitive position and identify potential continuous or discrete improvements as a basis for strategic decisions to ensure a high level of customer satisfaction.
From revolution to evolution
The base concept and architecture of FLEXX Power bogies has been successfully applied for many years in two and three axle motor bogies and is characterised by the following main features:
Low-level inclined body-bogie traction rod

Minimises load transfer between the axles
Enables a shorten wheelbase as there is no centre pivot

Coil sprung secondary suspension

Soft, bolsterless and wear-free vertical and lateral suspension results in an excellent ride quality

Wheelset guidance through single-sided wheelset guides

Primary suspension as well as lateral guidance are realised by coil springs. Longitudinal stiffness of wheelset guide is adaptable for differing applications.
The FLEXX Power concept has been continuously developed since the 1970s and was significantly characterised by its simplicity compared to previous complex motor bogie designs. The first bogie which was tested in Henschel's diesel-electric locomotive prototype DE2500 was initially a revolution in terms of its simplicity. However, the subsequent period was marked by continuous improvement and adaptation to different operating conditions and requirements.
Numerous other test vehicles followed and formed the basis for the establishment of the so-called Flexifloat principle, later re-branded as the FLEXX Power bogie. Particularly notable applications include the high-speed power heads ICE2 1/2 and the passenger locomotives Class 101. These vehicles still form the backbone of high-speed traffic in Germany. Another typical example of an early application of the Flexifloat principle in a three-axle bogie was a series of diesel-electric CoCo locomotives for Egypt.
Since that time, FLEXX Power bogies have been running successfully throughout the world, used by a huge number of operators. The simplicity of the concept allows adaptation to the different boundary conditions, without requiring major changes of the concept.
During the course of development the FLEXX Power family was divided into subcategories characterised by design speed and drive concept. These are namely:
FLEXX Power 120
This subcategory contains all three-axle bogies and also includes the Iron Ore locomotives for LKAB in Sweden, which impresses with their high tractive force of up to 350kN per bogie. At present, Bombardier is developing narrow gauge bogies for the new locomotives Class 23E for Transnet Freight Rail, South Africa.
FLEXX Power 140
These are bogies with nose-suspended drive and FLEXX Power 200 bogies with hollow shaft drives are used for the BOMBARDIER1 TRAXX1 locomotive platform which is well-known in Germany as Class 185 and Class 146.
FLEXX Power 250
This categorises high-speed locomotives up to 250km/h equipped with fully suspended so-called IGA drive and is characterised by having a low unsprung mass. Latest examples are bogies for locomotives Class ALP1-45 DP for NJT, USA and AMT, Canada.
FLEXX Power 350
This describes the family for high-speed power heads up to 350km/h. The most recent examples are the new bogies for SRO power heads in Saudi Arabia, which are delivered as part of the expanding third-party business to Talgo in Spain.
The latest FLEXX Power developments
Based on the service-proven TRAXX platform, Bombardier Transportation has developed the TRAXX AC3 as the latest generation of locomotives for cross-border passenger and freight transport in Europe. For these applications, further bogie developments were identified. The requirements were derived from the range of vehicle configurations, customer requirements, the prevailing standards and other requirements from a product management perspective. Vehicle weights up to 90 tonnes, tractive efforts greater than 300 kN and speeds up to 200km/h were considered.
Based on the resulting specification, the latest generation of FLEXX Power 140 and FLEXX Power 200 bogies (see Figure 2) was developed. As there was a clear objective to harmonise and standardise both families to the highest possible grade, these bogies were also named as FLEXX Power Universal during the design phase.
The existing design was initially analysed with regard to potential improvements by identification of proven components as well as evaluation of the most cost-intensive components. A special focus was given to the bogie frame. The synergies of both application variants were then investigated with the aim to increase the number of common parts as much as possible.
In addition to the aforementioned general features, the new standard gauge generation is further characterised as follows:
The frame is a welded box-type design consisting of two side frames, two head stocks and one transom
The wheelset has monobloc wheels with 1,250mm diameter and is equipped with cylindrical roller bearings
The proven drive concept consists of a traction motor and gearbox. The gearwheel of the nose-suspended variant FLEXX Power 140 is directly fitted to the wheelset axle. For the fully suspended variant FLEXX Power 200, the traction torque is transmitted by a hollow shaft
Each bogie is equipped with four wheel mounted brake discs and four brake actuators, two of which are configured as spring actuated parking brakes
Hydraulic dampers work in parallel with both primary and secondary suspension to stabilise primary vertical movements and secondary vertical, horizontal and yaw movements
Wheel flange lubrication and sanding equipment complete the bogie features, the corresponding reservoirs are positioned within the vehicle
The mechanical interfaces between carbody and bogie remain unchanged compared to former generation.
Whilst further developing the product family, important development goals could be implemented in parallel:
High degree of communality
The percentage of identical parts between FLEXX Power 140 and FLEXX Power 200 has been significantly increased compared to former generation from 47% to 90% within the complete bogie and from 10% to 92% within the bogie frame. The remaining differences are all related to drive suspension.
Use of proven components
Both bogie variants have been proven in railway operations in Europe for many years. Therefore, where possible the proven components of these bogies have remained unchanged. For example; traction rod, wheelset guides, dampers and springs. This results in a beneficial advantage for the spare parts inventory.
Standardised interfaces
The interfaces between bogie and its fittings and as well the interfaces to supplier components were also harmonised. The procurement of components can therefore be undertaken with more flexibility and with a reduction in single source restrictions.
Optimisation of production
Production Engineers and specialists were directly involved in the early development of the bogies. Thus, the requirements and previous manufacturing experiences could be taken into account to improve the manufacturability and cost efficiency of the product.
Life cycle cost improvement
The maintenance interval for heavy overhaul was extended by 25%.
This new bogie generation has initially been used on the TRAXX AC3 locos for DB AG Germany, within the context of a framework contract for the supply of up to 450 locomotives. The first order was for 110 Class 187 locomotives with FLEXX Power 140 bogies and 20 Class 147 locomotives with FLEXX Power 200 bogies. The bogie production has already commenced and the first bogies have already been installed under the first locomotive.
With the latest generation of FLEXX Power 140/200, Bombardier is well-equipped and prepared for the challenges of the coming years.
References:
BOMBARDIER, TRAXX, ALP and FLEXX are trademarks of Bombardier Inc or its subsidiaries.
Trademarks of third parties
Biography
Stefan Schrader achieved his degree at University Hannover and started his career in 1995 at ABB Henschel in Kassel (Germany) in the field of mechanical engineering of locomotives. After transition of the company into Adtranz in 1996, Stefan joined the Bogie Design Team and worked as Designer and Project Engineer. The company was purchased by Bombardier Transportation in 2001. In 2005, Stefan became Site Chief Engineer, responsible for locomotive bogies. In 2007, he was appointed Product Manager for Locomotive Bogies for Bombardier Transportation, Business Unit Bogies.