European railways and liberalised markets
Posted: 13 February 2015 | Juan Antonio Cuesta Cañas, Manager, ECO Rail | No comments yet
The Spanish railway market is currently going through gradual liberalisation, and as a first step, the country will make part of its railway infrastructure open to competition. New private train operator ECO Rail is ready to enter this sector and has already carried out a European rail liberalisation study. Summarising some of the conclusions of the study for Global Railway Review is Manager for ECO Rail, Juan Antonio Cuesta Cañas…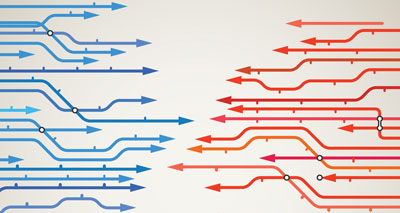 The, sometimes difficult, relationship between infrastructure and rolling stock has contributed to the emergence of companies that gain control over both lines and services and, therefore, full management of a country's transport system. On the other hand, in many parts of the world, the highly strategic value of this infrastructure has caused these companies to be administrated by national governments. Europe was not the exception to this rule and almost every country has developed its own national railway society.
Breaking this trend in 1993 was the first railway regulatory implementation in Europe which took place in Great Britain, ordering a full separation between infrastructure management and service operation which split the British Rail company into privatised companies in different sectors including infrastructure maintenance, freight transport, passenger transport, and rolling stock leasing.
Eight years later, in the First Railway Package adopted in 2001, the European Commission established:
"…a distinction should be made between the provision of transport services and the operation of infrastructure. Given that situation, it is necessary for these two activities to be managed separately and to have separate account"1.
This forced a disaggregation between the operators and the infrastructure administrators in every EU country.
European railway systems at present
Nowadays, the biggest countries in Europe have also some of the biggest 'public' train companies in the world. For instance, the total number of employees of SNCF (France), DB (Germany) and Ferrovie dello Stato (Italy) is approximately 700,000, divided in this way…
The rest of this article is restricted to logged-in members. Login or subscribe free to read it.