Motivated and determined to deliver Crossrail
Posted: 9 December 2015 | Chris Enoch, Crossrail Railway Systems Project Manager | No comments yet
How is construction progressing on Crossrail – Europe's biggest infrastructure project? Chris Enoch, Crossrail Railway Systems Project Manager gives Global Railway Review an update on works and what's next for the ambitious £14.8 billion rail project to build a new east-west railway across London and the South East…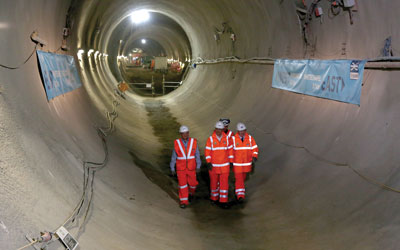 In May 2015, Crossrail celebrated a major milestone when the last of the eight 1,000-tonne tunnelling machines which were boring 26 miles of new rail tunnels underneath the capital, completed their journey at Farringdon Station. Farringdon is set to become one of the UK's largest rail hubs with direct connections to London Underground and upgraded Thameslink services. UK Prime Minister David Cameron was joined by Transport Secretary Patrick McLoughlin and the Mayor of London at the station to mark the final breakthrough and the end of Crossrail's tunnelling marathon.
Prime Minister David Cameron said: "Crossrail is an incredible feat of engineering that will help to improve the lives of working people in London and beyond. The project is a vital part of our long-term plan to build a more resilient economy by helping businesses to grow, compete and create jobs right along the supply chain."
The construction of 10 new stations is progressing well. The Crossrail team's focus is now on the task of delivering the infrastructure and railway systems to enable the service to start operating through central London and Docklands at the end of 2018. Crossrail will open fully in 2019. Construction work will now ramp up significantly within this highly complex and sophisticated systems fit-out phase, which involves fitting out the tunnels, portals, shafts and stations with all of the systems which are required to safely operate a world-class railway.
Up to 12,000 people will be working on the Crossrail programme at peak, with over 500 apprentices already engaged…
The rest of this article is restricted to logged-in members. Login or subscribe free to read it.