"…well done Eurostar!"
Next year Ian Hall will notch up a decade of regular travel between London and Brussels on the Eurostar. As the train operator launches revamped trains, he assesses services to and from the political capital of Europe for Global Railway Review. Only once – in almost 10 years of travelling for work by Eurostar between […]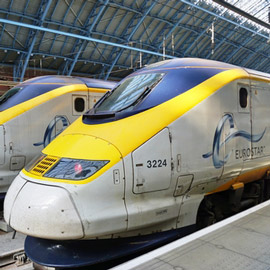 Next year Ian Hall will notch up a decade of regular travel between London and Brussels on the Eurostar. As the train operator launches revamped trains, he assesses services to and from the political capital of Europe for Global Railway Review.
Only once – in almost 10 years of travelling for work by Eurostar between London and Brussels – has my train been seriously late. If I recall correctly, the reason was snow: cancellations, delays, refunds – the whole caboodle.
But typically I can predict with greater accuracy my Eurostar's arrival time at either end of a London-Brussels two-hour trip than for my frustratingly unreliable 30-minute commute from home in Hertfordshire to central London.
Over the past decade my verdict is: well done, Eurostar
Given that the Eurostar passes through three countries (UK, France and Belgium), plus more than 30 miles under the English Channel, this time-keeping is impressive. And that – ultimately – is the most important thing: passengers want to get to their destination safely and reliably. Over the past decade my verdict is: well done, Eurostar.
Smooth service
But, beyond this, what is the Eurostar experience like for a regular passenger?
Just for context, I head from St Pancras to Brussels' Gare du Midi about once a month, always in Standard class. I did travel once, in 2007, in one of Eurostar's two posher classes ('Business Premier' and the rather quirkily titled 'Standard Premier') after a former colleague brazenly decided that we deserved extra legroom, complementary meal/drinks and intellectual magazines. A subsequent arched eyebrow from the accounts department, I understand, meant no repeat.
The process of online ticket-buying ('print at home' A4 pdf tickets) is easy. And, when boarding the train, the welcome is usually warm from the multi-lingual staff – as I make my way along the platform, I usually say a cheery hello to the platform-stationed stewards waiting to greet the top-end travellers. Eurostar is a class above regular commuter travel. But, then, I suppose it should be, being an international experience.
Once on-board and settled into your seat, you can pretty much get an entirely distractions-free solid couple of hours work under your belt. Perfect.
Tricks of the trade
Down the years, I have learned various tricks to yet further enhance the Eurostar experience (only some of which I reveal here).
One canny move (but not one apparently much-used, it seems to me) is to switch your seat from the one you will be allocated among the 18 carriages. It's a simple process (with no fee). In this way you can move away from the easy-to-spot, greyed-out block-bookings (if travelling after 8am, this could well mean gaggles of Cava-swilling Essex- or Kent-based fifty-somethings on their way via Brussels to Bruges) and pick an isolated seat, with – hopefully – the luxury of no immediate neighbour.
Down the years I've preferred to try and bag a seat with a plug socket. Until recently sockets were only located next to some window-seats in carriages 5 or 14 (new Eurostar trains with sockets galore are currently being rolled out, see later).
I've also enjoyed relocating to what are conceived as 'family sections' of selected carriages (often the front carriage). Typically there are few families (babes in arms, lively children, etc.) on the London to Brussels route (unlike Eurostar's Disneyland Paris option), so often these mini-compartments are fairly quiet, particularly on the day's earliest departures.
Another tip – and I suppose this may be quite obvious to any seasoned rail-traveller – is to purchase sustenance before passing through security. Unlike airports, where even a small bottle of liquid will be confiscated, Eurostar passengers are (almost) able to stagger on-board clutching a virtual micro-brewery. For the return leg, there's a Carrefour Express at Brussels' Gare du Midi about 50 yards from the Eurostar check-in that's done well by me down the years.
New trains
After my near-decade of familiarity with each carriage's grey-brown interiors (which are perhaps starting to seem a little tired), Eurostar has recently started rolling out new trains. I experienced my first trip on one just before Christmas 2015.
Finding the interiors slightly Ryanair-style in ambiance, I had three more specific observations: one positive, two negative. Respectively: there are now UK/continental plug sockets at all seats (good); the 'family sections' appear to have disappeared (bad); and carriage lighting has morphed from a warm glow to cold, unnatural light similar to a doctor's clinic (bad). I'm sure Eurostar could list multiple further changes/improvements, but it will require more journeys from me to recall them.
I actually emailed Eurostar as regards these initial reactions, and also questioned why the tiny bins next to each window-seat of the older trains recently seem to have largely been unscrewed and removed.
I received the following rather dissatisfactory reply (whose syntax I retain and which ignored my query re: the disappearing mini-bins):
'Before deciding on the layout of our new trains, extensive research was taken place as to how to make the best use of the space provided; plug sockets was an essential, the family carriages used to be located at the very end of the train with extra room and baby changing facilities, we now have more changing facilities for children through the train and also priority seating which has more space. We value your feedback and I will pass on the details regarding the lighting, please don't hesitate to contact us if you have any more queries.'
Incidentally, a further downside of Eurostar travel is the outrageous cost of beer (small tins only) from the on-board bar. This seems a particular outrage on a trip to/from such a well-known beer haven as Brussels. (Other on-board catering items, such as coffee, are normally priced).
Status upgrade due?
When I have mentioned to business contacts in a similar line of work the regularity of my Eurostar travel, the response (from those toiling for organisations with apparently greater budgets) is often that I should be a member of one of Eurostar's frequent traveller schemes (they have French names: the 'carte classique' and the 'carte blanche').  
I believe the latter would allow me access to Business Traveller lounge status at both ends of the journey: surely a particular benefit at the Brussels end, where the waiting lounge for the hoi polloi is soul-sappingly grey and dreadful (I often cast an envious glance at the Eurocrats and lobbyists drifting in and out of Gare du Midi's lounge, and wonder what thrills await inside).
I have investigated these loyalty schemes more than once by contacting the company, but my impression on each occasion has been that one needs to spend more than £250 on tickets to become a member. Never once have my tickets cost this amount, even when I've tried to book more than one trip simultaneously. To be fair, I do occasionally receive emails saying I have received what I believe are £20 discount voucher codes.   
Flight of fancy
One further, broader observation I have is how relatively few Brits – it seems to me, at least – appreciate quite how near Brussels is to London.
In recent years it's not been uncommon for me to 'do Brussels' as a day-trip, leaving St Pancras at 06:50 and arriving back in London just after 21.00 (and that's the final train of the day, too – one can, of course, travel back earlier). Some people seem amazed: as if it were commuting to Mars. The fact that one 'gets the hour back' (due to the one-hour time-difference) on the return leg is a further bonus.
Some Brits I meet on business in Brussels choose to fly. And, I suppose, if you live very near Gatwick Airport (or, obviously, a considerable distance from St Pancras, for example in the Midlands or north of England) that makes sense.
In late-summer 2015, with Eurostar prices a little more than normal, I myself investigated flying. It transpired that a well-known orange-branded low-cost carrier was offering flights for £39.99 from Gatwick to the main Brussels airport at a pleasant early-afternoon flight-time. I booked. I timed the flight (from runway to runway) at just under 30 minutes – and the descent over Brussels on a sunny evening was beautiful, with gleaming red roof-tiles and varied architecture so easy to appreciate from above. The bad news was that our flight was delayed by almost two hours. Including the time required to travel to the airport at either end, plus check-in time, this was frankly second-rate. I pined for Eurostar's reliability and city centre-to-city centre efficiency.
So, well done Eurostar: you're the one for me. Here's to the next 10 years!
With inevitable crushing irony, the next Eurostar journey I made after submitting this blog was delayed by more than three hours due to a person threatening to commit suicide by jumping onto Eurostar's tracks from a bridge in Dagenham, east London.
LONDON TO BRUSSELS: RATING THE TERMINI
St Pancras (London) & Gare du Midi (Brussels)
| | | | | |
| --- | --- | --- | --- | --- |
|   | St Pancras – Rating | St Pancras – Commentary | Gare du Midi (aka Brussels Zuid) – Rating | Gare du Midi – Commentary |
| Ambiance of station | 9/10 | Beautifully renovated and almost a destination in its own right. | 2/10 | Grey. Low ceilings. General air of frostiness. Did we mention 'grey'? |
| Ambiance of Eurostar section of station | 6/10 | Windowless. But lovely floors and at least a choice (of two) coffee- places/bars. | 2/10 | Windowless. Grey. Low ceilings. Did we mention 'grey'? Just one coffee-place/bar. |
| Range of shops in station | 7/10 | Intentionally high-end retailers lend a smart air. | 5.5/10 | Arguably a greater range than St Pancras, certainly at the cheaper end, but a slight air of tattiness throughout. |
| Range of eateries in station | 6/10 | Largely high-end, with occasional sandwicheries (priced slightly higher than your average London high street). | 5/10 | Largely mid-to-low-end fayre: burgers, pizzas, baguettes, etc. Reflective of the station's general ambiance. |
| Ease of inter-connection between Eurostar and public transport | 7/10 | Tube generally well signed, albeit some lines involving a crossover to Kings Cross. Buses are less easily navigated.  | 4/10 | Metro lamentably signed (and, even upon arrival in the Metro, a little confusing). Buses perhaps easier.  |