Rail Safety & Security supplement
We take a look at concerns with metal theft for the rail industry, what RSSB is proactively doing to improve safety on the UK's railways, and Chris Carr from ERA reflects on rail safety performance data for 2014 at a European level, plus he examines how the industry should work together to address future challenges and create an encouraging safety culture…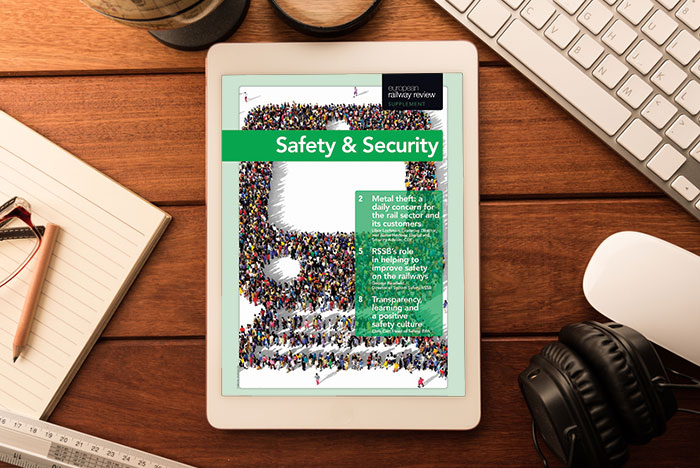 Metal theft: a daily concern for the rail sector and its customers
Despite the fact that serious efforts have been made to fight metal theft at national level and that metal theft has decreased in some countries in Europe over the last year, it still remains a daily concern for many services of general interest – such as railways, public transport, energy networks and telecommunications. Resulting in service disruption, metal theft negatively impacts the quality of these providers' services and causes huge economic losses – not only for their businesses and customers, but also for the whole of society across Europe. From the Community of European Railway and Infrastructure Companies (CER), Executive Director Libor Lochman, and Digital and Security Adviser Alena Havlova, voice their concerns and how the industry needs to respond going forward.
RSSB's role in helping to improve safety on the railways
Despite continual growth in usage, rail remains the safest form of land transport in the UK. For Global Railway Review, George Bearfield, Director of System Safety at RSSB explains what the organisation is doing to improve safety on the rail network and its role in ensuring that the industry doesn't get complacent.
Transparency, learning and a positive safety culture
Chris Carr, Head of Safety at the European Railway Agency (ERA), reflects on rail safety performance data for 2014 at a European level, and examines how the industry should work together to address future challenges and create an encouraging safety culture.
This Rail Safety & Security supplement is restricted to logged-in members. Login or subscribe free to read it.