Track Systems supplement 2016
In our latest free-to-view Track Systems & Infrastructure Supplement, Monika Heiming, Executive Director of EIM discusses how to encourage innovative infrastructure maintenance and Libor Lochman, Executive Director of CER shares a vision for the future of rail infrastructure..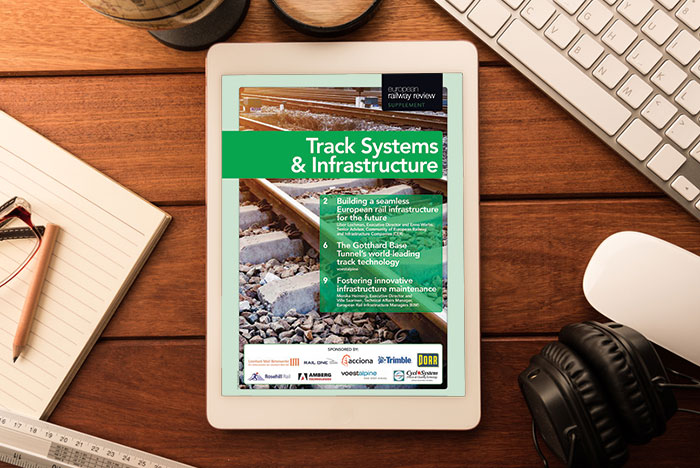 Building a seamless European rail infrastructure for the future
The European Union's vast railway infrastructure reaches from Lisbon to Vilnius and from Glasgow to Athens, totalling more than 200,000km in length and crossing various national borders with conditions ranging from poor to offering excellent high-speed suitability. But as rail customers continue to define new needs which places demand for more and new services, the Community of European Railway and Infrastructure Companies' Executive Director, Libor Lochman, and Senior Advisor, Enno Wiebe, explain that a significant leap forward is needed to make rail infrastructure both competitive and fit for the 21st century.
The Gotthard Base Tunnel's world-leading track technology
The Gotthard Base Tunnel in Switzerland is one of the most imposing structures ever built in the history of rail traffic – at 57km-long, it is the longest railway tunnel in the world and will be officially inaugurated in June 2016. Global player for rails and turnouts, voestalpine, has been a key supplier for this project.
Fostering innovative infrastructure maintenance
EIM, the association of European Rail Infrastructure Managers, promotes the interests and views of rail infrastructure managers in Europe. With 12 members and two associate members, EIM represents over 50% of the EU's railway lines. EIM members have a key role in developing, operating and maintaining the European railway network. But how will research and innovation shape future maintenance processes? EIM's Executive Director Monika Heiming and Technical Affairs Manager Ville Saarinen take a look.
This Track Systems supplement is restricted to logged-in members. Login or subscribe free to read it.