25 years of high-speed rail in Spain: a beacon of international reference
High-speed rail in Spain is now 25 years old. With more than 3,100km in commercial operation, it is not only one of the largest but also one of the best equipped lines with the most advanced breakthroughs in innovation and design. The network's length in kilometres ranks first in Europe and second in the world, just behind China. Here, Pedro Fortea, Director of Mafex – the Spanish Railway Association, explains how Spain's extensive experience and continued developments with high-speed rail make the country a worldwide reference model.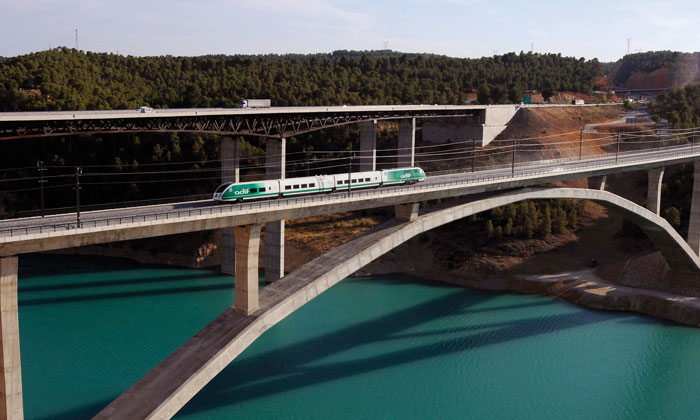 Since 1992, Spain's operational high-speed rail network has grown from 470km of track to more than 3,100km and this mode now reaches 47 cities. At present 67.4% of the Spanish population has access to high-speed in their province. Spain's high-speed rail success is recognised worldwide and the Spanish railway industry – including its sub-sectors that contribute to high-speed rail projects – are leading international reference points.
A key date in the history of high-speed rail in Spain is 21 April 1992 when an AVE high-speed train successfully operated the very first commercial journey between Madrid and Seville. Since then, an ever increasing number of people have travelled on this line. Recent figures indicate that there are in excess of 3,100km of high-speed tracks serving 41 stations presently assigned to Adif Alta Velocidad – the organisation responsible for the construction and administration of high-speed rail infrastructure in Spain.
Future plans for more than 3,800km
The works and projects planned by the Spanish government will continue to be developed in the medium-term. Adif Alta Velocidad has been entrusted with these works, which aim to further reduce the distances between – and link up – various Spanish territories throughout the high-performance network. New high-speed infrastructure such as the Mediterranean Corridor, the Antequera–Granada line, the Basque Y and the link to Murcia, are just some within the scheduled action plans. Approximately 3,800km are currently in the study or project phase.
Due to the complicated Spanish orography, technically complex civil works have had to be carried out. These include the design and construction of huge tunnels, which are already listed among the largest in the world, as well as viaducts of extraordinary dimensions. Among the most relevant, due to its features, is the Guadarrama tunnel. Measuring 28.4km in length it is one of the longest tunnels in the world. Another complex tunnel is the 24.9km-long Pajares tunnel, which is classed as one of the longest in Europe.