25 years of high-speed rail in Spain: a beacon of international reference
High-speed rail in Spain is now 25 years old. With more than 3,100km in commercial operation, it is not only one of the largest but also one of the best equipped lines with the most advanced breakthroughs in innovation and design. The network's length in kilometres ranks first in Europe and second in the world, just behind China. Here, Pedro Fortea, Director of Mafex – the Spanish Railway Association, explains how Spain's extensive experience and continued developments with high-speed rail make the country a worldwide reference model.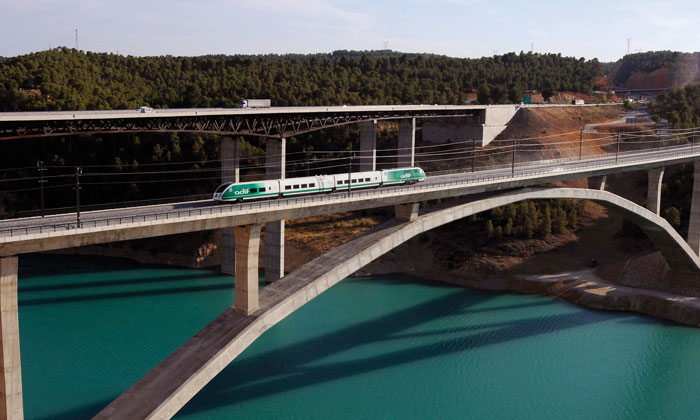 Since 1992, Spain's operational high-speed rail network has grown from 470km of track to more than 3,100km and this mode now reaches 47 cities. At present 67.4% of the Spanish population has access to high-speed in their province. Spain's high-speed rail success is recognised worldwide and the Spanish railway industry – including its sub-sectors that contribute to high-speed rail projects – are leading international reference points.
A key date in the history of high-speed rail in Spain is 21 April 1992 when an AVE high-speed train successfully operated the very first commercial journey between Madrid and Seville. Since then, an ever increasing number of people have travelled on this line. Recent figures indicate that there are in excess of 3,100km of high-speed tracks serving 41 stations presently assigned to Adif Alta Velocidad – the organisation responsible for the construction and administration of high-speed rail infrastructure in Spain.
Future plans for more than 3,800km
The works and projects planned by the Spanish government will continue to be developed in the medium-term. Adif Alta Velocidad has been entrusted with these works, which aim to further reduce the distances between – and link up – various Spanish territories throughout the high-performance network. New high-speed infrastructure such as the Mediterranean Corridor, the Antequera–Granada line, the Basque Y and the link to Murcia, are just some within the scheduled action plans. Approximately 3,800km are currently in the study or project phase.
Due to the complicated Spanish orography, technically complex civil works have had to be carried out. These include the design and construction of huge tunnels, which are already listed among the largest in the world, as well as viaducts of extraordinary dimensions. Among the most relevant, due to its features, is the Guadarrama tunnel. Measuring 28.4km in length it is one of the longest tunnels in the world. Another complex tunnel is the 24.9km-long Pajares tunnel, which is classed as one of the longest in Europe.
ERTMS developments and 'home-grown' technology
Spain's position as a leader in high-speed rail is not only linked to its kilometres of operational lines but its status as a pioneer in terms of technological breakthroughs in the field of railway infrastructure signalling. It has largely implemented ERTMS (the European Traffic Management System) which is the most modern and advanced at present. There are already approximately 2,000km of network equipped with this system, out of which more than 1,000km are equipped with Level 2 technology which is also being implemented on the lines currently under construction. The commitment to this new interoperable technology has seen Spain play a key role in its international deployment and development.
Network management is another environment in which Spain has progressed via its technical training and innovative breakthroughs that have helped to ensure greater safety and efficiency. A clear example is the DaVinci system – one of the most advanced in the world – which is a reference tool for Spanish high-speed railway traffic control. This development has enabled the integration of all systems consisting of the elements of a regulation and control centre into a single application.
In the field of railway electrification, there is the Adif catenary, called C-350 and supplied by 2×25 KV CA. To this, new developments have been added to electronic level crossing protection technology, helping to increase safety. Regarding track superstructure, solutions have been created for gauge switching, which have generated interest from other countries, including Russia, that also have measurements that differ from the standard one.
Spanish leadership: A model of success exported throughout the world
Spain's 25 years of high-speed rail experience and determined effort regarding innovation is valued around the world. The impetus for these networks comes from the country's genuine commitment to it. Institutional investment exceeds €12 billion per year, a support for the Spanish railway innovation and design, which consists of 90,000 experts with solid experience in the design, construction, maintenance, exploitation and development of safety systems, as well as in state-ofthe-art rolling stock provision. For this reason, the national railway industry builds, designs and operates more and more infrastructures of this type throughout the world.
In the Middle East, a high-speed rail line will link the cities of Mecca and Medina, in Saudi Arabia. In Europe, Turkey has commissioned its first high-speed rail network between Ankara and Istanbul. Most recently announced, we will be carrying out various phases of the largest high-speed line in the UK – HS2 – and also the high-speed route that links Moscow to Berlin. America is another continent to which the export of Spanish high-speed rail knowledge is steadily making its way: Companies have an important role in the development of high-speed lines in California, USA United States. In Africa, Morocco has imported the DaVinci railway traffic management and control system and will manage the country's future high-speed network, whose first line has begun construction between Tanger and Kenitra. Spanish services and technology are also seeing increasing demand in Asia; for example, with the construction of the Tashkent–Samarkanda high-speed line in Uzbekistan.
Spanish companies have significantly increased their global presence during recent years and their internationalisation goes handin-hand with the increasing demand for technology and professionals from transport and infrastructure administrations. 
Biography
After spending some years as the Assistant Manager of Fundigex – the Castings Exporter's Association of Spain – Pedro Fortea became the Director of Mafex in 2004 and has helped to develop its professional activity. Pedro studied at ESADE Business School, Escuela Universitaria (Cámara de Comercio de Bilbao) and Deusto University.