KTX: South Korea's high-speed rail network goes from strength to strength
KTX – South Korea's high-speed train service – has doubled its number of daily passengers since launching 13 years ago. Here, Juhyung Lee, Senior Advisor at the UIC and Secondee from Korail (the Korea Railroad Corporation), explores the different operational elements of the high-speed service and how its continued development will play a crucial role in the future of South Korea's economy.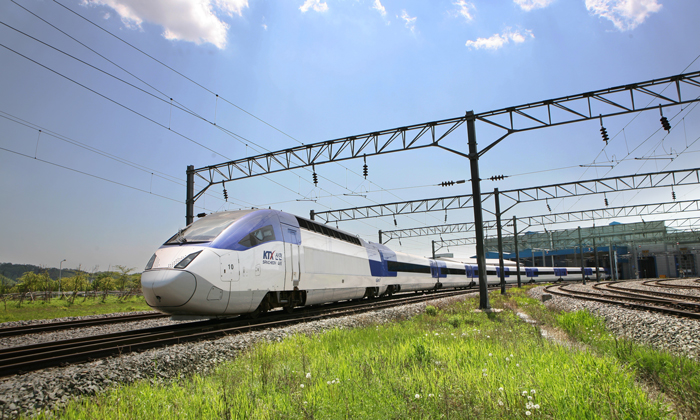 In 1899 the first train journey in South Korea travelled from Seoul to Incheon and reached speeds of only 20km/h. This milestone paved way for many regional railway lines to be built throughout the country, which contributed remarkably to Korea's economic growth. Now, the Korea Railroad Corporation (Korail) is dedicated to being a trustworthy organisation for Korean citizens and is a major player in leading the modernisation and industrialisation of Korea.
High-Speed rail connects Korean cities
In 2004 the first Korean High Speed Train (KTX) was launched and travelled the 412km-long route from Seoul to Busan (the second largest city in South Korea). At the time this was the world's fifth high-speed rail service and it enabled Korail to connect cities across the country within just a few hours of each other. KTX changed Korean citizens' ability to travel and boosted the local economy.
In operation now for 13 years, the high-speed line has been extended to 596km in length. The overall length of South Korea's railway network is 3,917km. At the time the high-speed line opened, the average number of passengers was 72,000 per day, but this has now doubled to approximately 162,000.
KTX is a frequently-used and reliable service
By the end of 2016, the cumulative number of passengers travelled was 586 million; impressive figures considering South Korea has a population of just over 50 million. It means that on average every Korean has experienced the KTX 10 times or more in their lives. There are now 231 daily weekday KTX operations, and up to 263 daily operations at the weekend. It has become an indispensable means of transportation for travel, commuting, and business trips.
Above all, KTX services are renowned for running like clockwork; the punctuality of KTX was 99.9% in 2015, which constituted a world record. Furthermore, Korail's safety record stands out around the world, thanks to their preventative safety management systems. Safety statistics for KTX are 0.058 accidents per one million kilometres.
KTX is not only fast and safe but also very environmentally-friendly. When one passenger travels from Seoul to Busan using the KTX, it is the equivalent of planting 12 pine trees; demonstrating how the transportation system not only takes into consideration every day quality of life, leisure, and culture, but also the environment.
Korail's technology for improved passenger experience
Customer service on the network has evolved over time and travellers can now enjoy 'ticketless' journeys; everyone can easily purchase a ticket via their mobile phone. Passengers can also use the smart 'Korail Talk +' application, which provides a range of information from ticket reservations to real-time journey information. Korail's ticketless rate is approximately 70% which demonstrates South Korea's highly developed IT industry.
Entry to the network is also gateless; meaning tickets are not checked because train crew members already know which seats are occupied or not via their PDA device.
Since 2008 passengers have been able to make use of the free Wi-Fi service on-board the KTX. The Wi-Fi capacity has recently been upgraded with LTE solutions and customers are now even more satisfied with this service.
Further advantages to travelling on the KTX include power points and USB ports at every seat. Passengers can now also take advantage of a mileage loyalty scheme that enables them to upgrade their seat from second to first class at no extra cost. Passengers are notified when they are eligible for upgrade via the smart application.
Further expansion of Korail services
Korail is continuing to expand its door-to-door transportation services by its recent launch of a shuttle bus service that operates from Seoul's Sadang Station to Gwangmyeong Station. This provides another way for Seoul residents in the south of the city to access high-speed rail more easily. The shuttle bus fare is also reasonably priced (at only €2) and customer feedback so far has been very positive.
In the past, railway stations were just a place to purchase tickets and pass through to board a train. However, nowadays the stations act like regional cultural centres offering a variety of experiences and establishing stations as an enjoyable element of the overall journey. Also, many major stations have 'business zones' providing the option to charge mobile devices and use printing, copy, scanning and fax facilities. Korail is doing their utmost to satisfy all passengers.
At the end of 2016 the Suseo high-speed line was opened. Supreme Railways (SR), an affiliate of Korail, operates the new high-speed trains on this line. This is welcome competition for South Korea's high-speed train sector. Mr. Soon-man Hong, Korail's CEO recently said: "Through this healthy competition, customers can look forward to more benefits. By cutting expenses and finding new ways to create demands, this also strengthens the global competitiveness of Korea's rail industry on the international stage".
In 2018 another new high-speed railway line is scheduled to open – the 122km-long Wonkang Line. We expect it will contribute to the successful hosting of the 2018 Pyengchang Winter Olympic Games and, of course, further strengthen South Korea's regional development.
The Korean government also recently announced major plans for 'National Rail Network Development'. Officials have announced that there will be investment of approximately €75 billion to develop the railways in Korea up to 2020. These plans will make it possible for passengers to travel anywhere in South Korea within two hours.
South Korea's high-speed trains will contribute to this development by continuing to pursue safety, operate efficiently, and remain committed to ensuring all passengers are satisfied.
Biography
Juhyung Lee studied at Seoul National University and Kyunghee University. Between 1997 and 2003 he was a Quarter Master Officer in the Korean Army. After working for Belmont Hotel in the UK between 2003 and 2004, he joined Korail as a member of staff at the Chungrangri Station in Seoul, before working within the Strategic Planning Department and then moving to his current position as Manager within Korail's Passenger Planning Department.