Building on the old to propel the new in the railway industry
Global Railway Review's regular contributor, Graham Ellis, tackles the old and the new – with news of a newly-built steam locomotive attempting to reach the speeds necessary to work on today's railway lines, as well improving and expanding old rail lines in the Baltics to make travelling and shipping goods through the region faster.
Graham at the flight controls whilst visiting Riga to look into Rail Baltica - is this International Airport Review?
Well, well, well, who would have thought it?! European Railway Review has gone global! I must admit that I am mostly engaged in European rail matters but I am due to visit the USA next year so I might be able to pull something new out of the bag after that, especially as we are planning to use Amtrak for some of our city-to city-journeys.
Anyway, what is there for me to ramble on about this month? Well I did visit Lithuania recently. I was unable to travel by train but I did get to visit the country's railway museum and saw some interesting items there. The country was part of the old Soviet Union and so most of the rolling stock was from that era, including a barred carriage that was listed as a prisoner freight car.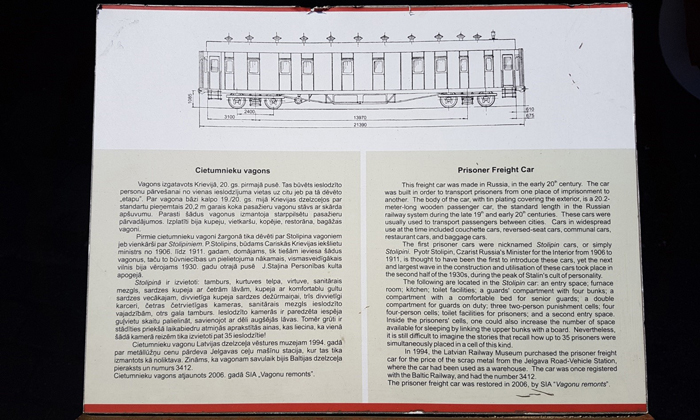 There were also some large steam locomotives, far larger than the standard UK models and most of the European ones that I have seen.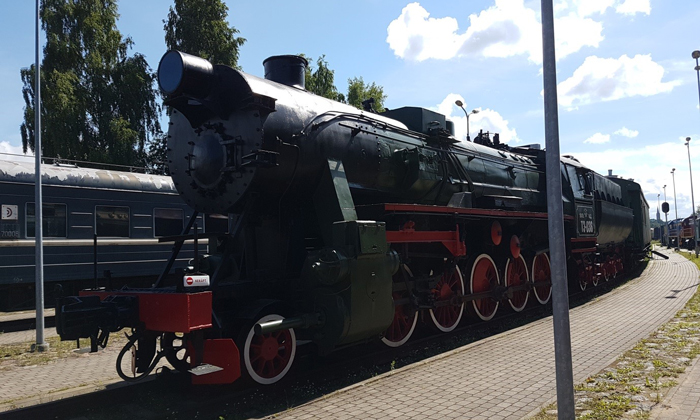 One thing that I did find interesting, when I got back to the UK, was the announcement that the newly built steam locomotive 'Tornado' a class A1 model had been out on the mainline rails, testing to see if it was possible to operate at 90mph in normal day-to-day operations.
The reason for the test is that the normal rail operations are increasing their line speeds on a regular basis and the steam locomotives drawing excursion trains need to be able to maintain 90mph over a long period. In order to achieve this, it has to be proven that the locomotive can reach 100mph.
So here we are in 2017 looking back to the time in the 1960s when steam was still important as a source of traction rather than either diesel or electrical power.
Rail Baltica
I also visited Riga recently as I had been invited to speak to summer school PhD and MSc transport students at the Transport and Telecommunications Institute on the subject of sustainable transport interchanges with respect to freight (though while I was there I was also able to sample the aircraft simulator used for teaching ground engineers how to carry out the necessary checks before an aircraft enters service – see main picture).
Whilst in Riga I was informed that the EU is funding Rail Baltica to the tune of €110.5 million and confirmed that the funding agreements will be signed by the end of November. Of this funding, Lithuania will receive €98.3 million, Latvia will receive €7 million, and Estonia will receive €5.2 million. This funding has been provided via the Connecting Europe Facility (CEF).
Rail Baltica is a project under the European TEN-T programme and the new line will link Tallinn with Warsaw via Riga and Kaunas, providing a valuable connection to Western Europe. Construction is already underway on the first phase of Rail Baltica 1 from the Poland-Lithuania border to a new intermodal terminal at Kaunas, which is expected to conclude later this year. A €24.4 million project to upgrade 13km of standard-gauge track from the Polish border to Mockava has increased speeds on the line to 120km/h for passenger trains and 80km/h for freight traffic. Beyond Kaunas, the next phase of the project will extend 1435mm-gauge tracks east to the marshalling yard at Palemonas.
The mixed-traffic Rail Baltica 2 will extend the line to Riga and the Estonian capital Tallinn, with the existing 1520mm-gauge line from Kaunas to the Lithuanian capital Vilnius being converted to dual-gauge. The line will cover 870km and is designed for passenger operation at up to 240km/h. It is expected to reduce Tallinn-Riga journey times to around two hours, while Tallinn-Warsaw will be cut to around six hours. Passenger trains will operate at an average of 170km/h on the new-build infrastructure, with freight limited to 120km/h.
Construction is expected to begin on the Estonian section of the route by 2017 or 2018 and by 2020 on the Latvian section. The entire line is due to be completed by 2024. One bonus for Riga is that there will be connections between the city centre and the outlying airport where currently all transport is road-based.
Riga port
In addition, a new multimodal terminal is to be constructed at Salaspils which is 20 minutes South East of Riga and its port. The port of Riga is a key export port from Russian coal and currently handles around 10 million tonne per year via the old Soviet east-west rail links. However, in 2016 they moved 13.3 million tonnes. The coal comes into Latvia by rail and is then trans-shipped onto maritime transport for onward journeys to such places as Africa, Europe and even America.
The traffic into Riga port is likely to change as a new coal terminal is being proposed at Liepaja to address the increasing traffic and to reduce the dust and noise at the existing terminal. Liepja is some 270km south-west of Riga and so coal traffic will decrease but this will free up area for expansion of container traffic. A ferry link will allow onward northern passage from Tallinn to Helsinki.
Related organisations
Related regions