Baltic States sign agreement for implementation of Rail Baltica project
The Prime Ministers of Latvia, Lithuania and Estonia have signed an intergovernmental agreement on the implementation of the Rail Baltica project.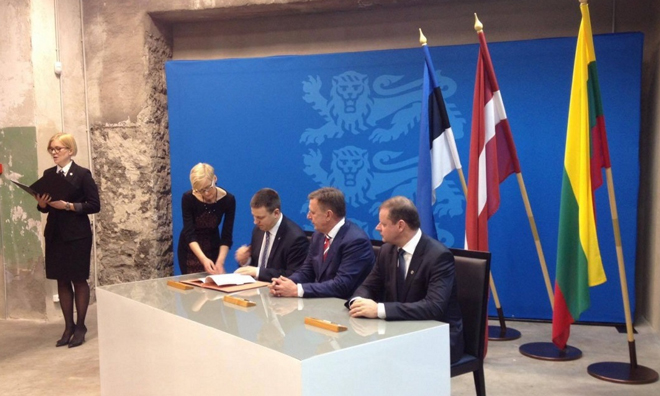 Credit: Government of Latvia / Aurelia Minev
On 31 January 2017, Latvian Prime Minister Māris Kučinskis, Prime Minister of Estonia Jüri Ratas and Prime Minister of Lithuania Saulius Skvernelis signed an agreement on the implementation of the Rail Baltica project. The joint venture was agreed within the framework of the Baltic Council of Ministers held in Tallinn.
Rail Baltica project agreement will implement the European standard gauge
The purpose of the agreement is to promote the implementation of the European standard gauge public railway Rail Baltica project, aimed at full integration of the Baltic States and their capitals into the EU rail and transport networks. Currently, all have wide gauge railways from the Soviet era.
The development of rail infrastructure within the Rail Baltica public railway is an object of strategic and economic importance for the region and its population. Furthermore, the benefits will extend to Nordic countries via an underwater rail tunnel, as well as the European Union, which aims to develop trans-European transport networks, including the North Sea – Baltic Corridor.
The implementation of the European standard 1435mm gauge railway will connect Tallinn – Riga – Kaunas – Vilnius – Warsaw – Berlin with extensions to other European cities such as Venice. The project will also allow for high-speed train operation.
After the signing of the agreement, Māris Kučinskis highlighted that a successful and timely implemented Rail Baltica project is a common strategic interest of all three Baltic States. "I am pleased to note that substantial progress has been made recently to develop this project – agreements on the framework for organising and supervising procurements of the project have been reached and put into practice, as well as there is an agreement at national level on tracking and border crossing points. They have to be put into practice immediately," stressed Mr Kučinskis.
The agreement is a commitment by the Baltic States to implement the project before 2025 in order to launch operation in 2026. The countries will apply for European funding with the aim to receive 85 percent support for the project.