Issue #5 2017 – Digital version
Issue 5 of Global Railway Review features articles on the Internet of Things in the railway industry, infrastructure investment in South America, the development of high-speed rail in California, and much more…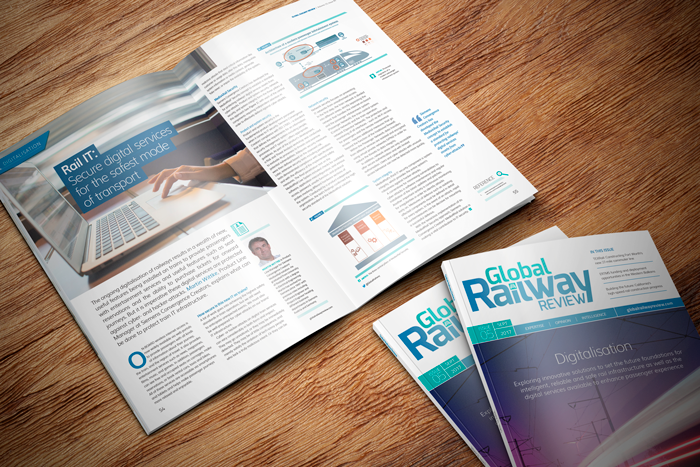 Included in this month's edition:
LEADERS' SERIES: Railway complexity overcome by IoT and big data analytics
Diego Galar, Professor of Condition Monitoring, Division of Operation and Maintenance Engineering, Luleå University of Technology
ROLLING STOCK: The long-term plan for Norway's rolling stock
Øystein Risan, CEO and Linda Marie Venbakken, CFO, Norske tog AS
REGULATIONS & LEGISLATIONS: Closing an information gap in European rail: the Safety Alert IT Tool
Philip Siomka, Safety Unit, European Union Agency for Railways
TRACK MAINTENANCE: IN-DEPTH FOCUS
Railway systems around the world rely on innovative and cost-efficient track maintenance techniques to ensure high levels of operational performance. Although machinery requirements and regulations have evolved, the end goal has always been to ensure safe and reliable rail infrastructure…
INFRASTRUCTURE: Pent-up demand and stable perspective can leverage South American rail growth
Guilherme Quintella, Chairman, UIC Latin America
THE PASSENGER: Technology is the key to unlocking cross-border rail travel in Europe
Klaus Kreher, Head of Carrier Development, Trainline
DIGITALISATION: Towards seamless connectivity
Stefan Wegele and Martin Karlsson, In2Rail colleagues
SIGNALLING & TELECOMMUNICATIONS: IN-DEPTH FOCUS
Advances to rail signalling and train control systems will ultimately make international rail passenger and freight transportation more competitive and attractive. But implementing strategies and understanding new digital solutions must be addressed before improvements can be realised…
HIGH-SPEED: California high-speed rail: Building the future
Scott Jarvis, Chief Engineer, California High-Speed Rail Authority
The digital version of Issue #5 2017 is restricted to logged-in members. Login or subscribe free to read it.