The long-term plan for Norway's rolling stock
Established as part of the Norwegian railway reform, Norske tog AS is now the owner of almost all passenger rolling stock in Norway, apart from the Flytoget airport express trains and some rolling stock used on the Flåm Line tourist line. Norske tog AS has a long-term vision to refurbish a number of its older rolling stock in addition to purchasing new local trains. Øystein Risan (CEO) and Linda Marie Venbakken (CFO) provide more details.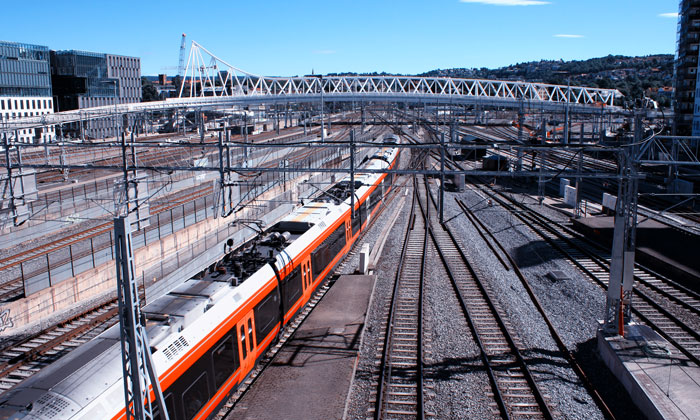 A background of Norway's rolling stock On 12 May 2015, the Ministry of Transport in Norway published a white paper1 outlining a proposed reform of the Norwegian railway sector. The white paper was approved by the Norwegian Parliament (Stortinget) on 15 June 2015 and the reform entailed a partial liberalisation of the railway sector by opening up passenger railway services for competition as well as changes to the organisational structure of the sector.
The rolling stock had, until then, been owned by the national rail operator, Norges Statsbaner AS (NSB AS). The rolling stock has a long lifecycle and is specifically developed for the Norwegian rail system and climate. It therefore represented a potential barrier for entry of new train operators in the Norwegian passenger rail market.
To reduce entry barriers and ensure equal competition for passenger train services, the Ministry of Transport decided that rolling stock should be placed within a separate company. Therefore, the rolling stock was transferred from Norges Statsbaner AS to Norske tog AG (then known as Materiellselskapet AS) and was to be made available to the train operators that win the tenders for the traffic packages.
The rolling stock and employees of NSB AS were transferred to Norske tog AS on 15 October 2016 in accordance with the asset purchase agreement.
As part of the demerger, outstanding bonds (amounting to 5. 9 billion NOK) were transferred from NSB AS to Norske tog AS on 9 December 2016, and on 31 December 2016 Norske tog AS had assets amounting to 9. 2 billion NOK and a debt of 8. 2 billion NOK. Norske tog AS has an A+ rating from S&P and aims to use the international bond market to ensure funding for its future investments. The demerger of the two companies was completed on 24 April 2017, and Norske tog AS is now wholly-owned by the Norwegian state, by the Ministry of Transport. The reformed Norwegian railway sector is is now in place and the organisational structure is shown in Figure 1.
Norway's general election
The Norwegian general election on 11 September 2017 will either confirm the future direction of the Norwegian railway sector or provide new goals. Whatever the outcome, the speed and order of tenders in the future will be important for the long-term planning of Norske tog AS.
The company now
With 29 employees at present, Norske tog AS is a relatively small company with a 'flat' structure with dedicated and specialised teams. As all employees were transferred from NSB AS, they come with a great deal of experience in working for the Norwegian railway industry, plus a thorough understanding of all rolling stock types, especially in-depth technical knowledge of the older vehicles.
The company was set up as a separate legal entity with an official rating to enable the company to use the bond market (both nationally and internationally) to raise capital.
Duties and objectives
The duties of Norske tog AS are to acquire, manage and lease passenger trains, with the objective to have sufficient, modern rolling stock at the right cost and of high quality. Norske tog AS will aim to contribute to ensuring competition in providing passenger transport on equal terms between the train companies, and to ensure low entry barriers for new train operators.
As part of its role to procure new rolling stock, Norske tog AS will ensure that new passenger trains are ordered in line with Norwegian requirements and that the refurbishment of existing vehicles is also planned. It will be important for Norske tog AS to have a clear rolling stock strategy with concrete cost/benefit assessments, as well as being responsible for decisions on fleet renewals and ensuring the necessary technical expertise is arranged.
Going forward
The strategy
Norske tog AS has taken over a range of rolling stock classes with varying age (see Table 1).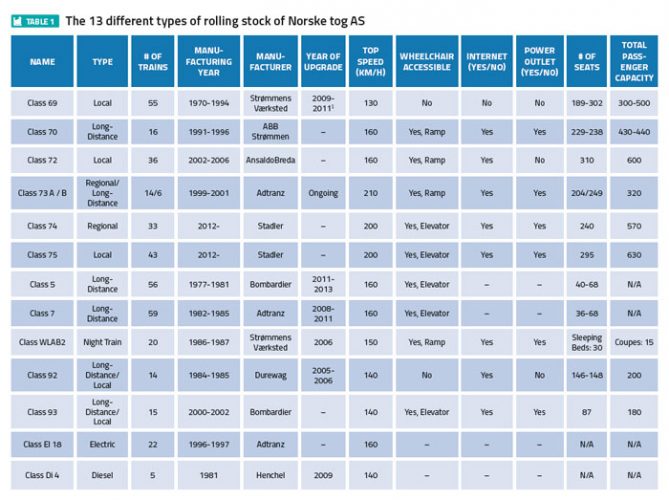 In the longer-term, Norske tog AS will further develop its rolling stock strategy to ensure standardisation and optimisation of its fleet and systems. This will include matters concerning the interface between rolling stock and infrastructure / workshops. Norske tog AS aims to be the leading expert in the procurement of passenger rolling stock and systems, and acknowledged within the industry as having an excellent understanding of new technological solutions in the fields of IT and communications systems such as ERTMS, Wi-Fi, repeaters and diagnostic systems.
Norske tog AS will be responsible for checking all rolling stock in conjunction with lease and return agreements, as well as owner inspections during those lease terms. Establishing a process-oriented management system with a focus on continuous improvement will be another principal goal.
As well as continuing to lease passenger rolling stock to operators, the overall short-term objective for Norske tog AS is to establish a rolling stock ownership company that provides input to the railway directorate to determine the competition basis for the invitation to tender packages under the railway reform.
The long-term objective is to contribute to a comprehensive fleet of rolling stock for the railways in Norway.
To achieve these objectives, Norske tog AS is working on drawing up plans to fulfil the immediate capacity requirements and lease terms. Its aim is to ensure the quality of the rolling stock and to continuously improve its relationship with the lessees.
The company has defined its ambitions and objectives and where it aims to be in 10 years' time. They wish to have a higher number of standardised passenger train fleet and systems, to deliver predictable results in accordance with plans and to achieve financing which gives scope for manoeuvre, and to be the preferred lessor of passenger rolling stock for train operators.
The rolling stock
Norske tog AS has plans to refurbish the older rolling stock in addition to purchasing new local trains. Under the current contract with Stadler, the call for an option of 18 units was signed on 4 August 2017 making a total of 125 trains, and an option for a further 25 trains remains.
By purchasing a large number of trains from one producer, the costs can be reduced, respectable relationships can be developed, and it would mean more flexibility between different tender packages. However, the speed of developing new technologies and how often trains should be replaced still needs to be considered.
The refurbishment of Class 73 trains has been completed. Next in line are the 36 AnsaldoBreda Class 72s which were put in service from 2002 to 2006. The installation of Wi-Fi and repeaters is planned during the refurbishment project.
There are also plans to refurbish trains purchased during the 1990s and update them with technology including Wi-Fi and repeaters.
Today, Norske tog AS owns 13 different types of rolling stock but the long-term plan is to reduce this to just three or four types.
Today, Norske tog AS owns 13 different types of rolling stock but the long-term plan is to reduce this to just three or four types.The next large investment will most likely be to replace the diesel commuter trains around Trondheim and the commuter trains in time for the opening of the Follo Line in Oslo.
Moreover, Norske tog AS is considering investing in bimodal trains and the possibilities that may arise from further developments in the rolling stock market. Keeping updated on what the big suppliers are developing and advances in technology will be of keen interest.
Reference
1. (Meld. St. 27 (2014-2015))
Biography


ØYSTEIN RISAN has a Civil Engineering Degree from the University of Glasgow and has been the CEO of Norske tog AS since September 2016. Øystein joined NSB in 1995 as a Consultant and was responsible for train drivers, conductors and transport management at NSB Persontog Drift (2002-2010); responsible for transport management, IT traffic and quality at NSB Persontog Trafikk (2010-2014); and Director of NSB Persontog Traffic and Planning (2015-2016).


LINDA MARIE VENBAKKEN has been the CFO of Norske tog AS since October 2016. She joined NSB in 2005 and worked as Group Treasurer from 2006. Prior to working for NSB, Linda was at RBS plc in London as a Financial Controller in the Group Treasury Department. Linda has also worked as a Management Accountant for Kohn Pedersen Fox and Controller for King Sturge, and studied Business Studies at the University of Westminster in London.