How is Britain already benefitting from Hitachi's work on HS2?
In a blog post written by Hitachi, Jim Brewin, Head of Business Development for Hitachi Rail Europe, writing for the 'HS2 on Track' report, explains how HS2 is already benefitting Britain – a decade before it is due to be completed.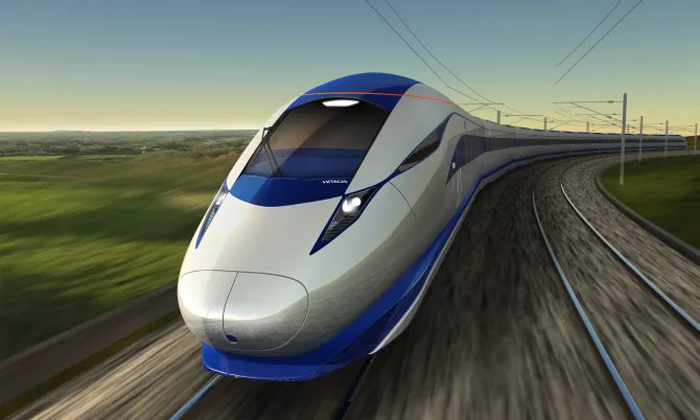 HS2 is a huge opportunity for the UK – from the capacity it frees-up for passengers to the economic opportunities it unlocks. What is less well understood is that the project is already benefiting the country now, almost a decade before the first trains go into service.
One of HS2's legacies will be the considerable innovation and technological change that it encourages, and this thinking is already taking place across the country. Furthermore, a knowledge transfer from across the globe to the UK is well underway – and will be a boost to Britain for years to come.
Large scale infrastructure projects are often drivers for change, but few offer the scale of transformation that HS2 does. In addition to the economic benefits it offers, it meets three criteria that are crucial to encourage innovation:
Vision – an ambition not just in building something new, but changing the way that customers and communities use and benefit from the project
Lead-in time – because inevitably large-scale projects take time to realise
Resources to invest in the new – bigger budgets provide more scope for research and development.  
By having all these elements HS2 offers a real platform for innovation. And, since new thinking takes time to develop, Hitachi's engineers and designers are already working to create something that lives up to and surpasses the vision set-out by HS2 Ltd. This means designing a train that will set new standards in passenger experience, while being light, fast, green and reliable – all at the right price.
The work that is going on to create a world-beating train requires world-leading thinking, and this is where the UK stands to benefit. Pioneering work is taking place right now. The learning that British engineers are gaining about the most advanced rail technologies in the world, and the knowledge transfer and growth that goes with that, will be of huge benefit to Britain. The experience will stand our engineers – and the industry as whole – in great stead.
The innovations are likely to have far reaching consequences that go beyond HS2, and set new standards for train design, certainly for the country, if not the globe. This means that UK passengers should see the benefits, in time across the rest of the trains they use. In the future, it also may give UK-based companies and engineers the opportunity to export our world-leading technology to other markets and countries. As well as benefitting the British economy, this will also start to restore some of our heritage as the globe's leading railway pioneers.
As part of their work, Hitachi's engineers are assessing the lessons that can be drawn from leading projects across the globe, from Japan's Shinkansen to Europe's fastest high speed train, the ETR1000. They are looking at what do they do well, and how can they be made even better. The UK's own Javelin HS1 train is also worthy of review, as Britain's fastest domestic service and one of its most popular.
Our designers are doing some serious thinking about what 'next generation' really looks like. What will redefine the comfort standards on British tracks in 2026? Italy's ETR1000, nicknamed the Red Arrow, introduced a premium look and feel on-board by having the interiors designed by Bertone, the company behind iconic style of Aston Martin and Lamborghini. There are other simple innovations such as rotating rows of seats, already used in Shinkansen, which mean that everyone can face forwards, thereby helping alleviate the motion sickness that some people experience when they travel backwards. Yet, we recognise that comfort depends on more than just seats, so we're looking at smoothness of ride too. One example is Shinkansen's trademark long-nose shape that has been designed to smooth the flow of air over the train, particularly when it enters tunnels at high speeds, resulting in less vibration and a more comfortable ride for passengers.
We're also looking beyond rail at other industries and at what is leading the way in cutting-edge technology amongst the world's leading designers. Our journey of discovery will leave British engineers with greater knowledge and the ability to apply their experience to the trains of the future.
Offering an environmentally sustainable solution is important for the new train design. The ETR1000's construction offers a lesson here, with it being made from 85% recyclable and 95% renewable materials. Furthermore, the noise caused by trains travelling at 360km/h could be one of the most challenging issues to overcome, affecting not only the environment, but residents living near the line. In Japan, custom-made pantographs are already in use on the E5 Shinkansen trains, which reduce the noise produced at high speeds to around 75dB, well below European limits of 90dB. There may be learnings here for the UK.
Finally, HS2 is already providing an inspirational role in encouraging the next generation of engineers who want the chance to design or build the high-tech, high speed trains of the future. This excitement is reflected in the huge number of applications Hitachi receives to work in our purpose built factory in Newton Aycliffe and our depots across the country, either as full-time employees or trainees. This enthusiasm is vital to help fill the large skills gap that we have in the UK. Through traineeship schemes, secondments and day-to-day cooperation with British, Japanese and Italian specialists, today's trainees will gain knowledge and technology that will become the driving force behind high speed rail in Britain.
In summary, HS2 really is a huge opportunity for the UK. It is helping British train designers return to the forefront of global rail engineering and helping fill the UK's skills gap. Best of all, these benefits are starting to be felt now – and that is before one even considers the pioneering new train or the positive impact on the UK economy the line will bring. 
Related topics
Related organisations
Related regions