Melbourne's huge level crossing removal project: Saving lives and improving journeys
In the context of rail safety, the State Government of Victoria's Level Crossing Removal Authority (LXRA) is delivering an infrastructure project of a size and scope never seen before in Australia. Here, Kevin Devlin, CEO at the LXRA, gives the specifics of the project and highlights why it is necessary.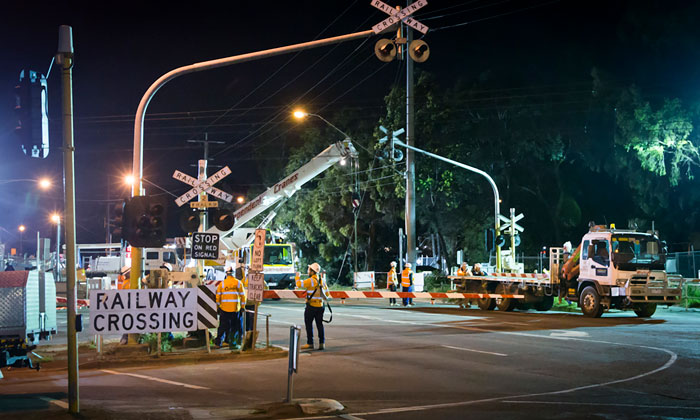 REMOVING 50 level crossings across metropolitan Melbourne, upgrading or constructing more than 20 train stations, laying kilometres of brand-new track and improving rail signalling and power systems for the introduction of High Capacity Metro Trains are all important pieces of our project's puzzle, which has already started to take shape over the past two years. But before going into the specifics of the project, it helps to have context around why we need to carry out these essential upgrades in the first place. As well as recently being named the world's most liveable city for the seventh year running by The Economist, Melbourne is also Australia's fastest growing capital city, with an expected population of six million by 2051.
That growth is likely to be matched by a surge in those using public transport, with recent figures from Public Transport Victoria's annual report showing that more than 235 million trips had been made on Melbourne's trains in 2016/2017 – up on the 222 million made five years ago.
Prior to the LXRA's establishment by the Victorian Government in 2015, there were 178 level crossings on the metropolitan (electrified) network in Melbourne, each representing a conflict point between trains – which are given absolute priority – and road/pedestrian traffic.
This figure is more than any other city across the country, significantly trumping other capitals such as Brisbane (approximately 50) and Sydney (less than 20).
To ultimately save lives
There are a number of equally good reasons to separate the two modes of transport. One of those is to improve road safety and ultimately, save lives.
As outlined in the LXRA Business Case, collisions at level crossings in Victoria account for around one third of level crossing collisions between trains and road vehicles, and over half of all collisions between trains and pedestrians, across Australia.
In the 10-year period between 2005 and 2014, there were 149 collisions between a train and road vehicle or pedestrian along rail corridors across metropolitan Melbourne.
Of these incidents, 38 sadly resulted in fatalities and 22 resulted in serious injuries. These saddening statistics outline the very human consequences that affect train drivers, incident victims and their families.
In addition, there were more than 921 nearmisses recorded between 2003 and 2012, demonstrating the risk-taking behaviour prevalent at these sites.
If that is not enough, also consider the frustrations faced by thousands of Melbourne commuters navigating constant and lengthy delays every day due to motorists colliding with boom gates; frustrations that are particularly exacerbated during the morning and afternoon peak hours.
Boom gate closure times do vary significantly but at many sites; the boom gates can be down for more than half of the morning peak period (07:00– 09:00), extending to over 70 per cent of the morning peak at some locations.
Estimated traffic volumes across sites also vary, with the busiest level crossing – Bell Street in Preston – carrying approximately 52,000 vehicles among the one million-plus commuters travelling across all 50 sites each weekday.
Add to this a range of other benefits such as connecting communities, improving service reliability, stimulating the local economy and enhancing facilities, and you'll quickly start to see that there is more to the project than meets the eye.
Level crossing removal
Removing level crossings in Victoria is not an entirely new concept in itself, however they have previously been removed one-by-one or in pairs over an extended period of time.
Over the past two years under the LXRA, 10 level crossings have already been removed – more than in the past decade – and eight train stations rebuilt, highlighting the efficiency of a large-scale project with a long-term plan.
Among those crossings already eliminated by lowering rail under road are the North, McKinnon and Centre road trio on the Frankston line; Burke Road in Glen Iris; Mountain Highway and Scoresby Road in Bayswater; Blackburn Road in Blackburn and Heatherdale Road in Mitcham; and Main and Furlong roads in St Albans.
Sixteen more sites are now under construction, with all 50 scheduled for removal by 2022.
In conjunction with infrastructure improvements
Numerous associated rail infrastructure improvements, such as the refurbishment of train stations and signalling, are also being undertaken alongside level crossing removal works to coordinate works and capitalise on road and rail shut downs where possible.
A prime example of this is the Mernda Rail Extension to Melbourne's north, which will build 8km of new rail line from South Morang to Mernda in addition to the construction of three new train stations.
Level crossings are unique in their history of congestion and incidents, ground conditions and the surrounding community directly affected, meaning that detailed planning and consultation is necessary to come up with the best design solution for each.
For example, works to remove nine level crossings and upgrade five train stations between Caulfield and Dandenong in Melbourne's south east are currently underway.
With several level crossings in close proximity, they are able to be eliminated together in this instance via the construction of three sections of elevated rail.
That in turn will open up 22. 5 hectares of new open space below – an area 11 times the size of the city's iconic Melbourne Cricket Ground (MCG) – and connect communities once divided by a rail corridor.
In comparison, the Buckley Street level crossing in Essendon to Melbourne's north – where boom gates are down for an average of 78 minutes between 07:00– 09:00 on weekdays – will be eliminated by building a road underpass beneath the existing railway line.
The key benefits of this option are that it doesn't require private property acquisition; disruption is minimised during construction and the heritage listed station at Essendon can be maintained.
Steering clear of this one-size-fits-all approach offers some challenges at certain sites, but that only paves the way for innovative thinking and the use of some ground-breaking technology.
Take the 3. 2km-long section of rail between Caulfield and Hughesdale, where the corridor is too narrow for traditional cranes to operate. To work around this hurdle, in an Australian engineering first, two 30m-high trestle-shaped gantry cranes were installed to assist in the installation of elevated spans over a distance of around 150m. The spans are created by stressing together a number of concrete segments, which are crafted at a purpose-built pre-cast factory in Pakenham and transported to the site.
Also joining the works effort recently was a 60m-long wheeled straddle carrier, which is able to lift, shift and set down spans further along the line.
This approach allows the new rail line to be built from above, rather than the side, keeping disruption to an absolute minimum for the approximately 89,000 people who travel by train each weekday.
Another example of inventive thinking lies to Melbourne's north east, where a significant bottleneck exists in a section of single-track between Heidelberg and Rosanna.
Duplicating this section of track will help to improve the frequency and reliability of services along the line and, as part of the works, a second underpass needs to be built at Darebin Street to complement the existing century-old structure.
With only two metres between the underpass roof and the road, and with 10 separate utility service pipes housed in that area, engineers will implement a specialised construction method involving careful soil stabilisation and an agile tunnelling excavator to minimise disruption.
Using the 'heading-and-bench' excavation technique, 300mm diameter steel pipes filled with concrete will be driven in from the southern end to form an arch-shaped canopy in the ceiling. Then, steel arches will be inserted into the underpass like ribs, before the inside surface is sprayed with concrete.
Skilled workforce
Of course, all of these projects would not be possible without the many hard-working individuals we have both on and off site, with local construction businesses benefiting in return.
As of July 2017, more than 12. 3 million hours had been worked and more than 20,000 people had been inducted onto work packages, with the LXRA using the Victorian Industry Participation Policy (VIPP) to mandate for 100 per cent locally milled steel across many of its projects.
The government's Major Projects Skills Guarantee also requires contractors on big infrastructure projects (worth more than $20 million) to ensure at least 10 per cent of their workforce is made up of apprentices, trainees and engineering cadets.
As an example of the progress we are making against this target, a total of 107 apprentices, trainees and cadets were employed in July 2017 across work packages.
The LXRA has developed and implemented innovative programmes to provide opportunities for disadvantaged people or long-term unemployed, such as Veterans in Construction and GEN44 (44 internships for university students from under-represented backgrounds).
It has also taken the initiative to address skills shortages into the future, whether that be in the form of offering courses in specialised areas such as signalling, or providing practical training to former automotive workers seeking to transition into the rail and infrastructure industries.
Legacy
As a critical enabler to other projects such as the Metro Tunnel and the introduction of High Capacity Metro Trains, the full completion of the Level Crossing Removal Project will play a key role in relieving pressure on both Melbourne's bustling rail network, and its roads.
We are now well and truly established and while this construction period brings disruption, we appreciate the patience of all who live, work and travel through the city and believe that this legacy project will benefit local communities for generations to come.
A memorial to those who have lost their lives at level crossings was recently erected at St Albans, and it serves as a poignant reminder about why these level crossings need to be removed now.
Biography
KEVIN DEVLIN is CEO at the Level Crossing Removal Authority. He has extensive experience in delivering engineering projects in both the public and private sector, working on a broad range of contractual models and across the full lifecycle of projects. Prior to his current role, Kevin held a number of senior positions including Executive Project Director for the East West Link, and Project Director for the Middleborough Road Rail Grade Separation and the West Gate Bridge Strengthening projects.