A passenger-centric approach to future thinking in rail
Paul Priestman, Chairman of PriestmanGoode, explores how new technologies will challenge rail's ability to supply quality transportation by removing its key differentiators. Design and innovative thinking are essential in sustaining the rail industry for the future.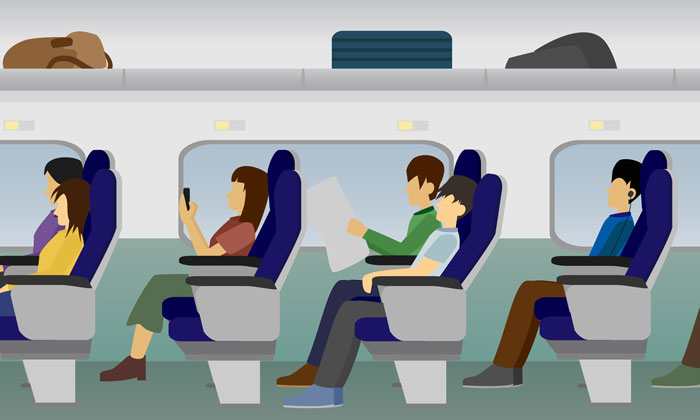 The rail industry is constantly evolving. Intertwined with technological progress, trains around the world are becoming faster and more reliable. But for an industry that invests so much in technology and operational improvements, the passenger experience has, comparatively speaking, been left wanting.
I have been a vocal supporter of mass transit for many years now and believe it's more important than ever that we rethink the way our rail systems and vehicles are created; keeping the passenger at the heart of present and future developments. When Global Railway Review approached me to write an article, I thought it the perfect opportunity to explain my passenger-centric approach to future thinking in rail: we need to look more widely at other areas of transport for inspiration.
I have been designing interiors and vehicles across all aspects of travel for over 25 years. In that time, air travel has moved on leaps and bounds. I remember the first project we did for an airline. It was in the early '90s and we designed the first fully lie-flat seat for Virgin Atlantic. It might sound standard now, for Business and First Class passengers, but at the time, it was a great step forward in improving the passenger experience. In hindsight we can see the monumental impact it had on the industry and how it acted as a catalyst for change. The first two airlines to have fully lie-flat seats were British Airways and Virgin Atlantic and their foresight led to change the face of air travel.
The key driver for these advancements in passenger experience has been the fierce competition between different airlines on the same route, something
the rail industry has not had to face. The competition that the rail industry has to deal with is largely short-haul air travel. However, trains have a considerable advantage over planes as they take you directly to city centres. For example, cutting out the journey time to and from airports has been hugely instrumental in the success of the Eurostar.
The other direct competitor is car travel/personal vehicles, but yet again trains have a considerable advantage in that they allow the passenger to utilise their time productively. Whether they're commuting, travelling for business or pleasure, trains allow passengers to make the most of their journey time. Trains also offer a considerably faster alternative, especially with the rise in high-speed train travel.
The impending arrival of automated road vehicles, however, will cause some disruption to the industry. Passengers' desire for convenience should not be underestimated. Once automated vehicles arrive, rail will lose one of its key differentiators whilst gaining competitors and there lies the need for creative solutions.
Rail is an integral part of the global efforts to reduce carbon emissions and improve air quality in cities, so it is imperative that we rethink the way we treat and view innovation in rail. Let's encourage blue sky thinking around the passenger experience.
There have been countless technological advancements, even just in the last 10 years, that enabled our trains to go even faster; directly affecting the design of the vehicles (one being the need for better aerodynamics). PriestmanGoode does a lot of research and development, both in-house and partnering with manufacturers and universities, to develop new materials that make vehicles more lightweight and better the way they run and operate. These developments and new technologies also impact the passenger experience. For instance, we conduct a lot of work to develop new seats and interior cabin materials, which would benefit the passenger's experience on a very tangible level.
Technology also has a direct impact on the interior design of vehicles. Consider the fact that the majority of passengers today use personal devices or laptops; train operators are increasingly expected to provide internet access and charging points, to counter nomophobia: the fear of being out of cellular phone contact.
Those are just physical effects of technology, I'm also interested in the psychological changes that consumer patterns are having on passenger behaviour. People no longer move as crowds. Consider for instance the passenger who delays dis/embarkation because they are looking at their phone or tablet. While for the individual passenger, those few seconds might not seem of any significance, they have an impact on the larger system as a whole. In particular if this happened at every stop, the whole infrastructure would become affected and delayed.
Design is one of the tools we can use to encourage better passenger behaviour by, for example, creating interiors that encourage passenger flow, which in turn allows you to reduce dwell times at stations. Designers know and understand the change in behaviour that has occurred as a result of the digital revolution. With new technologies becoming increasingly affordable, we need to improve our services and speak to rail transport users, both current and potential, in ways that will appeal to them personally. Improving connectivity on metro systems to enable passengers to catch up on emails, or to read the paper on their mobile would be attractive to passengers, supported by the fact that 50 per cent of the Financial Times readership is now on mobile devices. Public transport needs to offer the opportunity of maximising time to the passengers.
We also need to think beyond the immediate practical requirements that passengers have. Aside from connectivity, personal comfort and flow of information, can the trains of the future offer mental or physical benefits? Can we use new technologies like 3D printing, augmented or virtual reality to create experiences that transform the journey into an experiential event? Can we create spaces that encourage mobility and wellbeing?
As a designer, consumer experience rules supreme. Everything we do at PriestmanGoode is designed around the user, to try and make their experience of transport more intuitive, comfortable, practical but also exciting and new, regardless of whether it's Hyperloop, the New Tube for London, a high-speed train or an aircraft interior.
Rolling stock manufacturers are already working on developing intercontinental high-speed trains for passenger travel. We need to ensure that the passenger experience remains at the heart of these developments. We need a joined-up, cross-industry approach and a drive for long-term benefit, rather than short-term profit, to ensure our rail systems are sustainable, fit for purpose, and future proof. Not just for our industry, but for the assurance of a low-carbon future.
It's incredible to think of the scientific and technological advances that have been made over the last 100 years. We've gone from the first automobiles to the ubiquity of hyper-powerful personal computers and the imminent birth of commercial flights to space, such as the Worldview Experience, which PriestmanGoode is working on. Beyond the sheer realm of sectors that design touches today, what I find exciting is the way in which technology is allowing us to design and manufacture more efficiently: making more with less.
Let us pledge to foster joined-up thinking between operators, manufacturers and designers. To collectively shift our focus to the passenger, to keep the user central to developments in our industry, to be demanding, to challenge the status quo. We must be bold. Innovation, collaboration and creative thinking breed progress. This will be central to sustaining the success of the rail industry.
Biography
Paul Priestman is Chairman of PriestmanGoode and Global Creative Director of CRRC Sifang (one of the world's largest rolling stock manufacturers). Paul was awarded the 2017 London Design Festival Innovation Medal, the highest accolade in the British design industry. He was voted one of the UK's 500 most influential people by The Sunday Telegraph in 2017 and by The Sunday Times in 2016. Today, Paul is known for his work in aviation, transport and product design, including the New Tube for London.
Related organisations
Related regions
Related people