Could a ban on glyphosate negatively affect Europe's railways?
Weeds that become overgrown can cause major headaches to those working across Europe's railway network. Farm insurance providers Lycetts explain that those left unchecked can significantly restrict track visibility, track access for workers and may even render a line impassable in severe cases.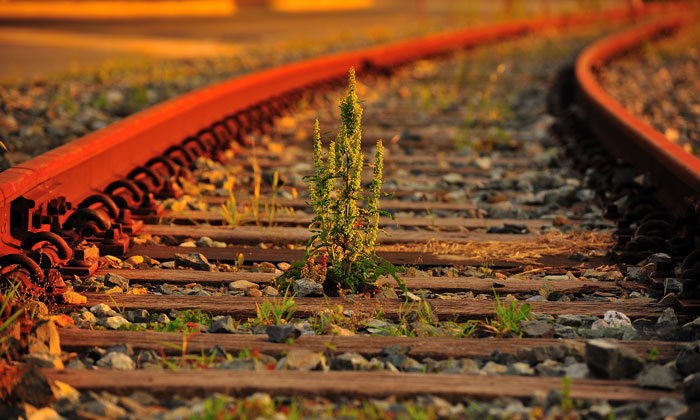 A 'weed killer train' method has been used by specialist operator Weedfree on Track for more than fifty years to combat this issue. The system works by accurately spraying a glyphosate solution directly onto areas that have been identified (by means of a high-tech camera) as having weeds with a specific chlorophyll content.
Controversial glyphosate ban
However, the European Parliament has announced its intention to phase out the use of glyphosate over the next five years inciting arguments both for and against the decision.
Glyphosate is the active ingredient found in many weed killers and its popularity is illustrated by being the world's most widely sold weed killer in the product Roundup.
The herbicide is absorbed through foliage in a process which works to inhibit the plant's ability to synthesise proteins.
Given its wide use, however, glyphosate residues have been found in everything from biscuits and bread to breakfast cereals, crackers and crisps. The effects of glyphosate on human health has also long been reported. In fact, fears have been raised that the herbicide is a hormone disrupter that is linked to birth defects, the development of cancerous tumours and other developmental disorders for numerous years.
As a result of these concerns, scientists have argued that there should be no safe lower level for human consumption where glyphosate is concerned.
Following a debate that has spanned the past two years, the European Parliament voted by 355 to 204 in favour of a resolution that has encouraged the European Commission to introduce certain measures. These measures will see the use of glyphosate being phased out across the whole of the European Union by mid-December 2022.
A demand was also made in the non-binding vote for member states of the European Commission and the European Union alike to immediately ban glyphosate from being used around public parks, on farms and within households if alternative biological pest control systems were available.
The Brexit influence
Despite the appearance that the European Parliament has sealed its fate, it may be that Brexit could give supporters of the herbicide some hope.
George Eustice, the Defra Minister, has already pointed out in an NFU meeting that the UK government is committed to developing a standalone approach to pesticide regulation after the nation has left the EU. This is set to be a science-based approach to pesticide authorisation decisions, with the government being advised partially through its work with technical groups located across Europe, the USA and Australia.
Additional sources:
Related topics
Related regions
Related people