Interview Spotlight: Johan Björkman, Managing Director (Nordics) at AECOM.
In an interview with Global Railway Review, Johan Björkman, Managing Director (Nordics) at AECOM, discusses the value of adapting to innovation in the rail sector, the importance of investing in technical expertise to meet future challenges, and the prospects and opportunities for AECOM in the Nordic region…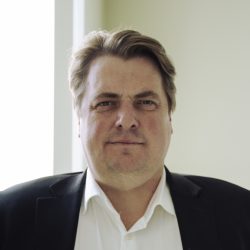 In your opinion, how important is it for the rail sector to invest in innovation?
Investing in innovation is unavoidable and an absolute necessity. Everybody – infrastructure operators, owners and designers – need to work together on new approaches to build infrastructure faster, smarter and better. However, it mustn't affect safety and the level of service for transport users, and it should ultimately result in better connected and more affordable services. 
 Increased innovation, however, also comes with risks, particularly as our assets become smarter and more connected. In our recent global research report, #it# The Future of Infrastructure #itend#, around one-third of infrastructure leaders said they believe that catastrophic events – a major ransomware attack or citywide transport disruption – are almost certain in the near future.
Our infrastructure needs to be resilient, including to threats from climate disruptions and terrorism. This shifting landscape creates a need for holistic, industry-wide solutions for identifying risks. We've developed an approach called Converged Resilience which provides the steps for a lasting resiliency strategy. The goal is to simplify the risk-management process while allowing the flexibility to cope with a broad range of scenarios.
What do you think are the main challenges facing the rail sector in the near future and how can AECOM support developments?
Access to proper resources, such as people with the right technical expertise, is a problem for both rail infrastructure operators and suppliers. Safety is another big challenge; having the most adequate technological systems, and effective trackworks monitoring and construction approaches. How we adapt to high-speed rail is also a significant issue, particularly ensuring that the infrastructure is the best and safest it can be, and that related systems across the EU are integrated properly and fit for purpose.
 These principles are reflected in our high-speed rail work around the globe. We've developed various processes and systems for asset management and brought together diverse groups of rail infrastructure specialists from different countries. And it applies to our civil infrastructure work as a whole. During our successful BIM design work for the Stockholm Bypass, for example, we brought together nearly 600 designers from 20 disciplines in nine countries.
How do you see the landscape in the Nordic region, and what opportunities does it hold for AECOM?
I've been active in the civil infrastructure industry in the Nordics for many years, and one of the biggest challenges in the region is punctuality, mainly because of poor maintenance and congestion. So, I see a lot of opportunity for big investment in the region to improve this current situation. 
 With experience on complex projects, such as Crossrail in London and the Taizhou Bridge in China, our global network of design, engineering, construction and management professionals has a lot to offer. We're also expanding our local Nordic team to include people with more diverse skills and capabilities. Our goal is to establish ourselves in the region, stay long-term and contribute to developing the economy and environment sustainably. 
Beyond that, it's the innovative spirit and desire to think big that has impressed me since I joined AECOM. It's an approach that I want to bring to projects in the Nordics. We're the only infrastructure company to have planned, designed and constructed Hyperloop projects in the world. A Hyperloop connecting Oslo, Stockholm and Copenhagen? It may seem like fantasy to some, but not to us.
Related organisations
Related people